Narrow tunnels beneath Tulsa's and Oklahoma City's downtowns are well-used – sometimes in ways the builders might never have envisioned.
In Tulsa, 9-to-5ers can take some tunnels from parking garages to workplaces and ditch their umbrellas. The passageways aren't much to admire, but serve a purpose in a city that, according to Tours of Tulsa company owner Kelly Gibson, "experiences all four seasons to the extreme, sometimes in one day."
For people who love history and architecture, the buildings on top are the real draw, and tunnels also provide convenient ways to tell fascinating tales.
Gibson says her most popular offering is the "walking art deco historical tunnel tour," part of which happens on the streets above the tunnels.
"It's filled with stories of when Tulsa held the title of Oil Capital of the World and about the competition between oil barons," says Gibson, who accommodates up to 15 people on each tunnel tour. "There was $1 million worth of construction per month in the early 1920s in downtown Tulsa. Oil barons used $1,000 bills to make boutonnieres."
People go crazy for the tunnel tours offered every February and August by the Tulsa Foundation for Architecture, says Ashley Barrar, office manager for the group. More than 900 people go on the 24 tours offered throughout the day, Barrar says, and they always sell out.
"They pop into the lobbies of each building," she says. "They talk about the elevator systems and how the tunnel is connected to each of the buildings."
Tour guides dispel a few myths, Barrar says, by using an old Tulsa World photo of a Navy zeppelin sailing past the city as an example. She says the craft never docked in Tulsa, but some people believe airships were moored to stations atop downtown buildings in the 1920s.
High-profile kidnappings, including the one involving Charles Lindbergh's baby, contributed to oil baron Waite Phillips having a tunnel dug in the 1930s at Fifth Street and South Boston Avenue between the Philtower and the Philcade, Gibson says. Phillips also moved his family from the mansion that became the Philbrook Museum of Art into a penthouse in one of the skyscrapers.
The Phillips tunnel is not used daily but is open for the Tulsa Foundation for Architecture tours, Barrar says. For information about the group's Aug. 10 tour, call 918-583-5550. Registration opens July 30 on the foundation's website.
To schedule one of Gibson's tours, call 918-625-4909 or email [email protected].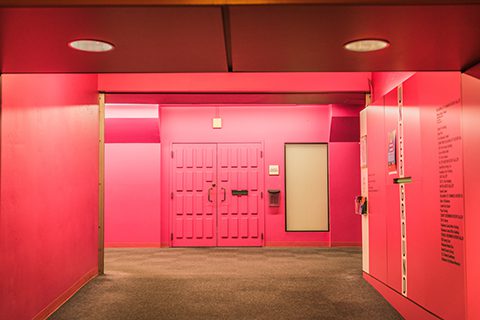 Oklahoma City's tunnel system, known as the Underground, is a destination for employees and visitors, says Addison Ball, operations coordinator for Downtown OKC. Tunnels connect to restaurants and other businesses (even a barbershop) in the lower levels of buildings; walls are adorned with historical photos, art galleries and murals.
"It enhances downtown OKC because it is a destination for people to come and visit the art galleries and interesting lighting that makes you feel like you are walking through an art piece itself," Ball says. "People use it as transportation when there is bad weather, but increasingly, since we've done the improvements, more and more people visit to take pictures and see the artwork."
Many downtown employees use the tunnels, which stretch for nearly a mile, to exercise during breaks, Ball says. The Underground is open from 6 a.m. to 8 p.m. weekdays.
Nan Lay and her husband, Wei Cai, opened the China Chef in the Underground in 1997. They offer a full menu from 10:30 a.m. to 6 p.m. and a lunch buffet from 11 a.m. to 2 p.m. Lay says her husband does the cooking, and she thinks the secret to their success is that their dishes are what their family enjoys eating; plus, "our food is not so expensive."
Lay says she likes the Underground because "the weather is always the same."
And she enjoys her customers.
"I love Oklahoma," the Cambodia native says. "The people are nice. And it's not too crowded everywhere you go."
Ball says OKC's tunnels were built mostly in the 1960s and 1970s, when downtown offered few attractions and people went there primarily to work. The Underground was once known as the Conncourse.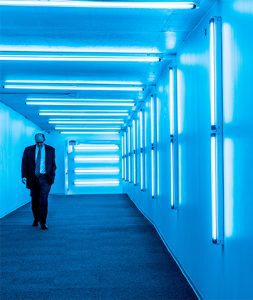 "A banker named Jack Conn came up with the idea so people could go from parking garages to buildings," Ball says.
Jacob and Andra Conger own Pitchfork Pantry, which opened in 2017 beneath the Continental Resources Building. Their coffee shop opens at 7 a.m. and lunch is served from 11 a.m. to 2 p.m.
"We serve cafe sandwiches, salads and homemade chili that uses beef from the family farm," Jacob Conger says. "We get customers from all over downtown; that's the great part about the Underground. We cater a lot of special events downtown for lunch and breakfast.
"[It's] a thriving community under the streets of Oklahoma City."