With a brand-new, double-LP, vinyl album – and accompanying digital download – called 25 Years of the Great Divide, a groundbreaking Oklahoma band has officially kicked off the celebration of its silver anniversary.
And while there was some separation and even dormancy along the way, the Great Divide has persevered and built upon the reputation it started earning in the '90s, when it became the first of the Stillwater-based Red Dirt acts to sign a major-label deal.
Not bad for a band that wasn't even supposed to be a band – at least, not in the beginning.
As drummer JJ Lester recalls it, all he and vocalist-guitarist Mike McClure originally wanted to do was sell their songs to other people.
"I remember having a conversation with Mike, before Scotte [Lester, JJ's brother] and Kelley [Green] were even in the picture, and our thought processes were, 'Well, we're going to write songs, and then Garth [Brooks] or George Strait or somebody's going to cut 'em, and we'll go get our paychecks once a month at the mailbox and save country music,'" he says with a chuckle. "That was kind of our philosophy."
By the time Lester was approached by a cousin in Perry about playing a Labor Day gig in 1993, Scotte, on guitar, and Green, on bass, had joined the loose-knit group.
Then came their first gig.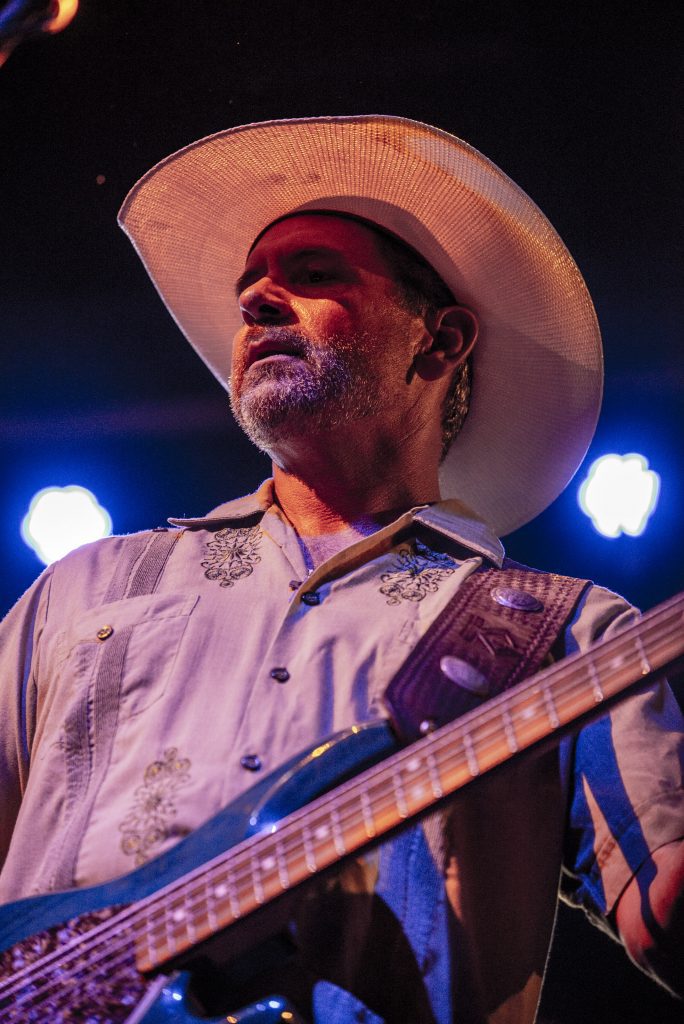 "Every Labor Day, my cousin put on this two-day, round-robin, team-roping event, which was basically just a big redneck beer party and an excuse to rope," Lester says. "He said, 'Hey, man, why don't you come over and play at my Labor Day ropin'?'
"We said, 'We only know about 12 songs, and 11 of 'em are originals. We're not planning on being a performing band.' And he said, 'That don't matter. Come on over.'
"So we went over and played our 12 songs, and after we were done we were loading our one monitor in the truck when my cousin came up and said, 'We passed the hat, and you made $78.' We were all like, 'You can make money doing this?'"
He laughs, then says, "It had never occurred to us."
Perhaps it had something to do with the way they began, but as those four men coalesced into the Great Divide, they never went the accepted route of getting country dancehall jobs by playing covers of popular songs. From the beginning, they did mostly their own music.
"We got the privilege of playing the Wormy Dog, that little upstairs bar in Stillwater," McClure says. "It was very small, so we drew enough people to pack it out. We just had a crowd, and that first crowd started following us. That was way before radio started working for us. But you know, they [bar owners] don't care what's going on as long as they've got people there buying their beer.
"Sometimes we would do like three originals, and if I sensed the crowd was wandering, we'd maybe do a little something they knew. And on more than one occasion, I'd say, 'Here's a new George Strait song' – and play one of our own," he adds with a laugh.
As everything shook out, McClure emerged as the primary songwriter, lead singer and frontman for the Great Divide. And while you can hear his songwriting evolve on 25 Years of the Great Divide, it's clear that he excelled at it from the beginning.
The songwriter himself, however, doesn't exactly agree.
"I still believe in a lot of those songs," he says, "but some of 'em look kind of sophomoric, or freshman-ish, to me. I mean, I was 19 when we started. That's just where I was at the time."
It's likely his evaluation of his earlier writing is colored by an encounter he had with one of America's all-time great singer-songwriters. As McClure remembers, it came after a gig the Great Divide played in Fort Worth.
"Larry Joe Taylor was playing up the street, and we took a break and walked up there – and Guy Clark was in the crowd," he says. "I was a huge, huge Guy Clark fan. So I went up and introduced myself and got an autograph.
"After the show, Larry said, 'You guys hang around. Guy wants to pick a little.' He's got an acoustic [guitar], and the bar's closed, and I'm sitting across from him with the rest of the Great Divide guys. We had our first album out then. He plays 'L.A. Freeway' and 'She Ain't Goin' Nowhere, She's Just Leavin,' and then he hands the guitar to me and says, 'Play me your best song.' I played it and didn't say too much. Then he played some more and handed it back to me, and I played this song I was working on. And he puts a finger up to his head like it's a gun, goes 'Pkeeuw!' and slumps over."
To McClure, the response from one of his all-time musical heroes was devastating. But later, as he was leaving, Clark stopped him, gave him "a big bear hug" and told him, "You can write. But when you start pulling out the [expletive deleted] that's real, that affects you, it'll affect other people."
McClure remembers going back behind the band's hotel near the Fort Worth Stockyards to a little airstrip.
"I just went down and sat on the runway and bawled my head off for the rest of the night," he says. "But what he said changed my life. I think when I was younger I was trying to write something that someone would like. I wanted to appeal to people. I thought that's how you did it. And I guess you can do it that way, but what Guy said narrowed my focus and got me into my own art."
Listening to the 21 tracks in order – including four new ones that end 25 Years of the Great Divide – you're likely to be taken not only by how McClure's songwriting matured, but by how the band grew tighter and more interesting. "Never Could" and "Pour Me a Vacation," the mid-chart country hits the group had in 1998 as a major-label act, give way on the chronologically arranged discs to such poignant, personal numbers as "Out of Here Tonight" and an exquisite new one called "Madmen & Medicine."
It all adds up to a compelling four-sided portrait of a band that has never stopped trying to better itself, even though the members have only been playing somewhere between 10 and 20 shows annually since reuniting in 2011. (McClure has fronted his own outfit for well over a decade, which often takes him out of the state and even the country; over the past two years, JJ Lester was kept away from his drums by two major shoulder surgeries.) 
In August, however, the band returned to Stillwater to play a 25th anniversary street party. Lester admits he was "somewhat surprised" by the massive turnout, held outside the iconic Eskimo Joe's.
"I'm always surprised," says Lester, chuckling. "I'm surprised that anyone's ever bought a ticket to see us play, to be honest with you. It's certainly something I never take for granted. I'm thankful for just even getting to do it in the beginning. The odds of the four of us coming together and it working out the way it did is nothing short of a miracle in my mind.
"I'm always amazed that the crowds are good. I know we do have some good fans, and that there are people that still enjoy the music. So, yeah, I'd say that I was somewhat surprised by the crowd – and very thankful."
25 Years of the Great Divide is available from the band's website, tgdmusic.com.