Peggs native and Locust Grove High School graduate Mason Fine, a junior at the University of North Texas, has become one of the most accomplished quarterbacks in Mean Green history.
Fine's strong play has been a big reason why UNT, in its third year with Muskogee native Seth Littrell as head coach, has played in consecutive bowl games. In September, the Eagles upset the University of Arkansas in Fayetteville for their first victory over a team from the powerful Southeastern Conference in 43 years.
"I have a lot of pride in being an Okie," Fine says. "Especially when you're down in Texas, you've got to have that kind of pride. Football's king down here, so I always want to outdo everyone, but I also have hometown pride.
"I know I'm always representing my community, my parents and that last name. I know I always have eyes on me. I'm just trying to be the best person I can be."
In 2016, Fine started nine games and earned selection to Conference USA's All-Freshman Team. In 2017, he took that success to another level by helping UNT win the C-USA West title and being named the conference's top offensive player.
Fine's development has been great for Mean Green fans, but no one takes more pride in his progress than Littrell.
"It's been fun to watch because I never have truly believed in playing true freshman quarterbacks," Littrell says. "It's really not fair to them. But it was a situation where he wanted in there; he wanted to play. He took some lumps early, but our kids believed in him. His teammates around him … all believe in him."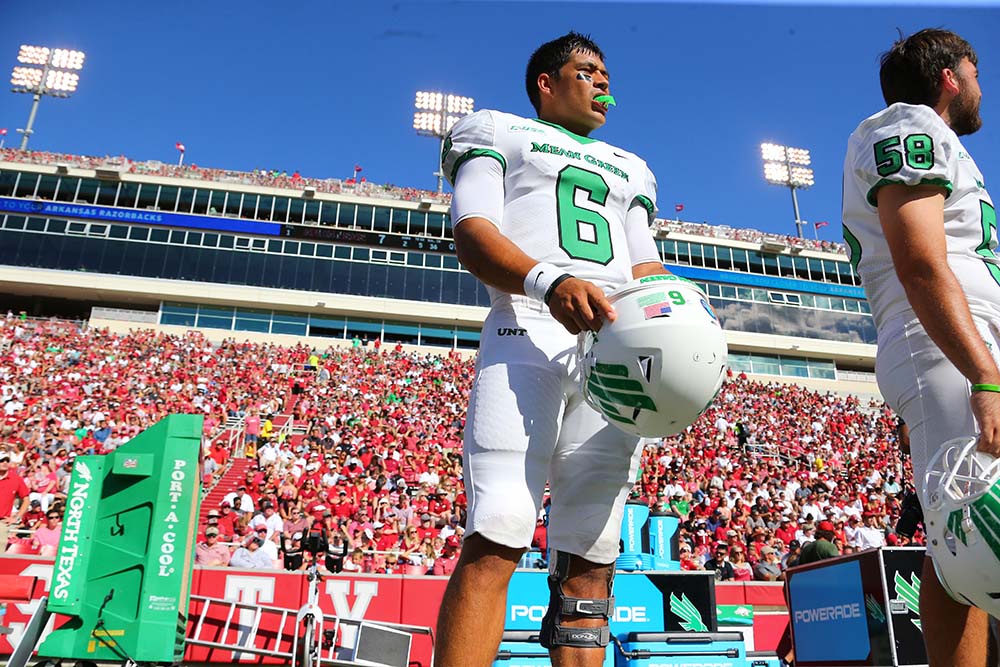 Fine recalls the summer after his freshman year when his dad ran into Littrell at a grocery store near Tahlequah.
"We're both from up in that area," Fine says. "We just have a lot in common with where we come from. We have that same personality, that same mindset. People from that area are just a bunch of hard-working, blue-collar people."
Fine says his Northeastern Oklahoma roots are testament to how he plays for the Denton school, an hour south of the Red River.
"I don't like saying I've changed because I'm the same person I was when I came from high school and I still play with that same chip on my shoulder," he says. "I'm not the most social person in the world, so I need to go out and have fun with my teammates and just be more of a vocal leader. I think that's more of how I've progressed – being more vocal."
Fine wants more successes, both for himself and his teammates.
"There's a lot of things we can build off from last year," he says. "We had a successful year, but we didn't achieve our goal: win our bowl game," he says. "We're just going to learn from that."