Five miles south of I-40 on US-281, the Oklahoma prairie yawns open, revealing a canyon near Hinton. The chasm, made of orange-brown, cross-bedded, fine-grained sandstone, is known as Red Rock Canyon Adventure Park. The Caddo County site is a geological formation, part of the Permian-age Rush Springs aquifer. 
The canyon includes an unusual formation, sometimes labeled a "hoodoo," that has begun separating from the canyon wall.
Tom Stanley, Ph.D., a geologist for the Oklahoma Geological Survey located on the University of Oklahoma Campus, says the hoodoo is "technically an erosional remnant, or pinnacle, of the Rush Springs formation. The canyon is about sixty feet deep."
Through time, wind, water and natural forces carved out the canyon, which is now home to a full-service RV park and campground on the canyon floor. A popular rappelling, climbing and hiking location, the park offers plenty of fun, including glamping – or glamor camping.
"On Saturdays, 50 to 100 cars come through the park," says park manager Jordan McSperitt. "Spring and fall are our busiest times."
Situated on 310 acres, the park entrance takes guests along a 1 1/2-mile winding road with switchbacks. Visitors may watch sunrises and sunsets paint the red dirt canyon walls with nature's palette of colors.
The park is open seven days a week, from sunup to sundown, year-round. Unless inclement weather requires park closure, visitors can hike trails that offer grandiose views, complete with brushstrokes of wildflowers. From mid-October to mid-November, colored foliage blazes through the canyon. Wagon wheel ruts may be found on your journey.
Five shelters with picnic tables have large pedestal cooking grills, water and electric service. In season, there's a swimming pool with a bath house. And Camp Social sells concessions, T-shirts, hats and gifts.
Although great for day trips, overnighters find RV sites with water, electricity and sewer hookups. Others have water and electricity plus more primitive accommodations.
Pop-up glamping sites include the Nash Tent on a deck, with a queen size bed, furnishings and air conditioning. Other less flashy glamping sites offer two cots, a rug and a light.
"Big groups rent a big portion of the park and host their own events," says McSperitt.
McSperitt hosts year-round-family-friendly events including movie nights and live music in the canyon. This year's fourth annual Fall Festival, scheduled for Saturday, Oct. 22, will include a carnival, pumpkin painting and hay rides. In 2021, over 3,000 people attended, and the park held its first Okie Grown Music Festival with Oklahoma artists, vendors and food trucks.
Book online for overnight and day-use shelters at redrockcanyonadventurepark.com.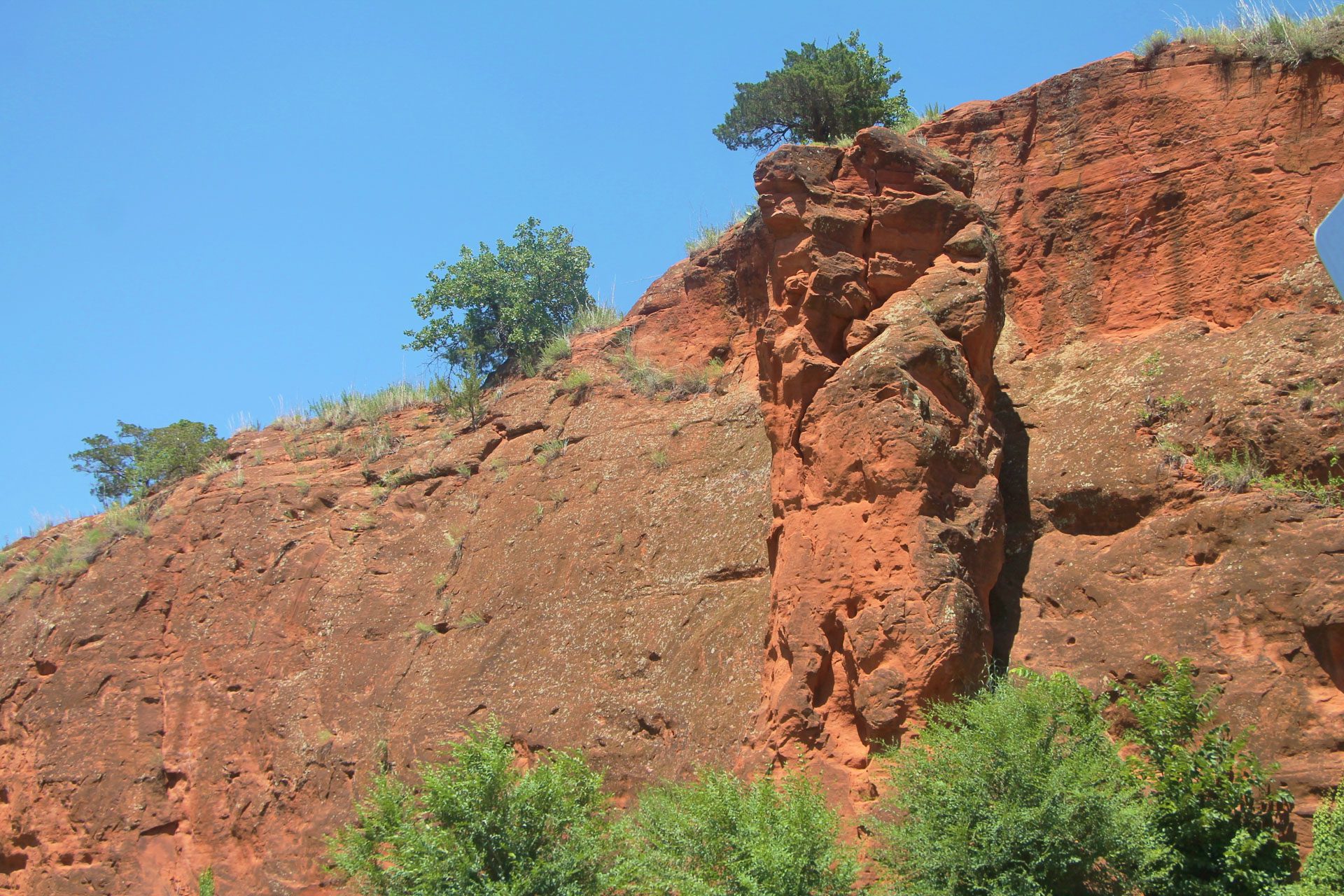 Plains Indians winter camped in the canyon, which held abundant game and a fresh water stream. Then the canyon became a landmark on the California Trail, and a stop for those heading to the 1849 California Gold Rush. The location became Kiwanis Canyon Park, and in 1956, the state obtained the location, naming it Red Rock Canyon State Park. McSperitt and her father have privately operated the park since 2018, and in so doing, they renamed the outdoor venue.