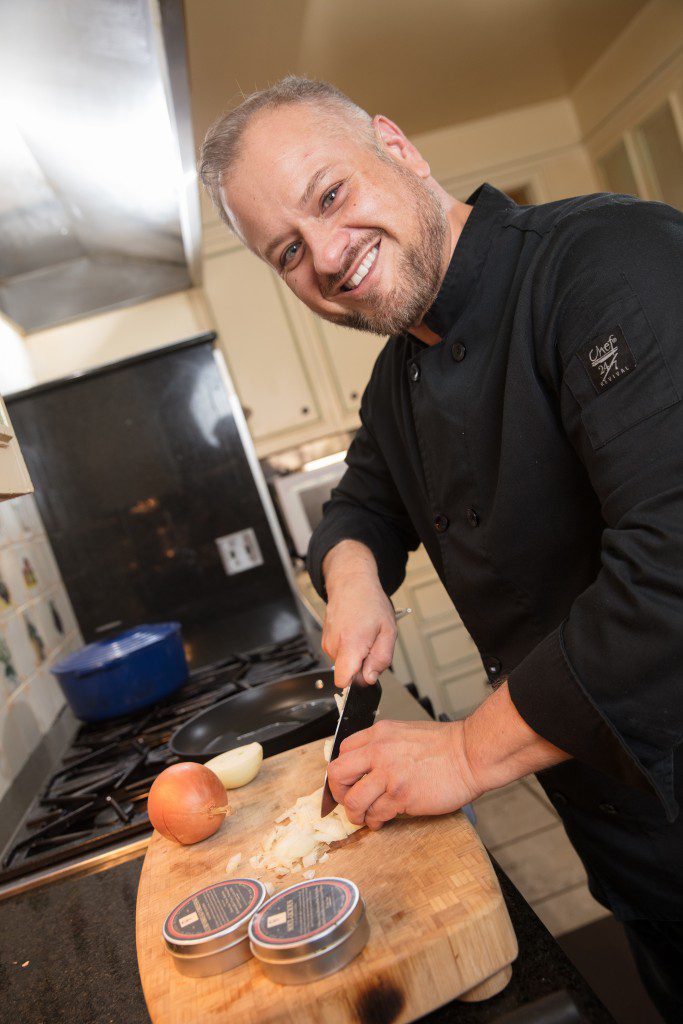 [dropcap]What[/dropcap] does it mean to be a chef? Essentially, it means chief, the one overseeing all in the kitchen, but it also means being an artist. For chef Scotty Irani, it means being more than someone who prepares meals or worries just about what's cooking. It's a title and art form he takes seriously.
"We aren't always in brick and mortar establishments/restaurants," he explains. "We are catering chefs, cake designers, pie makers and cookie bakers, and personal chefs. We wear many hats underneath the toque from business manager, accountant to teacher, listener to artist."
Each chef has his or her own style, concentrations and gifts, but it all requires passion.
[pullquote]
Black Pepper and Thyme Buttermilk Biscuits
2 cups flour (plus extra for work surface)
10 tbs cold unsalted butter, cubed
1 tsp baking soda
1 tsp baking powder
¾ cup whole buttermilk
1 tbs fresh thyme
2 tsp cracked black pepper
Melted butter to brush on after baking
COMBINE your dry ingredients in a bowl or food processor. Give it a stir or a few pulses to combine everything. Add the cubed cold butter and start cutting/rubbing in or pulsing the processor until you have nice pea or bean sized pieces of butter in your dry mixture. If using the food processor, pour the contents out into a large mixing bowl.
ADD the fresh thyme and black pepper and give it a toss or three with a wooden spoon, then add the buttermilk and start mixing with the same spoon.
MIX until combined and a dough has formed. Turn out onto a floured surface. Give the dough a couple of flips and light smacks on the floured surface to un-sticky the dough. Add more flour to the surface, top of dough and bottom, to keep the dough from sticking. Roll the dough out to about a half inch thickness then begin cutting with a biscuit cutter. You can choose what size of biscuit you will like. I make a perfect dozen using my 2 (maybe 3) inch round cutter.
BAKE the biscuits at 475 degrees on a lightly greased sheet pan for 5 minutes then turn off the oven and let them set in the oven an additional 8-10 minutes to brown up. Brush the tops with melted butter and serve warm.
[/pullquote]
"Most of the time a smile, a clean plate and return business is the only positive affirmation you get in this business," Irani says. "That's good enough for me. If you're looking for constant kudos, awards, fame and money, you're in the wrong business. You have to have passion and love of the kitchen to be in this business."
Irani says he wanted to cook professionally from a young age and thanks to his parents his dreams became a reality. "I started cooking when I was 5 years old," he recalls. "I was helping my father one morning with Sunday breakfast, and I told him I wanted to 'do this' when I grew up, and he said, 'Then you want to be a chef.'"
From that Sunday morning to culinary school in Rhode Island to now, the Sapulpa native has had many roles in the kitchen and created several culinary masterpieces for Oklahoma City residents. It wasn't until he owned his place, a neighborhood gourmet breakfast and sandwich shop in Nichols Hills called Scotty's, that he finally had the title of chef.
Irani sold Scotty's in 2006, but that hasn't slowed him down. Irani participates in a weekly cooking segment on KAUT Freedom 43's morning show and is a contributing writer for EdibleOKC, where he has won two awards for his articles. Let's not forget his line of spices, rubs and sauces called In the Kitchen with Scotty.
"After I sold the restaurant and started my personal chef business, on a regular basis I had former customers contacting me asking if I would make them a batch of my Jezebel Sauce or blackening seasoning," Irani says. "So I thought why not offer this to people and see how it goes."
Irani gets inspiration from everywhere from other local chefs to even himself. "We have incredible talent in Oklahoma City; fantastic and creative in-home cooks who have turned their passion into food blogging and great places to source ingredients," he says. "I also have confidence in my talent and ideas. I have that ability to taste in my head, which is something hard to explain, but I can see ingredients and formulate flavors in my mind. Sometimes those flavors are spot on and sometimes they are, 'You didn't think that out too well.'"
When asked about opening a restaurant again, Irani says, " … as far as again, some day … maybe. I like what I'm doing now."