For more, read 'Diatonic Bliss' from the October edition of Oklahoma Magazine
Siblings Russell Cook and Annette Lindsey each live on 40-acre spreads near each other. Another sister has an adjacent property, and all three are next to their parents' ranch, their childhood home. 
This is not unusual in rural America, except this is Bennington, home of two of the country's 12 professional dulcimer manufacturers. This hamlet between Hugo and Durant became America's dulcimer capital out of curiosity, ingenuity and humor.
In 1978, Lindsey and her husband, David, traveled from their then-home in Arlington, Texas, to visit Silver Dollar City in Branson, Missouri, where they heard a hammered dulcimer for the first time. They were enamored immediately.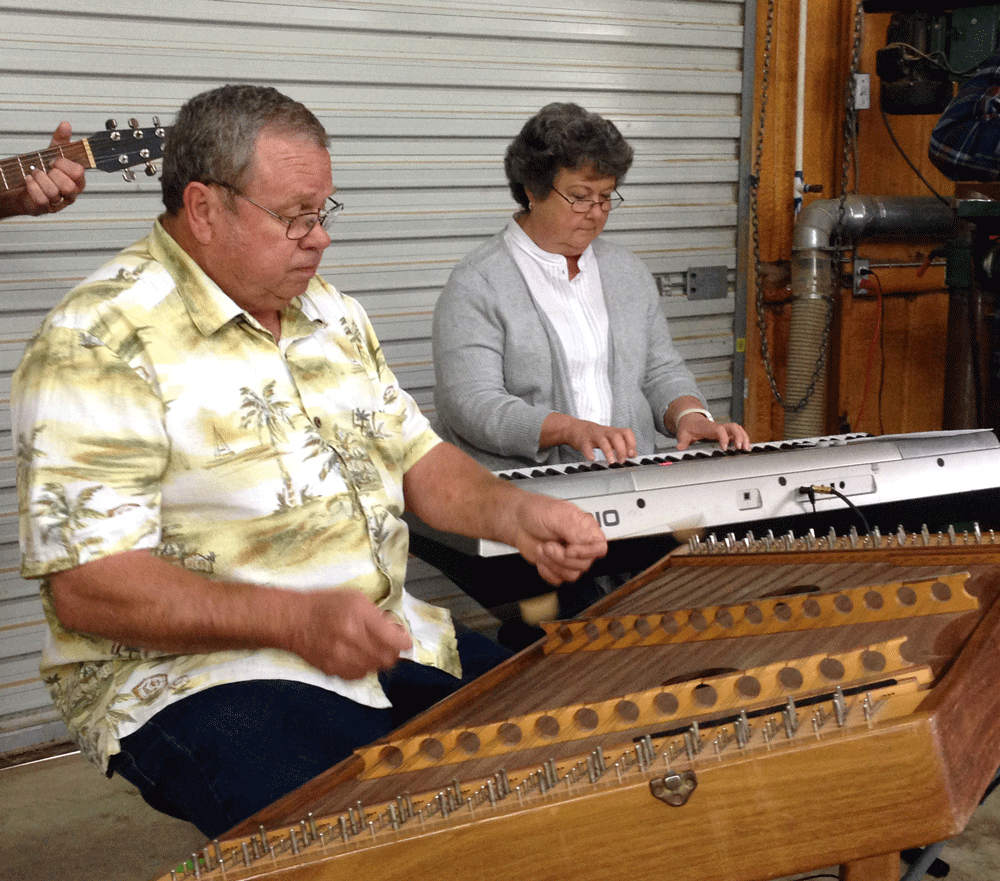 "Mind you, David had never played anything in his life except the radio," says Lindsey, adding that they then went with Dana Hamilton, David's fellow shop teacher at Mansfield (Texas) High School, to Denver to buy a hammered dulcimer kit.
"Dana bought one and David bought one, but each dulcimer wouldn't stay tuned," Lindsey says. "But they got it figured out long enough to understand how it worked. They then decided that they – being shop teachers and all – could build a better dulcimer.
"So they did."
The next year, the Lindseys, Hamilton and his wife, Judy, went to a folk festival in Mountain View, Arkansas, where the wives fell in love with the mountain dulcimer, a different instrument.
"So we each bought one and formed a quartet – the Sweet Song String Band," Annette Lindsey says. "In time, we added a guitar player, a banjo player and fiddler. The dynamics have changed over the years, but the hammered dulcimers played by David and Dana are still the basis of the band."
Lindsey, who now plays keyboard as a backup instrument in the band, says "not many people played the hammered dulcimer before David and Dana introduced it to the area."
The Hamiltons, who still live in Arlington, and the Lindseys created the Lone Star State Dulcimer Society, which spawned interest throughout Texas and Oklahoma.
Shortly after handcrafting their first hammered dulcimer, David Lindsey and Dana Hamilton got Cook hooked, too.
Cook, also living in Arlington in 1978, quickly became a successful player of the instrument and won a national title in 1981. He sold CDs of his music in more than 700 craft malls throughout the United States and traveled across the country playing festivals.
He also began handcrafting hammered dulcimers – lighter in weight and longer in sustain than those produced by his brother-in-law and niece (David and Cara Lindsey).
"Who's normal trying to build a dulcimer?" says Cook, a jovial sort who often jokes about the paths his life has taken as a musician.
The Lindseys have retail sales within the United States, while Cook sells wholesale across the world.
Recent tariffs imposed by President Donald Trump have affected profits, Cook says, but he retains customers in Afghanistan, Kosovo, Tasmania and Costa Rica.
"Japan has just been wild, too," he says.
Eventually, the Lindseys moved back to Bennington in 1999; Cook returned in 2005. There they run David's Dulcimers and Master Works, respectively, and delicately build an instrument that, according to Cook, had been declared dead by the Smithsonian Institute in the early 1960s.
"It's an ancient instrument," Cook says. "It pre-dates much of history. And it's being kept alive."
For more, read 'Diatonic Bliss' from the October edition of Oklahoma Magazine