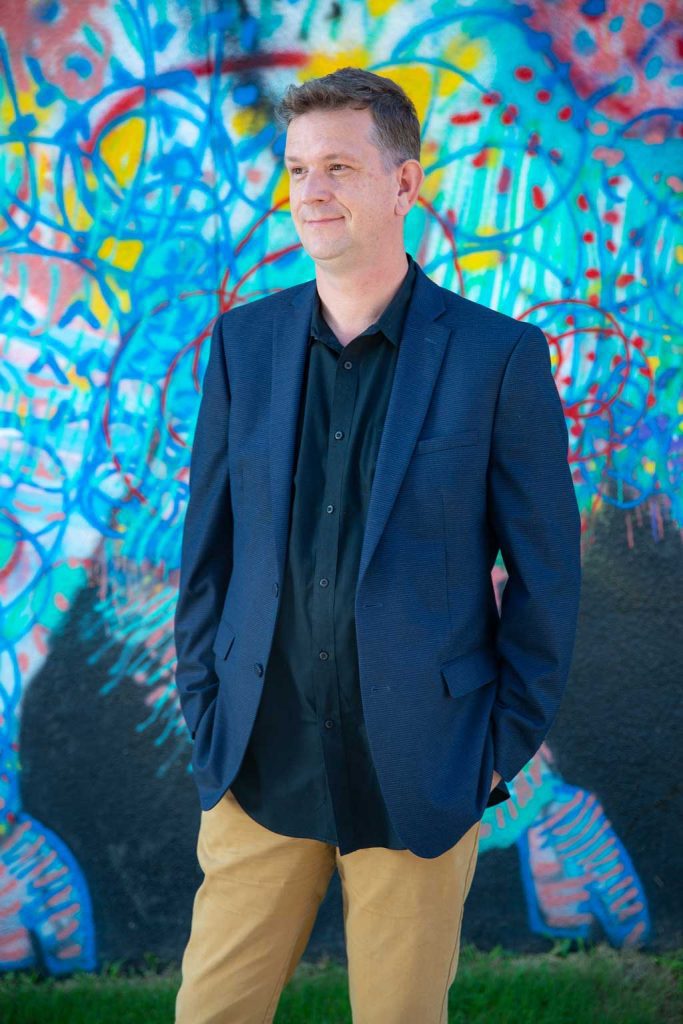 Jeffrey Moore, executive director of the Oklahoma Museum of Popular Culture, or OKPOP, began his career with the Oklahoma Historical Society in 1994 as a collections curator. He created and supervised dozens of exhibits, worked on oral history projects and co-produced two Telly Award-winning documentaries. In 2010, Moore became OKPOP'S project director; in 2015, when the Oklahoma legislature authorized a bond issue to build the museum, he became executive director. We caught up with Moore and got his thoughts on …
… the museum's origins and his job.
The development of the OKPOP goes back to a meeting with senior staff at the Oklahoma Historical Society in 2006. We were working on an exhibit covering the governors of Oklahoma. In discussing the life of former Gov. David Boren, we discussed that his aunt was Mae Boren Axton, an executive at RCA Records, and that she co-wrote Elvis's first No. 1 hit, "Heartbreak Hotel." I suggested we put together an exhibit on Oklahoma rock 'n' roll and the executive director said, "Let's do it!" During the last 12 years, along with my colleague Larry O'Dell, we began researching, collecting and creating exhibits on all aspects of popular culture. It was just a natural transition for me to move into this position.
… what the museum will showcase.
We are working on the way we tell these stories. One concept that is shaping our approach is looking at Oklahoma as a place where collisions of cultures occurred. Oklahoma is so diverse – with 39 American Indian tribes, African-American settlers and immigrants from all the other states and territories. These cultures mixed together, and it is reflected in the artistry, storytelling and music of the state. We want every visitor to leave OKPOP learning something new.
… the museum's purpose.
Oklahoma is a crossroads of creativity; our vision is that OKPOP instills pride in what it means to be an Oklahoman and inspires new generations to be creative and make an impact on the world in their own way.
… OKPOP's architectural concept.
The team started with the idea that there are many places in Oklahoma where Route 66 crosses Main Street. And the two ideas of Main Street and Route 66 represent the local and global aspects of creativity. Our lead architect, Chris Lilly, took that and came up with "grit" and "glitz." Grit represents the Oklahoma work ethic and the glitz represents show business. Those became the concepts that drove the design effort.
 

… his duties before OKPOP's 2020 opening.

Great projects happen because of great teamwork. So, during the development and construction phases, I am actively facilitating the creative process. When we make decisions, I ask the team to think about where OKPOP will be 10 years after opening. We are already doing public programs and sponsoring events to help make the transition from design and construction into operations and programming as smooth as possible.
 

… the next two years.

 We'll have an official ground breaking in November, with excavation and construction following. We are looking at a two-year calendar to complete construction and exhibit installation. The opening week will definitely be a big celebration in Tulsa.