[dropcap]Tangier[/dropcap] Port, Morocco was the most exotic location we visited as a family, and the epiphanies we encountered in 2010 spanned spiritual, historical and cultural themes. We took a ferry boat from Tariffa, Spain to Tangier Port; a mere 35-minute ride. Our tour guide, supplied by our travel agent, met us with his van driver, and I recommend doing the same if you go to this wonderful country in Northwest Africa. He was able to get us to the front of the line at the restaurants, bazaars, caves and other places, and even got us in the "fast lane" on the ferry boarding later dealing with our passports. The vocabulary, mythology, history, factoids and cultural lessons we learned that day made our heads spin.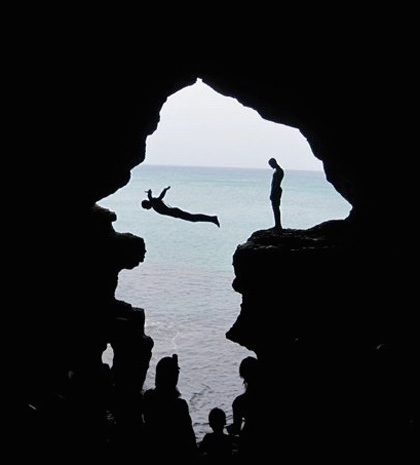 The Cave of Hercules overlooking the Atlantic Ocean and Mediterranean Sea had non-stop visual details and markets inside of it. The shape of the cave happens to be the mirror image of Africa with Madagascar next to it.
Our Moroccan multicourse meal at the famous restaurant, Popeye's, was unforgettable. Popeye's had a line around the block full of customers waiting to get in. After hours of sightseeing, this meal break was exactly what we needed and it gave our tour guide time for his afternoon prayers. Tagines of smoked almonds, salsa, shark, swordfish, figs, dessert with honey, melon and a homemade fruit drink were just some of the gastronomic extravaga!
The vivid food markets with their vibrancy and pungency combine Mediterranean, Arabic, Berber and Andalusian flavors. We ate cactus pear from the food booth of Berber village women. The Berber women's hats have pompons on them, similar to the Peruvian campesinas' style; probably due to the traveling of explorers across the continents who bring back styles from foreign places.
After the market, we went to the Old Town Bazaar. Our guide explained the architectural details. In the bazaar, we bought pottery, vases, and tablecloths, among other things, and looked at marvelously intricate rug.
We rode camels on a hill overlooking a beach where the Atlantic Ocean meets the Mediterranean Sea. My youngest son's face was euphoric just standing next to a 4-month old camel and seeing these creatures for the first time.
Wherever we went, our tour guide and others greeted each other with "salam alaikum." It translates to "peace to you." People use it as freely as other cultures use "goodbye," "hello," "Shalom" or "Peace." People respond with "Wa-alaikum salam" ("peace unto you").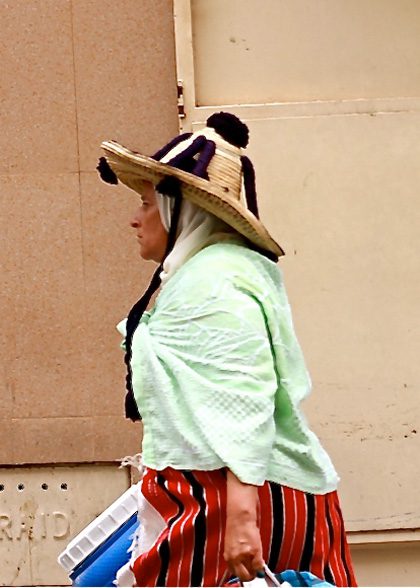 We asked him his greeting meant, and he explained to us in detail about how peace is at the core of his religion. He asked us what our culture's equivalent might be and we answered, "God be with you." We had a personal and philosophical conversation which gave clarity to many of my questions which is always the enriching part about traveling.
When we departed that day on our ferry boat and bid the guide farewell, my husband shook his hand and said, "salam alaikum," and he responded, "God be with you." I found this moment transformative for my family, our epiphanies, our journey and our global understanding during this year of 2010 in a time of political turmoil in the world. It was a healing moment for us and good closure to a day that had moments of uncertainty for my husband in particular.
Morocco was exotic, historic, adventurous and spiritual.