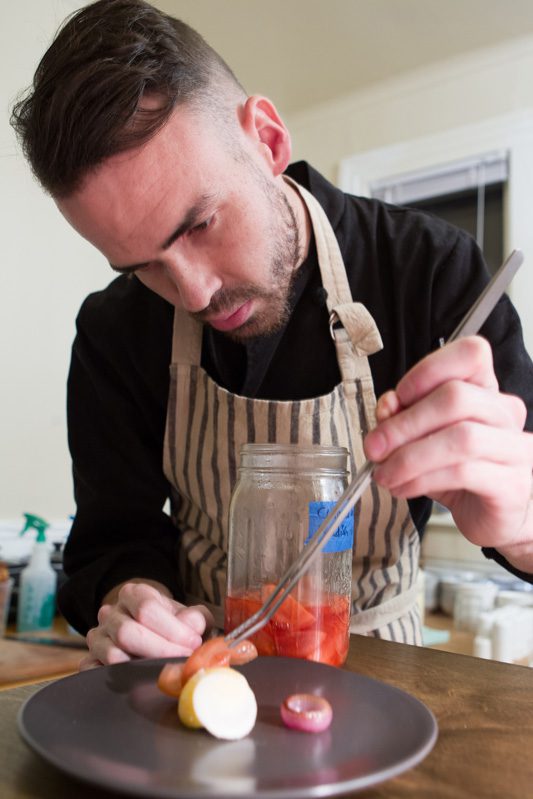 You might think that Choctaw Indian and Japanese cultures have little in common, but Andon Whitehorn and Colin Stringer, chefs and co-owners of Nani Japanese-Choctaw Kitchen in Oklahoma City, respectfully disagree. And they'll prove it, one dish at a time.
Nani began as a pop-up dining experience, conceived by self-taught cooks Stringer and Whitehorn, serving Oklahoma City diners unique and satisfying dinner adventures six times a year. Whitehorn says that he has always been in love with cooking, especially with Japanese cuisine and sushi. Part Choctaw, Whitehorn and Stringer began to notice surprising similarities between the two cooking cultures.
When Whitehorn discovered that the Choctaw word for fish, nani, also meant "What?" in Japanese, he felt it was a fortuitous sign that his dream was meant to be. And while the fare may sound exotic to some, it couldn't be more Oklahoman at heart.
"I don't think it's as much about the two cuisines as much as it's about the sensibilities that exist within both," Stringer says. "They are actually really similar. We primarily focus on three things: sustainability, seasonality and preservation methods. We think these things are super important to our own culinary ambitions and also to creating the most delicious and ethical food possible. Food has to make sense from all angles, and focusing on these sensibilities makes our food cohesive and, hopefully, something fresh and inspiring to OKC."[pullquote]"OKC is rapidly becoming a market that can support and recognize quality and craft. We are thrilled to be where we are and honored that we get to see OKC's transformation in this exciting time."[/pullquote]
"Right now in Oklahoma City really feels like the perfect time and place for a concept like Nani," Whitehorn adds. "Even though the overall concept is a meeting of Japanese and Native American cuisine, it's more about taking the sensibilities of both cuisines and using them as reference points for showcasing what we feel are very Oklahoman ingredients. It allows us to show guests the very best of what this state has to offer by offering what's been around us all along. Nani is a very Oklahoman concept, and while the sensibilities could be practiced and applied elsewhere, Nani couldn't exist anywhere else but here."
It's not only the choice of cultural fusions that makes Nani unique; it's the dining experience itself. When asked if the moniker of "supper club" was accurate to describe Nani, Whitehorn agrees, emphasizing what he calls the communal dining experience.
"Nani is a relatively new concept," Whitehorn says, "and it's constantly changing as we all learn and grow through it. We chose this style of dining to bridge the divide between the kitchen and the diner and to better relate to our guests and to give them a sense of context for their meal. We encourage interaction not only between the dinner guests and the staff, but between each other as well; we want this to be a dialogue rather than a monologue. Rather than what you might have at a traditional restaurant, where you enjoy a great meal but with often impersonal service, we want our guests to feel a connection not only between one another and what they're enjoying, but with the venue as well."
Diners at Nani do not receive a standard menu from which to choose dishes. Instead, each small group of diners – 14 each evening – enjoys the same 8-10 course meal, as well as several amuse-bouches, turning the dining experience into a culinary community. No two menus are ever the same, but creations have included dishes like poached garlic cloves, Thai basil and basil-infused oil, and sushi zu; fried okra with toasted sesame, scallions and tuna; and the "quail-ity thyme" – half of a quail cooked and cured in buttermilk and juniper, then seared with thyme and served with a soft-poached quail egg, a crisp of fried sushi rice, juniper vinegar, pumpkin oil and grown and foraged greens. And of course, in a nod to Whitehorn's passion for making sushi, Nani offers rolls like "The Rumble" with cedar-smoked bison, tempura negi (green onion), rosemary caramel, horseradish aioli and citrus zest.
"Everyone also eats each course at the same time, which adds another dimension of context and enjoyment to the meal," Whitehorn says. "When everyone is experiencing everything at the same time, it not only gives what might be complete strangers something to talk about, but it also fulfills that very social desire to connect and belong. Eating is a very social practice, and a meal is one of the few singular experiences that not only fulfills the need to nourish yourself, but also the need to interact socially."
"All these things make this experience a much different one from anything else going on in OKC," Stringer says. "We hope that our role in the Oklahoma culinary world is one of a catalyst. We know we can't change it ourselves; we just want people to come eat at Nani and go out and start even better restaurants. Those are the places we want to eat at. There needs to be fewer competitive minds in OKC's cooks and chefs. True progression won't happen until that happens. We have no secret recipes at Nani. We'll tell you how to do it all."
"Nani stands to challenge OKC to view food differently," says co-owner and barista Paul Zimmerman. "We have a conception that to experience great quality food or art or culture, we need to fly to a coast. That simply isn't the case. We have culture and quality and an abundance of beautiful resources all around us…Nani may be novel and unique right now, but our hope and expectation is that it won't be for long. OKC is rapidly becoming a market that can support and recognize quality and craft. We are thrilled to be where we are and honored that we get to see OKC's transformation in this exciting time."
Most of Nani's vegetables are either foraged or grown by the chefs or sourced locally with the help of Urban Agrarian, an Oklahoma City farm-to-table grocery, and the farmers market at the Oklahoma State University-Oklahoma City campus. In keeping with their commitment to their home city, the proprietors of Nani have taken their concept a step further: Five percent of all proceeds go to local charities, such as the Regional Food Bank of Oklahoma or the Oklahoma City YWCA.
While diners are eager to try Nani's one-of-a-kind offerings and are appreciative of the altruistic sensibilities of the owners, no one could be more elated about the rebirth of the Oklahoma culinary scene than the proprietors themselves.
"Oklahoma City has always had really great food," Whitehorn says, "if only with a little less variety, but in recent years we've seen people become excited about food and becoming more involved and aware of their dining habits and choices. The potential for Oklahoma City is enormous."
In this new atmosphere of conscious dining, patrons are as likely to "discover" a restaurant that's been in business for years as they are to encounter a new and novel establishment.
"We're very excited for what this city has to offer," Whitehorn continues, "and we feel very fortunate to be where we are at the forefront of this culinary renaissance."
Nani is open for dinner Wednesday through Saturday. To book a place at the table, visit www.naniokc.com.