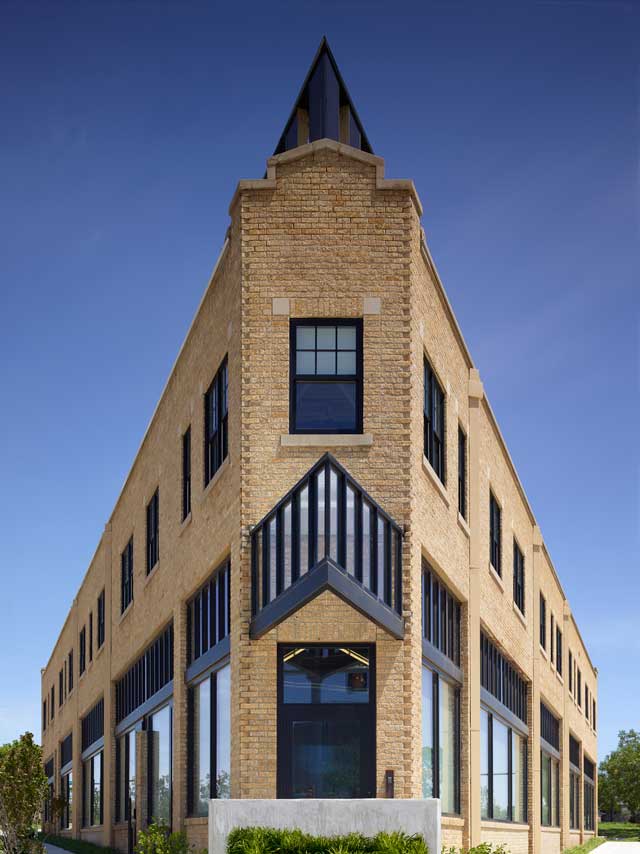 [dropcap]For[/dropcap] 20 years, architect Rand Elliott gazed out a window from his office in the Heierding Flatiron Building and wished he could renovate the boarded-up structure across the street. To say it was a neighborhood eyesore is kind.
The Oklahoma City building had history, which Elliott reveres. It also had admirable architectural features and an interior bone structure of bricks stamped with 1924 by the Acme Brick Co. It was The Como Hotel, a vintage flatiron building anchoring a neighborhood in early day downtown.
It had a barber shop, a cafe, high ceilings, transom windows and doors, and no air conditioning. Workers building downtown OKC could rent a room there, but they had to pay extra using the bathroom down the hall.
The Como Hotel, built by C.F. Meadors, eventually outlived its purpose and was abandoned – forgotten for 27 years.
Two years ago, Elliott changed the face of his business neighborhood and purchased the derelict building.
"We took a building that had been unloved for a long time," he says. "We transformed it and found the right owner who was willing to put money and effort into a building that would pay tribute to OKC's pioneer families."
Today, a once-forlorn building that might have been razed is home to PLICO, a firm specializing in insurance for physicians.
Located at the convergence of Northeast Fifth Street and Harrison and North Oklahoma avenues, the renovated flatiron building is "an iconic gateway – a lantern – to downtown Oklahoma City," Elliott says.
Elliott's response on his first visit to examine the interior of this neighborhood eyesore was exhilarating and inspiring. Others might have found it instantly depressing and called for the wrecking ball. Instead he assessed what materials he could salvage that represented the history of The Como Hotel.
"I saw the opportunity to do a signature restoration project for downtown Oklahoma City," he says.
Working with Sherry Haworth, PLICO's CEO, he listened closely to her hopes for the firm's new home. Windows were a must. PLICO team members had been working in a windowless building and yearned for light and sunshine.
"Now they are thrilled with the amount of natural light that moves in and out of the space," Elliott says.
Interior lighting casts an evening glow that Elliott finds exciting, especially on nights when the NBA's Oklahoma City Thunder plays home games and crowds are abundant.
Elliott created an office space with no doors, providing a more collaborative environment for PLICO team members. Doors can be added if an occupant eventually prefers more privacy.
Elliott and Bill Yen, both certified by the American Institute of Architects, also created room for PLICO to grow with the addition of a third level on the roof. The third floor actually sits on top of a series of columns independent from the original building – "an engineering feat," Elliott notes. The Ainsworth Company and Lingo Construction Services were also involved in the renovation.
The third floor has become a community center for PLICO's team members and their special events. Yoga classes are held there as well as birthday and holiday celebrations.
"The lighting and the views from this area are wonderful," Elliott says. "This space is a refreshing point of view for the PLICO team."
Visitors to the building are surprised when they enter the front door and see how historic details merge gracefully with contemporary materials.
"They get a history lesson when they walk through the front door," he says.
Having completed more than 300 renovation projects in his career, Elliott says, "It's a big deal to do a construction project with a twist. Finally, we got to make a difference in our neighborhood."