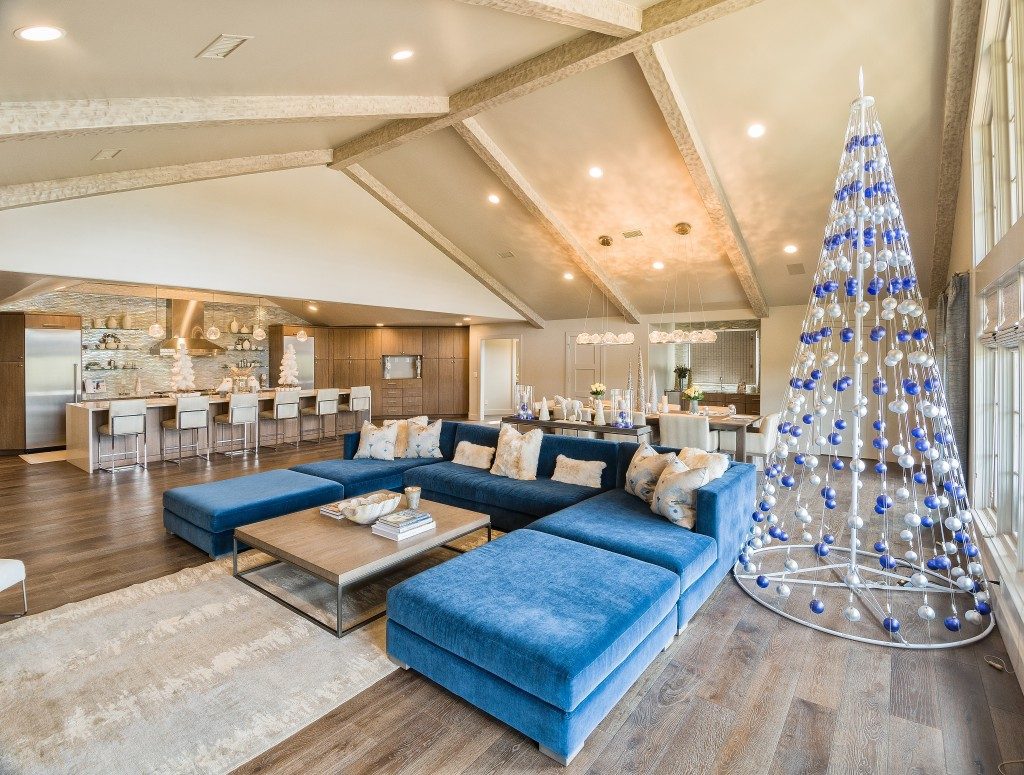 [dropcap]Few[/dropcap] horses have the opportunity to celebrate Christmas in high style, but they do at Vintage Farms in southwest Tulsa. These pampered horses live in exquisite quarters, surrounded by holiday decor. Stars adorn their handsome stalls, and custom chandeliers and ceiling fans hang from above.
At Patrick and Vicki McDonie's Vintage Farms, Christmas is truly the time to deck the halls in superb fashion. This unusual residence combines the horse's quarters on the ground level with two tack rooms, two showers, a horse blanket closet and a laundry room. A small studio den for the McDonies' two daughters, Emily and Lexi, is near the barn's entry.
The McDonies travel often and found a barn they loved in Californina.
"That was the inspiration for the design of the home," Vicki says. Brad McMains of Tulsa's Hunter Homes was the builder. The horses reside in two wings off the barn's entry hall. The family's spacious living and entertaining quarters are upstairs. Every room is dressed in holiday attire that complements the home's subtle color palette of gray and white. Accents of pink, mauve, turquoise and blue complement the neutral theme.
[pullquote]
Meet the Designer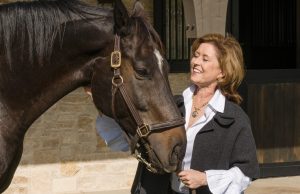 A veteran interior designer, Margaret Ferrell says her greatest joy in design is to help her clients live not only beautifully, but comfortably – a goal she achieved with her work on Vintage Farms.
"Vintage Farms was a fun project because I not only got to do my job creating a space unique to the McDonie Family, I also got to create stunning, beautifully appointed stalls suited for their remarkable horses."
Ferrell began working for an architect 26 years ago and then, after her husband's transfer to Kentucky, they restored or renovated homes in the Cherokee Triangle area of Louisville. They continued their work after moving to Tulsa, flipping 68 homes in the midtown Tulsa area.
Ferrell is known for her edgy yet functional residential projects in Oklahoma, Texas and Indiana, and she has worked on projects as distant as an estate in Shanghai, China. She also performed a detailed restoration of the top three floors of Waite Phillips' corporate  office in the Philtower, which required extensive research to make it historically accurate.
[/pullquote]
The exterior of the home is staged as beautifully as the interior, but it is the 12-foot-tall Christmas tree in the barn entry that makes a memorable first impression. It sets the stage for the holiday decor. Swags of metallic gold, reminiscent of Fourth of July sparklers, line the ceilings, even in the stables.
The tree is a magnificent confection, frosted with white faux snow and trimmed with a variety of pale turquoise and bronze balls, accented by soft gold ribbons, pine cones dusted with gold and silver, grape clusters, birds, silver owls and branches. The tree sits on a fur skirt. Two pearlized reindeer wearing festive wreaths greet visitors.
Trees of all sizes are throughout the residence, featuring a surprising mix of materials and textures: feathers, wood and felt, pearls, fur and glitter. Small horses, reindeer, churches and bird houses are motifs. The most unusual tree features blue and silver balls on a metal pyramid in the spacious upstairs kitchen/dining/family room, aka the great room.
"Blue is Emily's color in horse competitions," Vicki notes, "so our holiday theme is white, gold, silver and touches of blue."
Vicki and designer Margaret Ferrell met five years ago when Margaret was designing areas of their traditional family home in midtown Tulsa. For this project, Margaret says, "The biggest challenge was learning about the needs of the horses." Margaret and Vicki shopped for furnishings and accessories in Dallas, New York and Houston. For this Christmas, they found treasures at  Tulsa's T.A. Lorton and the Dallas Gift Market.
The great room is the entertaining pulse of the home. This area offers an upstairs view of the sprawling grounds, including the equestrian training arena where Emily practices her English riding horsemanship. Nearby is a fashionable tree house – the domain Lexi and her playmates enjoy.
Quite special to the family are two upstairs venues that overlook the horses' stalls. Barn-style doors, with railings, open up for a view of the stalls so the family can tell their horses goodnight. While the horses are the stars at Vintage Farms, three cats and two dogs are as pampered as the horses: Brownie, a Boxer; and Tiger Lilly, an English bulldog.
Vintage Farms is a unique residence. "I spent years looking for this land, which had 100 native pecan trees on it," Vicki says. "It's 37 acres. We are animal lovers, and we wanted a special place for our horses. The horses' safety was our main consideration in every aspect of the design."
Watching Vicki work with Southern Vintage, a 12-year-old Dutch Warmblood horse, it's easy to see the love she has for the family's horses.  Recently, she extended her affection to Barney, a 35-year-old horse, so he would have a nice place to spend his golden years. Life for the horses at Vintage Farms is nice, indeed – especially during the holidays.