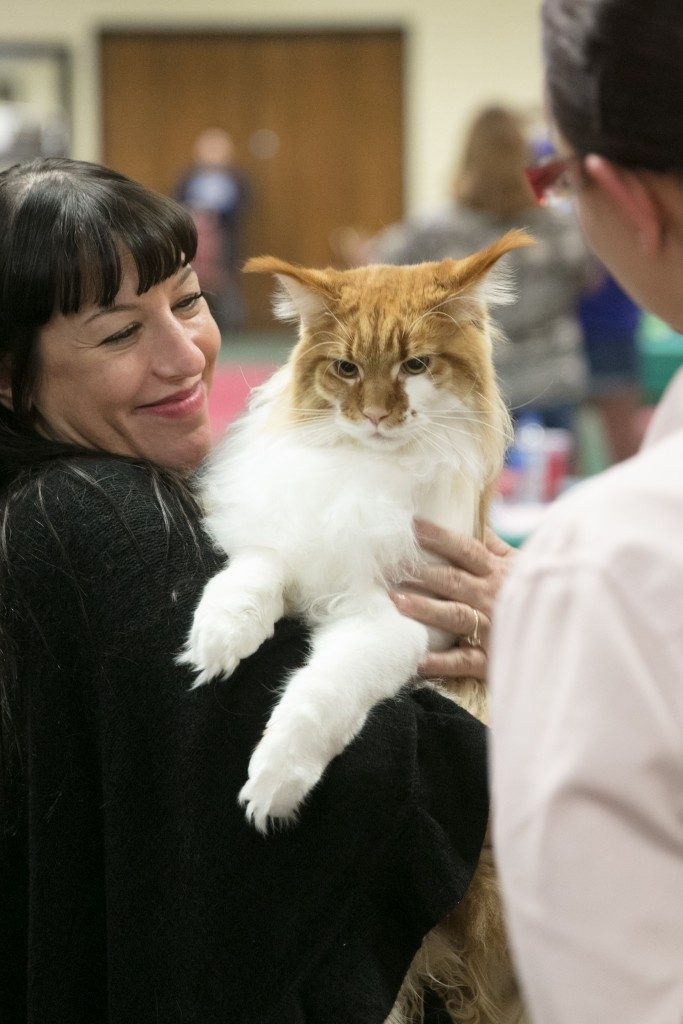 [dropcap]The[/dropcap] internet loves cats, but pet owners have placed their beloved felines on display for the world to see long before the web popularized "lol cat" memes. The Cat Fanciers' Association held its first cat shows in 1906 in Buffalo, New York, and Detroit, Michigan.
Cat shows have much in common with well-known dog shows, but with fundamental differences, says Charles Nell, who works closely with three cat show organizations in Oklahoma: ThunderKatz, Red River Rascals and MuskogeeCats.
"The most common misconception … is many people believe cats are put on a leash and shown the same as dogs, which isn't the case," Nell says. Instead, cats in a judging ring are placed on a table and inspected for breed-specific qualifications. Judges might distract a cat with a toy to get a closer view of its eye or ear shape. Another difference is the level of public interaction.
"All the cats are in a holding area where spectators can look at them. Cats are called by number and breeds to judging rings and placed in a judging cage. The judge then takes each one out and examines it," says Sharron Henderson of MuskogeeCats.
Nell says watching cat shows is much different than viewing shows of other animals.
Many judges in The International Cat Association will tell audiences about the breeds they are judging, some of the criteria they look for, and traits of the breeds, Nell says.
You also do not have to be a breeder to show cats, and there is an all-inclusive category that allows any cat to be shown and judged (as long as the cat is registered with TICA).
"There is a Household Pet and Household Pet Kitten category at every cat show," says Deborah Keith, a Bengal cat breeder and ThunderKatz member.
"I had previously been involved with showing dogs and Arabian horses, and as I got older I needed to slow down a bit and find something a little less physically challenging," Keith says. "I've always had cats sleeping at the end of my bed, so the next logical choice was to show cats. I chose the Bengal cat because they have been bred to resemble a leopard."
Nell also became interested in showing cats in a roundabout way. When his children were little, he and his wife wanted a cat for their growing family and discovered the Ragdoll breed. Their first cat, Toulouse, arrived in 2000. In a few years, they were in love with the breed and bought their first pair.
"Growing up, I was a dog person and had never owned a cat. That all changed after Toulouse," he says. "I love coming home to my cats waiting for me at the door and relaxing with a cat on my lap."
Henderson has been involved in cat shows even longer than Nell and Keith. "I have loved cats as long as I have lived. I went to my first cat show in the mid-'80s and saw an amazing spotted cat on exhibition," she says. "Now I breed and show Bengal kittens and cats."
These ailurophiles want the general public to attend shows.
"Rescue groups are at every show with adorable kittens and cats looking to be adopted," says Henderson, while Nell notes"there are many beautiful breeds for attendees to see, and they also get the chance to speak with breeders."
Oklahoma cat shows can be found on the TICA show calendar at www.ticamembers.org.