[dropcap]Perusing[/dropcap] the latest book on Charles Faudree will be a walk down memory lane for those who loved his five previous books on Country French design. Charles Faudree – Country French Legacy is Jenifer Jordan's tribute to Faudree's design work, which she photographed for 27 years.
The handsome coffee table book presents an endearing collage of Faudree's earlier work, enhanced with Jordan's portraits of his final design projects. Long-time fans of the designer's iconic style will relish photographs they've seen before, while savoring newer work completed before he died in November 2013.
In the heart-warming book, Jordan captured Faudree's distinctive style and delightful personality. He loved playing jokes on people, and she recalls that capricious spirit with recollections of photo shoots where he tested her with mischievous pranks.
"I looked forward to every one of our photo shoots, in anticipation of not only seeing Charles' magical talent, but of spending time and laughing with my dear friend. Charles was the funniest person I've ever known. He was the ultimate trickster," she recalls.
"The biggest 'gotcha' was in Spain. We were photographing an incredible villa. The home had a faux, life-size butler. We'd been shooting for three days, and Charles was having the butler 'pop up' for a startle and laugh all over the villa. The last night of the shoot, I thought I was free from the prank. We had to get up by 4 a.m. for an early flight. I wearily walked into the shower – and screamed. The butler was in my shower."
In Faudree's first book, French Country Signature, he set the tone for the four books that followed.
"I would like to think I've helped elevate French Country design to a fine art," he wrote. "It is an excessive, exuberant style that fosters my favorite design principle – too much is never enough.
"With my love for mixing past and present, old and new, I like to create inviting rooms that express a casual, comfortable feeling. French Country design has a pleasing, fluid quality and a timeless appeal."
In speeches, Faudree was often asked to define his style. He made it simple for his audiences: "It's all about the mix, not the match."
He began each project with one pivotal item – an elegant mirror, a period armoire, a classic, comfortable chair – then brought order and balance to a room with symmetrical groupings. Pairs of accessories added elegance.
"A room cannot proceed without pivotal fabrics," he had said.
Faudree was a master at mixing fabrics, which were as charming and compatible as he was. His magic with fabric, especially story-telling toiles, lives on in his designs for Stroheim, Waverly and Vervain. His influence was so strong his upholstery firm, Thayer of Muskogee, opened a Brookside studio after his death.
To Faudree, a home's front door was the all important first impression, providing a glimpse of the rest of the home.
He was both designer and teacher.
"I am often guided by my belief [that] there are no rules about where you can use things," he said.
His principles – never intimidating or pretentious – became a design bible for his clients.
Jordan's exquisite photographs show how his layered design philosophy served him well during his 35-year career with clients around the world.
"In his later work, he wasn't afraid to add modern accents," she relates. "He would use a contemporary painting, a Lucite table or chair, nestled in the arm of history. He had a great eye for chairs.
"He designed interiors with warmth and personality," she continues. "His designs were always a reflection of those who had placed their trust in him to create a home environment they would love and treasure."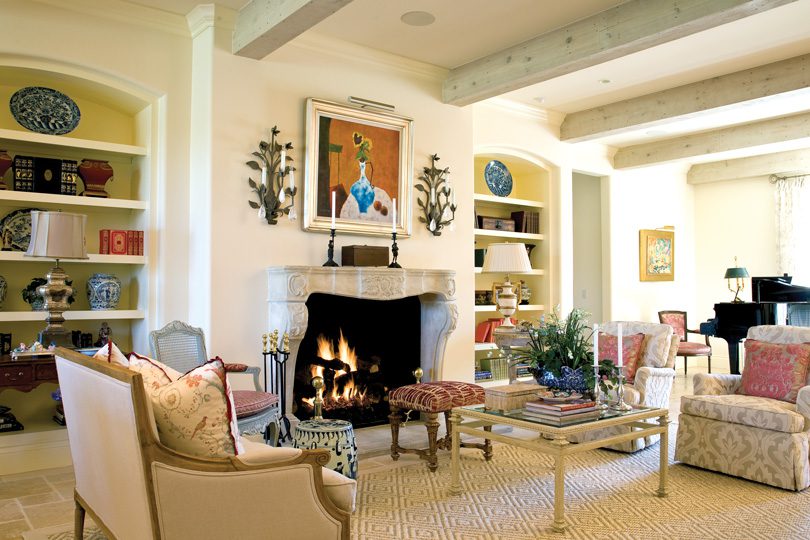 Jordan's book is a glorious travelogue, taking readers into Faudree's world of elegant homes. She was present for all those assignments, from California to North Carolina, Oklahoma to Cape Cod, Jamaica to Spain.
"I was always amazed and inspired by Charles' talent every time I arrived to photograph," says Jordan. "The beautiful rooms were photo-ready, down to the smallest of details. Every pillow was, as Charles would say, 'poofed.' Fresh flowers – always his favorite accessory – were in place. Every design element was artistically placed, and fires were roaring in the fireplaces."
Comments from Faudree and many of his clients are woven artistically through the book like a decorative ribbon. One of the most poignant is from Tulsan Linda James, a long-time client, who assumed Faudree's studio on Cherry Street for her antiques emporium.
"To watch him transform a room was magical," James says. "We miss that wonderful, adorable man with impeccable taste and the twinkle in his eye. He will always be a part of our lives, and we remember him with fondness and treasured memories."