So here he comes, big and burly yet tired from the kitchen – his crisp chef whites still as starched and elegant as the impeccably ironed linen on the Art Deco dining room tables. 
It's just before 5 p.m., and Demarcus Kelly's taking a break after six hours of work, a brief respite before the first diners come and he's back on the job for six hours more. He's already helped prepare fried chicken with waffles and buttermilk biscuits with gravy for breakfast; spent some time on the computers doing administration and planning; then roasted some pork belly to be served with chipotle peach relish at dinner; and braised a rack of Wagyu short ribs. Those will be served not at today's, but at tomorrow's dinner (they go on top of pappardelle pasta with mushrooms, pepper, madeira wine and horseradish gremolata) because they take 12 hours to braise.
"We cook them at 250°, low and slow," he says.
It's a long day's work for an executive chef, but, says Kelly, "that's my managing style. Being in the fire with my line cooks is the biggest way I can help, to be there when they need it."
It should be clear by now that Kelly's menu pays homage to Southern cooking.
Though Kelly grew up right here in Tulsa, his dad comes from Franklinton, a small town in Louisiana right at that southeast corner where Louisiana digs into Mississippi. He has fond childhood memories of those lazy endless summers, stirring gumbo in the kitchen.
"I stirred the roux for at least an hour, and as a child it felt like forever," he says. He knew by the age of 13 that he would be a chef.
But if you think his cooking today is all about recreating childhood tastes and memories, that's not the story. Kelly's dad was a fine dining chef at the Doubletree, and with his encouragement, Kelly went to Platt for Culinary Arts. For the ten years following his graduation, Kelly worked at Tulsa Country Club. He started out cooking poolside snacks, then slowly moved up to line cook, then banquet chef, and finally executive sous chef. That's where he fell in love with Southern style.
He learned Southern cooking at the club from Alex Pierce, currently executive chef at Southern Hills, who grew up in North Carolina.
"Demarcus is the epitome of a life long student of his craft," Pierce tells me. "He is always looking to refine his skills, flavors and techniques. His even-keel demeanor and quest for knowledge has led him to be the great chef he is today."
Kelly explains: "I'd call my style 'Southern-influenced modern American.' American means being able to draw from all cuisines and mold it into one, and I do that, but my primary influence is Southern. I throw in French technique, too."
In his spare time, Kelly is planning menus, as his dishes change with the season. He started on Valentine's Day in early December. He writes down ideas (fig-cambozola tart), plays with them (figs won't be in season, try apricot?), experiments (will cambozola be too assertive for apricot?), tastes, refines. He keeps every recipe he's ever invented in a computer file … a big one; he has almost a thousand recipes.
He always wanted to be an executive chef and now he is. So, is he satisfied?
"It's a dream I had since I was very young," he says. "But you must, as a chef, get a little better every day. We're pushing the envelope here, getting to where food should be, and it feels good."
And then he walks toward the kitchen, where parsley and chives – which need to be chopped to make fines herbs – await him.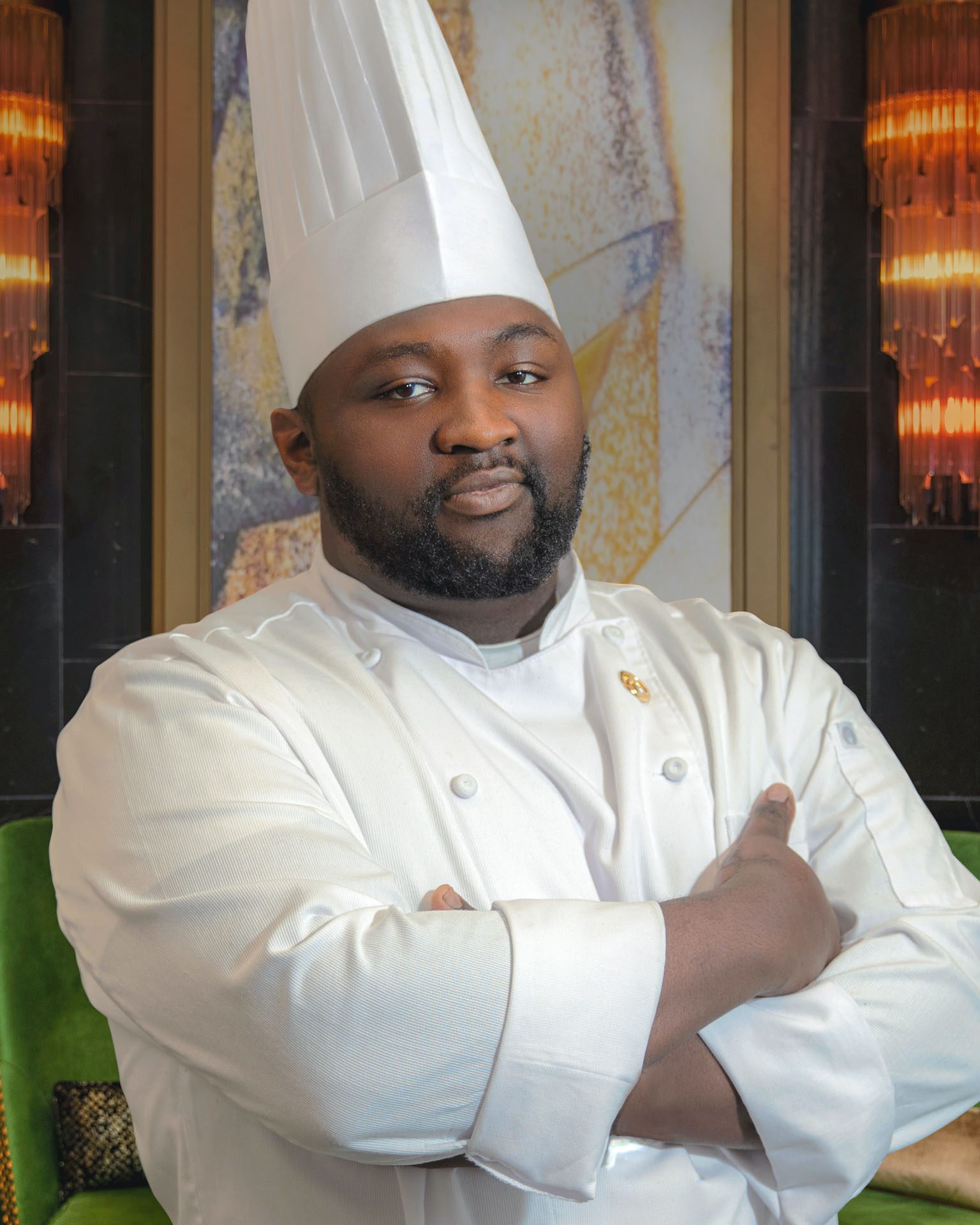 Gumbo
1 lb. Andouille sausage, diced
½ lb. Okra, sliced
1 cup Tomato concassed, diced
1 tbsp. Garlic, finely chopped
1 cup Vegetable oil
1 cup AP flour
1 cup Onion, diced
1 cup Celery, diced
1 cup Green bell pepper, diced
1 each Bay leaves
½ cup Blackening seasoning
1 tbsp. Kosher salt
5 cups Chicken stock
1 lb. Chicken breast, 1/2" diced
1 lb. Shrimp, thawed and drained
 ½ lb. Crabmeat
Brown Andouille in a sauté pan until crispy. Drain and reserve fat and meat separately.
In a separate pan, sweat the okra until tender in reserved Andouille fat. Add tomatoes, garlic and file powder and sweat another minute. Set aside for later.
In a heavy bottom soup pot, bring the vegetable oil to the smoking point and add flour, stirring constantly to get a deep brown roux.
Once the proper browning has occurred, add the onions, celery, peppers and bay leaves to stop the browning. Stir to combine, reduce heat, cover pot and sweat for 10 minutes.
Add blackening seasoning and Kosher salt and sweat a few minutes.
Add chicken stock and the okra-tomato mixture and simmer.
Add the chicken and simmer.
Add the shrimp and crab and turn off the heat.
Serve with steamed rice.