Most chefs have fond memories of watching their grandma at the stove – Tiffany Taylor, however, does not.
"My grandmother was a horrendous cook," she remembers with a laugh. "And I was an incurably picky eater. For five years, all I would eat was peanut butter and honey sandwiches."
Fast forward to adulthood, and Taylor found herself married and working at a job she hated. In her off hours, she became enthralled with food – not eating it, but learning about it.
"I wanted to know about every spice, its uses, its history. My husband got fed up with my complaining and forced me to take a day off and visit a cooking school," she says. "I visited the school and quit my job the next day."
Upon graduating from OSUIT's culinary program, Taylor found work at Southern Hills Country Club; Justin Thompson's Juniper and Freya; and Rivea, a Las Vegas restaurant owned by Alain Ducasse. After her Vegas stint, Taylor paired up with Ree Drummond, the Pioneer Woman, who was then-host of the number one show on the Food Network. She cooked meals for the film crew.
"They were all giant foodies. I made lunch and dinner for them six days a week, and it wasn't sandwiches," she says. "It was a full gourmet spread. Then I got pregnant and couldn't do those hours. Ree knew this, and found me and my husband little makework jobs just so we'd continue to get a salary."
And then one day, a world-famous film director came to town. Martin Scorsese was filming a movie in Osage County and needed a private chef. Taylor beat out dozens of applicants to get the job, and she spent 14 hours a day cooking in a little trailer on the prairie.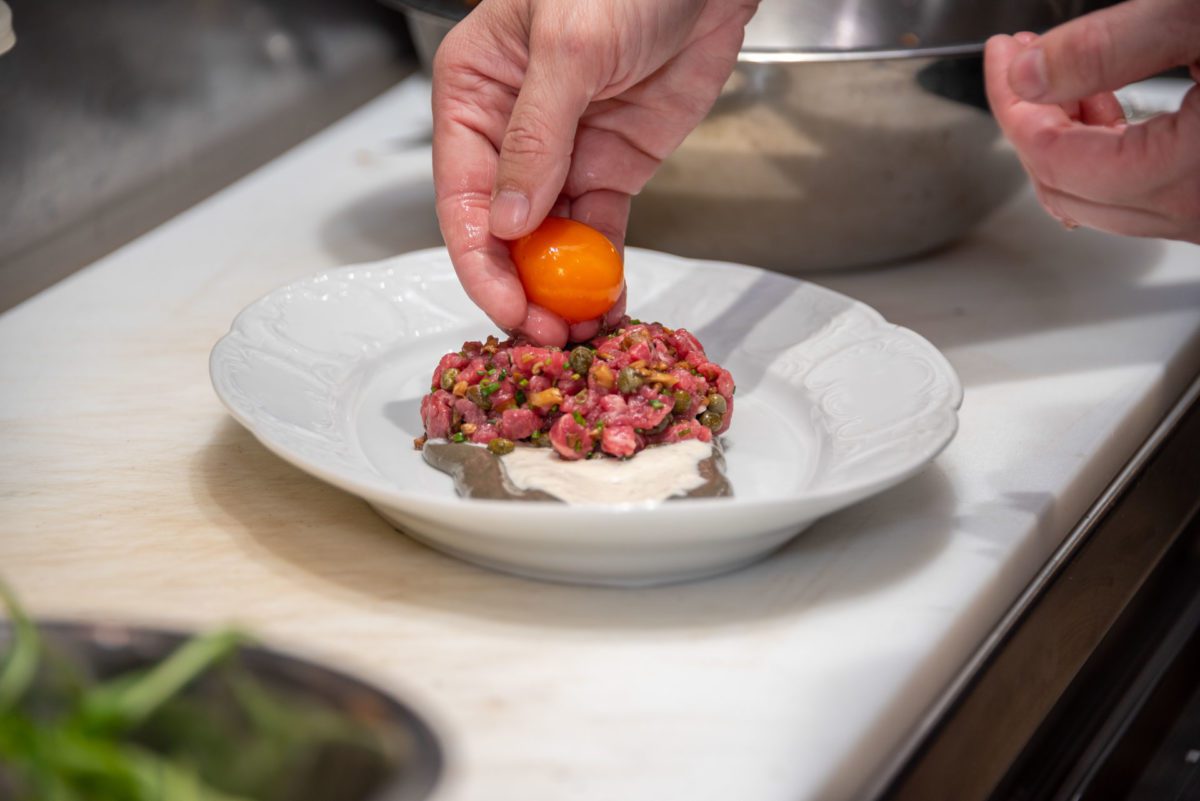 "All he did each day was answer questions, solve problems non-stop," recalls Taylor. "His mealtime was his only rest from that, his only time to decompress. I did my best to make it happen. Instead of facing him with yet another decision, I'd have the menu planned and ready to plate."
And what's he like to cook for?
"Oh, he's a wonderful man. Very quiet. He's a very adventurous eater, he's traveled the world and knows all about food," she says.
After the movie was over, says Taylor, "I didn't know what to do." But she soon saw the ad for the Hemingway, and here she is – executive chef of that glorious, glamorous steakhouse on Cherry Street, a place whose dining room is so elegant that people go quiet for a moment when they first see it.
But she doesn't see herself as the boss.
"You can say I'm executive chef," she says, "but that's just a title. I work alongside my team. After all that time working alone on a film set, it's such a joy to be part of a team. And the team we have now, it's beautiful, and I'm honored to be a part of it.
I haven't yet put my touch on the menu, though I've planned seven or eight new items I'll roll out soon. I wanted to take the time to know my team, know the restaurant before introducing new things. It's not about what I like to cook, but what's right for the restaurant. And what's right for the diners."
Photos by Stephanie Phillips
3 cups – Cut corn (thawed if frozen)
2 cups – Water, divided
2 cups plus 2 tbsp. – Semolina
2 tbsp. – Corn starch
1 tbsp. – Kosher salt
½ tsp – Ground coriander
½ tsp – Ground cumin
¼ tsp – Paprika
¼ tsp – Cayenne
¼ cup – Chives, minced
1. Blend 2 cups of cut corn with a ½ cup water in a high-power blender until mostly smooth.
2. Transfer corn mixture to a medium-sized bowl. Stir in remaining 1 ½ cups water. 
3. Add dry ingredients to corn mixture and stir to just combine. 
4. Gently stir in remaining 1 cup corn and minced chives. Set aside.
5. Over medium-high flame, heat a teaspoon of avocado oil in an 8-inch nonstick saute pan. (This is my preference, you can easily substitute canola oil. Just don't use your nice olive oil here.)
6. Spoon ¼ cup mixture into pan. You should be able to fit 2-3 cakes at a time. 
7. Let cook until bottoms and edges are starting to turn golden brown, about 4 minutes. 
8. Use a spatula to carefully flip to other side. Cook until bottoms and edges are golden brown, about 4 minutes. 
9. Remove from pan and transfer to a cooling rack on a half sheet tray. Keep cakes warm by keeping sheet tray in an oven set to Low (200F) while cooking off the rest of the batter. These can also be reheated in a dry nonstick saute pan or in an airfryer.