[dropcap]Signs[/dropcap] do more than point the way or announce a business. Done correctly, they speak to us. And they're capable of speaking to us from the past.
This is a truth well known to Jim Gleason of Oklahoma City's G&S Sign Services. He's restored hundreds of old signs. His favorites, he says, are neon.
"When I get in front of a neon sign, there's nothing like it," he says. "In a way, when you get these things restored and turn them on, it's almost like they're talking to you from quite awhile back. To me, it's almost magical."
Gleason is a founding member of the Billboard Museum, a nonprofit organization devoted to preserving old signs and their history. Fairly new, the museum currently is just a warehouse filled with signs in need of restoration.
He started in the business when he was twelve years old, sweeping the floors in his father's sign business. Over time, he learned the craft of sign restoration from his father. It quickly became a labor of love for him.
"There are some amazing signs. As long as they're staying local, people will be able to see them again," Gleason says. "But when they get sold privately, who knows what state they're going to end up in."
The demand for neon signs peaked in the 1960s. During the '70s and '80s, they were replaced by the more conventional signs of today. Nobody, it seemed, cared about the old neon classics.
That changed with the airing of American Pickers on A&E's History Channel. All of a sudden, old neon signs had value. They were collectible. With supply low and demand high, their prices skyrocketed. Many of them found their way into private collections, hidden away from the general public.
"It's like a junk car sitting in a pasture," Gleason says. "When you're looking at a junk car sitting in a pasture, not everybody can visualize what that thing looks like restored."
Today, conventional signs are giving way to electronic billboards using LED lights. But, says Gleason, the technology just isn't there yet, and they're still a way off from producing the eye-catching effect of neon.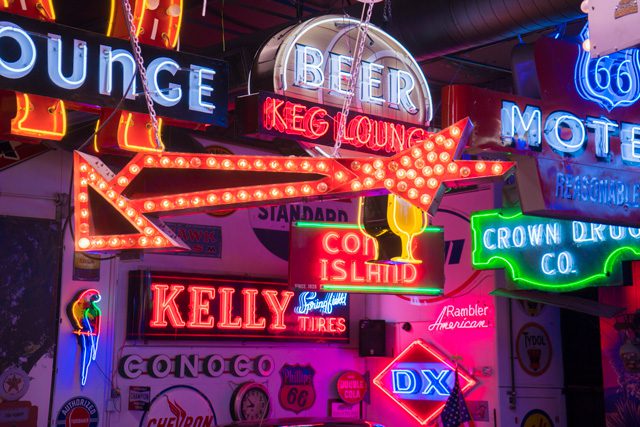 Bill Stokely, also in the sign business, collects vintage neon signs and displays them in Tulsa's Stokely Event Center. He shares Gleason's love of classic neon.
"Everybody collects something. As time went on, I would find signs here and there that I just kind of liked," he says. "I stuck them on the wall. I started collecting here and there. Signs that I liked to look at, the classics."
There are over 80 signs on display at the event center. Gleason favors gas station signs, oil company signs, soda signs and signs that elicit Tulsa's past.
He looked far and wide to fill his collection. A helicopter pilot, he flew over older highways in search of signs. He quickly learned that signs along the highways were privately owned and prohibitively expensive. He began flying over country roads close to the highways and found treasure on old barns, or even on the rooftops of older buildings.
He loves introducing people to his sign collection.
"When they walk in, I always get a big bang out of the expressions on their faces," he says. "They go, 'Oh, Gosh. Wow!' Your eyes can't collect it all. There's just too many things to look at. So they just kind of stand there and gaze around."