"One might not expect to see a strikingly modern home in a small, midwestern city like Tulsa," says architect Brian Freese. "Yet, Tulsa has a rich and vibrant legacy of impressive architecture and an appreciation among its residents for quality design."
This stunning new build is situated in one of those established neighborhoods of the 1920s and '30s. Newly made fortunes in Tulsa's burgeoning oil industry funded impressive estates and limestone buildings.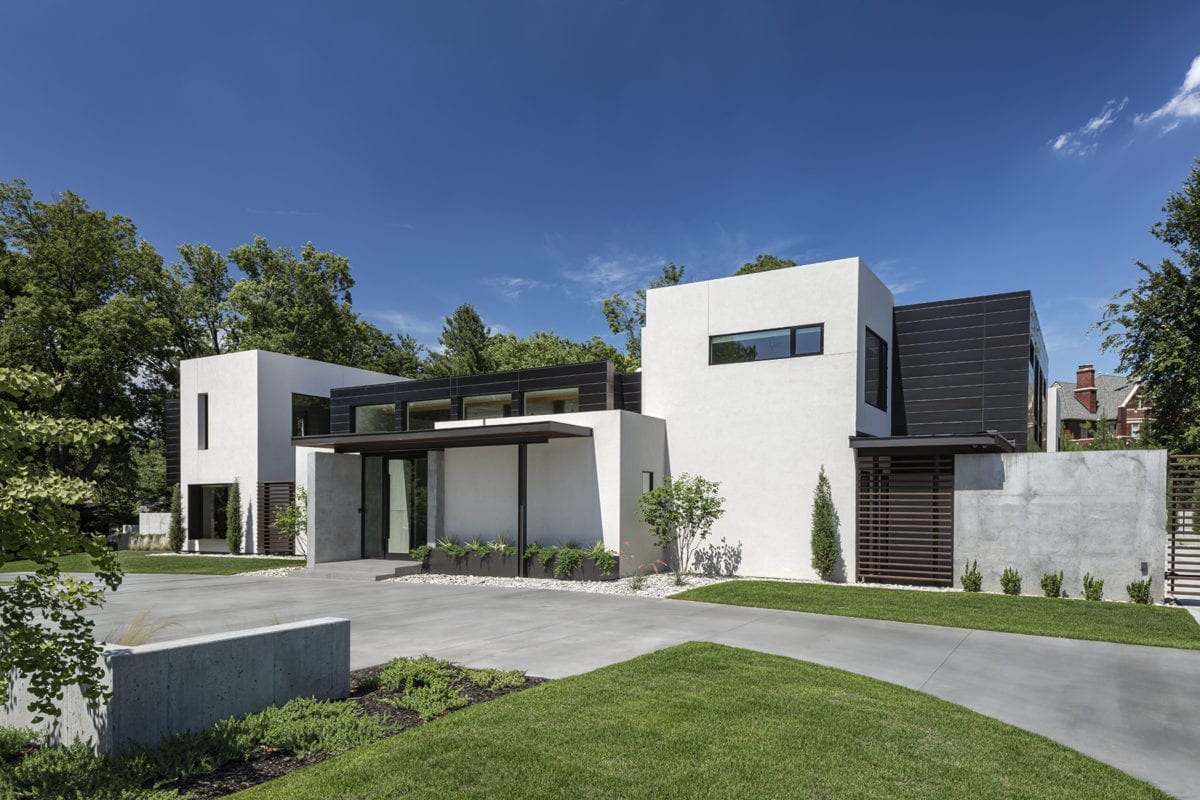 "When Tulsa's oil industry growth flattened, what remained was a rich fabric of European-inspired mansions, Neoclassical edifices and a host of Art Deco homes and downtown buildings, marking Tulsa's greatest collections of Art Deco architecture per capita in the world," says Freese.
Designed by Freese Architecture, the home is a departure from the surrounding hand-hewn stone and brick residences. However, "the home's expansive, relaxed organization and proportions are cohesive with the large estates of the neighborhood. I compare the design to a modern pueblo. We designed this home to be clearly of this era and to represent the way we live and thrive today."
The main entry is an opening between two parallel site-cast concrete walls framing a pivot-hinged glass door and side window, directing the view to a concrete wall and vibrant art piece at the back of the entry.
"We threaded raw, unpolished concrete walls throughout the home in key locations to delineate spaces," says Freese.
These concrete walls, a defining component of the home, were a challenge to perfect. Freese teamed up with builder Austin Edgar of Austin Lee Company, who had a clear vision of how he wanted them to look.
"Freese designed the home is a way that these walls were key architectural features in the home, and concrete is extremely unforgiving," says Edgar. "Multiple companies attempted to fill and polish the walls and they all gave up. I was determined that the look I had in my head could be achieved, and finally, I found the right person. It took weeks to hone these walls into something that is truly unique. Almost everything about this home was challenging, and that's why I love what I do."
The public space at the front of the home unfolds behind the entry wall and consists of the living, dining and kitchen zones. The entry wall defines the dining zone in the middle of the public space and supports a warm-toned walnut console and matching pendant light. The living zone features a dramatic, 12-foot-long linear fire feature below a walnut-paneled wall framing a large screen television.
On an adjacent wall is a long, low window, framed on the exterior with deep plate steel sheets, giving the living area a seated panoramic view to the front of the home. The kitchen is opposite the living zone, designed with a tailored walnut cabinet system and an oversized porcelain tile back wall.
The primary bedroom suite, private home office and dramatic floating staircase to an upstairs art studio are accessed via a corridor that features an unexpected view into one of several pocket courtyards, which Freese created "to add moments of visual delight," he says.
The primary bedroom features another freestanding concrete wall, giving a solid backdrop to the built-in king-sized bed and side tables. The bathroom is anchored with the same concrete wall, supporting a dramatic suspended walnut cabinet and two vessel sinks. A tub enclosure opposite the sinks features a large window overlooking a private courtyard.
The master suite includes large separate closets, a private laundry area and a fitness room. On the opposite side, a four-car garage features children's bedrooms above, as well as a gracious apartment with spacious covered balconies.
An outdoor room behind the public space overlooks the pool court and concrete paneled pavilion beyond. Multiple units of tall glass sliding doors recede into flanking pockets to provide a 24-foot opening to the pool. This outdoor space offers all the creature comforts of a full kitchen, with air conditioning, a sound system and a big screen TV.
"Freese really created a truly exquisite, resort-like feeling with his design, and it's truly a summer luxury Oklahoma paradise," says Edgar.
The interiors throughout are bathed with natural light through strategically placed windows, clerestories and skylights.
"The interior materials and color palette are consistently lean throughout, providing a canvas for the owner's artwork and furnishings," says Freese. "He is an architecture and design junkie – his hobby is to research architecture in his spare time. He selected all the interior materials, finishes and furniture, and did a really great job."
While the entire home is one-of-a-kind, Edgar says the noteworthy nature of the dwelling begins "with Freese's front elevation of the home. Even one year later, people still slowly drive by completely captivated, and they often stop and take pictures."
Edgar and Freese have worked together thrice in their careers – with more projects on the way – and Edgar says it's always a treat … and a challenge.
"I relish working with Freese, as I love his sophisticated designs and the challenges that come with bringing his art to life," he says. "I think historically, there has often been an adversarial relationship between architect and builder, as architects often design things that are hard to build and many builders don't rise to the challenge, whereas I absolutely love taking Brian's visions to fruition."