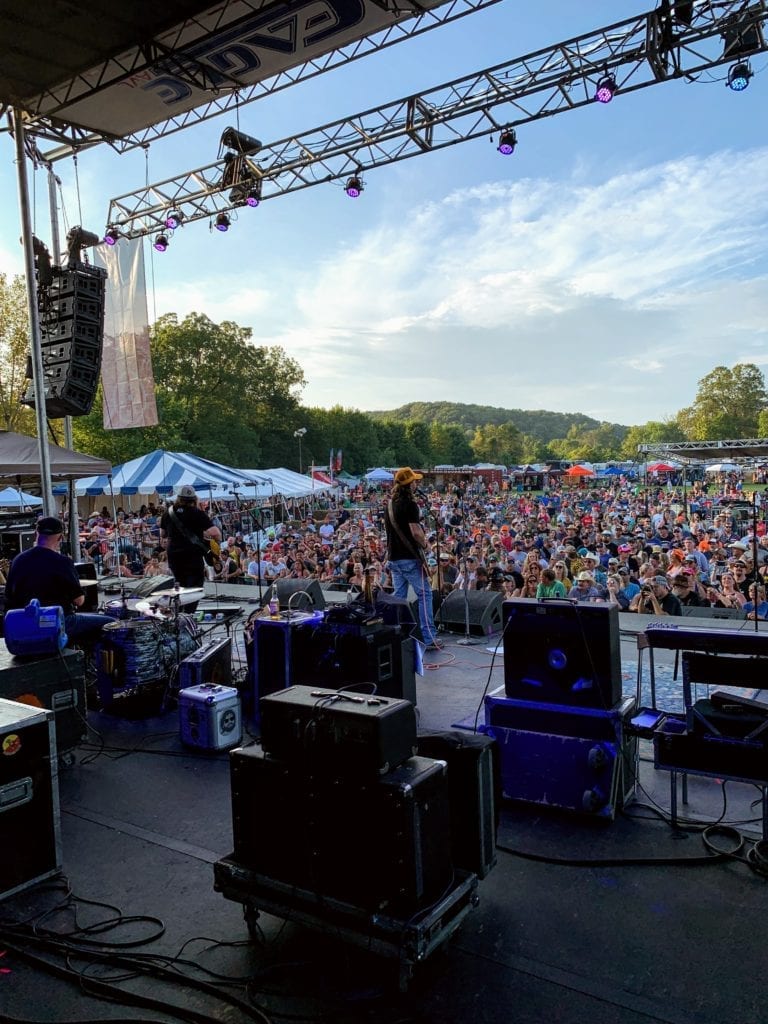 Like the people and the scene it celebrates, author Josh Crutchmer's new book about Red Dirt music was a long time in the making.
"I started the official interviews in 2018, but I'd go to concerts in the early 2000s, and quite often, I'd just make notes," he recalls. "So there were lots of times that someone would say something from the stage, and it got into the book, because I was there and jotting it down and saying, 'You've got to remember this.' I really didn't know why then. It was just that I was seeing something that was definitely different and needed to be documented. I didn't really know what I would do with the info at the time, but I knew I really needed it.
"Over the course of 20 years," he adds, "I've thought about documentaries. I've thought about multi-part series in magazines, like Rolling Stone's old "With the Band" feature. I thought of all of those and didn't really settle on a book until about two years ago."
That book, Red Dirt (subtitled "Roots Music Born in Oklahoma, Raised in Texas, At Home Anywhere"), debuted in September under the Black Lounge Publishing imprint. It traces the beginning of the Stillwater-spawned musical amalgam back to the late '70s, when Steve Ripley (known later for, among other things, assembling and leading the multiplatinum-selling country-rock band the Tractors) released an album by his band Moses on a label he called Red Dirt Records. Within a year or two, John Cooper and Danny Pierce would rent the big farmhouse in rural Stillwater that would become legendary as the Farm, the epicenter of Red Dirt's origins.
That all happened before Crutchmer's time, but the Oklahoma native had the good fortune to attend Oklahoma State University in Stillwater during a time of Red Dirt ascension. By 2001, when Crutchmer graduated with a degree in journalism, Cooper's band, the Red Dirt Rangers, had become a mainstay of the scene, with Cooper and bandmates Brad Piccolo and Ben Han the closest thing Red Dirt had to elder statesmen. Also, new bands like Cross Canadian Ragweed, the Great Divide, and Jason Boland and the Stragglers had arrived on the scene, complementing veteran musicians like the Rangers, Tom Skinner, Brad James and Bob Childers. An earthy, lyric-based music that drew from a patchwork of different styles, Red Dirt had by then spread beyond the borders of Stillwater and even Oklahoma, down past the Red River, where its subsumption into the so-called Texas Music scene wasn't always met with open arms. As Crutchmer notes in Red Dirt, the Texas scene was more competitive, and the singing-around-the-campfire spirit of brotherhood the Red Dirt guys had experienced in Stillwater didn't prepare them for this new reality.
During his time as an OSU student, Crutchmer would visit Texas venues often. So he saw the pushback against Oklahoma performers first-hand, whether it was from festival stages or live-music clubs.
"There would always be one or two musicians who'd come up there [to a Texas stage], and if they didn't say it, they would have a song about it," he remembers. "The general idea was, 'We have to protect Texas.' The most extreme was an artist who had a song that said, 'We've got to put up a wall at the Red River to keep the Okie musicians out.'
"That was such a weird concept to me, coming from the Bob Childers and Tom Skinner world where everything was love. It stuck with me. And the very first time I got on a stage in Texas was to introduce Ragweed. It was at Lucy's in Austin in 2001. They were going straight from Lucy's to the Philadelphia International Music Festival, and when I brought them up, I said, 'You guys have to give it up for these boys. They're taking this music to Philadelphia next week!'
"And it was just boos – jeers and boos and thumbs down. To me, that was the eye-opening experience."
One of the many points he makes in his book – which, in the New Journalism tradition, combines memoir with reportage and interviews – is that the Red Dirt artists ultimately became accepted in Texas for a range of reasons. Texas Music hero Pat Green, for instance, embraced Cross Canadian Ragweed, as did a fast-rising band called Reckless Kelly. While the latter group hailed from Idaho, its supportive spirit coupled with its popularity among Texas fans also helped break down the barriers. So did the success of the Stillwater-based Great Divide, which had become the first of the Red Dirt acts to get a major-label deal. That imprimatur helped the group make inroads nationally, including south of the Red River, and the band members ended up bringing along some of their Oklahoma friends to open, including Cross Canadian Ragweed. Ragweed, in turn, did the same thing for others. And an Oklahoma band called the Turnpike Troubadours (its name inspired by the Indian Nations Turnpike) kept the tradition going while rising to heights unscaled by most Red Dirt and Texas Music performers.
"Now, you can go all the way to El Paso and there's be some radio station that calls itself 'Red Dirt Texas Country,'" notes Crutchmer. "One of the reasons I took the book in the direction I did was that people in Texas would understand what that marketing phrase means."
Crutchmer is currently the print-planning editor of the New York Times, one of several high-profile big-city jobs he's worked since his graduation from Oklahoma State. In some ways, his career as a journalist has paralleled those of his friends in Red Dirt music. Many of them, Crutchmer included, came out of Stillwater to make their individual impacts on the popular culture of a whole country. Along the way, he wrestled mightily with that old journalism-school dictum that warns reporters never to write about things in which they're personally involved. It took him a while to reconcile that warning with his coverage of the Red Dirt musicians he loved. But he did.
"I just accepted it and decided I would be upfront about it," he says. "The first time I really wanted to do a long-form Red Dirt piece, I happened to be living in Chicago. Ragweed played its final show there – they called it a hiatus, but it was a breakup. And I knew I had to write something.
"I was working at the Chicago Tribune, and that was the first time I tried being upfront and saying, 'Look, this is all sorts of a conflict. These people are my friends. But there's a story here, and I can tell it.' It took a lap around the newsroom to get somebody to listen, but once they did, they let me, and I wrote probably 3,000 words. I interviewed the whole band and did a big reflection piece that was published the morning of their final show.
"That, to me, was a big-time turning point, because I realized I could write about Red Dirt as long as I was upfront about it. I never really abused that, but there were times, like when Skinner died [in 2015]. I was at the Cleveland Plain Dealer, the assistant managing editor, and I said, 'I don't know how many people in Cleveland care about this guy, but I'm going to write an appreciation of him.'
"Once I actually decided I was going to do a book and wrote an outline, I basically used those experiences to push me and guide me. That's why you see in the book this back-and-forth between journalism and memoir; chapters completely about me, and then three or four chapters without a personal reference at all. That was by design.
"When I brought it back to me," he concludes, "there was always this caveat of, 'Look, I know what this looks like and I understand it. But I'm going to do it anyway.'"
For more about Red Dirt, visit reddirtbook.com.