Five Oklahoma towns have just three letters, but only one is an equine, chocolate and media magnet.
Ada, unlike Jay, May, Jet and IXL (yes, that's correct), boasts 10 radio stations, two newspapers, an arena for national rodeo events, and an all-you-can-eat sweets festival just before Valentine's Day.

The Pontotoc County Agri-Plex and Convention Center, built in 1985 with a short-term sales tax, features a 2,500-seat indoor arena, which locals call the Big Red Barn, and other venues garnering up to $250,000 annual revenues, facility manager Junior Grissom says.
Grissom owned a saddle shop for 25 years and has been involved with cutting horses for 32 years. He beams at the pickups and trailers that truck each week into Ada, whether it's for this month's Beef Expo, December's regional cutting horse competition or July's World Series of Team Roping.
"Ropers come from coast to coast for that one," Grissom says. "It's amazing to see all these top guys here."
Grissom says three years of upgrades (air conditioning, giant fans, lighting and fencing) have made this a top-flight equine facility.
The 12,000-square-foot convention center can accommodate 1,000 people with three kitchens, meeting rooms and a main stage. The small-animal barn bustles with kids and their critters; the large-animal barn has 184 horse stalls and 300 cattle tie-outs. The outdoor arena can also handle any type of equine event.
Another draw to Ada is the Charmed by Chocolate Festival, this year on Feb. 10. Contestants enter two identical creations – one for public tasting and the other for judging. Chocoholics pay $5 each to sample all the pies, cakes, cookies and fudge.
"Some super-chocolatey things come through," says Amy Kaiser, Ada Main Street's program director. "Some entries are so elaborate that it takes two guys to carry them in."
Many come from out of town, especially Oklahoma City.
"People will travel a long way for good chocolate," Kaiser says.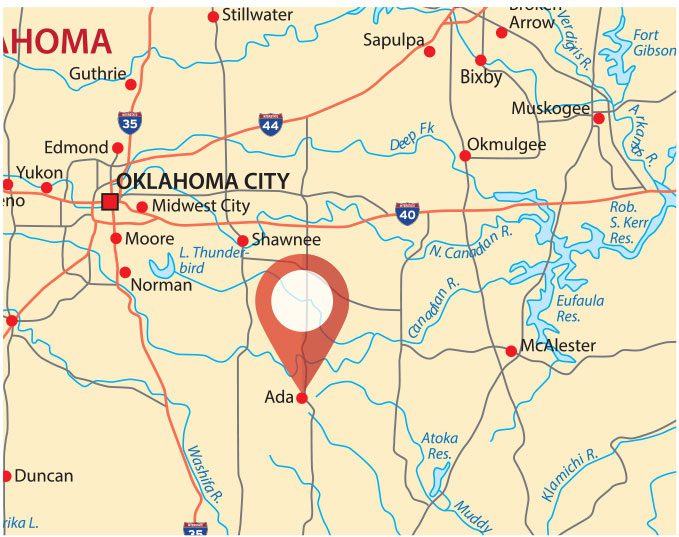 Whether it's a horse show or a confectionary coma, people know about it from a multitude of media, remarkable for a place of Ada's size. The Chickasaw Nation, with headquarters here, has a newspaper, a TV-video company, a film production company, a movie theater, a newspaper and five radio stations.
There are also the 114-year-old Ada News and five other radio stations, with programming from gospel music to NPR.
The result: One would be hard-pressed to be uninformed in Ada.