Before The Children's Hospital at Saint Francis became a St. Jude Affiliate Clinic in 2016 … before the signature 20-foot cartoon panda topped a brand-new facility in 2008 … before the "hospital within a hospital" began in 1995 … Saint Francis committed itself to treating critically ill kids.
One case came more than three decades ago, when Mike and Cathey Barkley faced a difficult pregnancy and a baby being born three months premature, a risky situation in 1984. The Barkleys chose Saint Francis because it had attained the highest rating level for pediatric care. The hospital was also the only one in Tulsa with machines that were able to warm their newborn son, oxygenate him and ventilate him.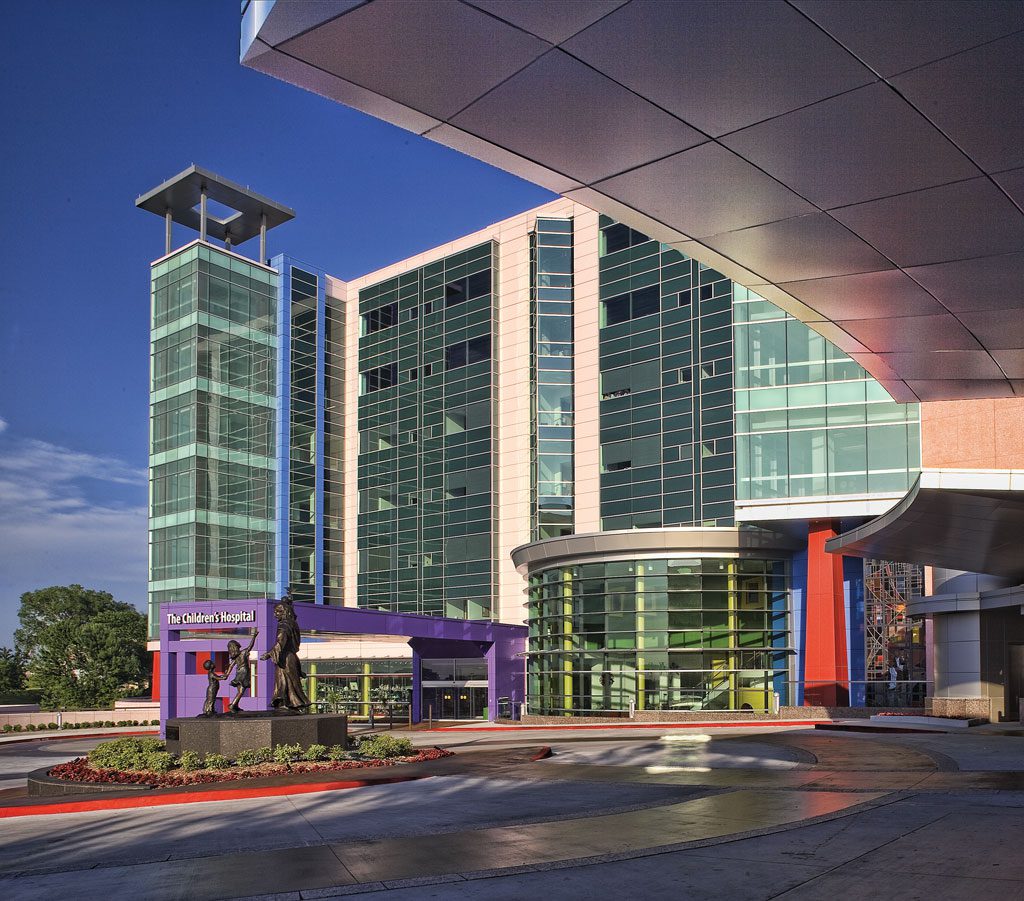 "Oh, that Barkley baby," says Shannon Filosa, then a pediatric intensive-care nurse. "I remember him, and a lot of other babies, because you're not just taking care of the patient but the families, too."
Today, that same nurse, Filosa, and that same family, the Barkleys, are integral parts to the operation of The Children's Hospital, the only such facility in eastern Oklahoma, northwest Arkansas, southwest Missouri and southeast Kansas.
Filosa, executive director of women's and children's services at Saint Francis since 2007, oversees deliveries, high-risk pregnancies, post-partum care and newborn nurseries. The Barkleys have been five-time co-chairs of the Painted Pony Ball, the largest fundraiser for The Children's Hospital.
Mike Barkley's personal and philanthropic relationship with Saint Francis intertwines with Barkley Law Firm's legal representation of the health system. He was a logical choice when the Warren Foundation needed someone to serve as chair of The Children's Hospital Foundation at Saint Francis, and he accepted serving in that role.
"It's been an honor to do so," he says.
And Filosa, 22 years a neonatal nurse, still knows many of her former patients, not just Christian Michael Barkley, now 33.
"You keep up with people because you spend so much time with the baby and the family," she says. "People recognize me all the time and come up to me in restaurants and show me pictures of their children and grandchildren. It's amazing."
'The Right Thing to Do'
The emphasis on helping people, particularly children and their parents, drove Saint Francis to expand its children's services within the main hospital to an eight-floor, 162-bed, stand-alone facility.
Jake Henry Jr., president and CEO of the Saint Francis Health System since 2002, says building The Children's Hospital was "simply the right thing to do."
The Saint Francis board committed to the plan in 2003; The Children's Hospital broke ground in 2005 and opened in 2008 during a snow storm.
"Tulsa was without its own children's hospital," Henry says. "Otherwise, kids would have to go to Oklahoma City [to The Children's Hospital at the University of Oklahoma Medical Center], and just a few hours of travel can make all the difference in the life of a patient."
Henry preaches strategic planning. Shortly after he arrived at Saint Francis, he and the board of directors identified three pressing needs: an expanded emergency room and critical-care unit, a separate hospital in the southeast quadrant of Tulsa County and a separate children's hospital. All three have become realities.
"The Children's Hospital had the 'worst' return on investment, but that's what we took up first because we already had the largest pediatric load in town," he says. "We are a faith-based, Catholic organization. Our mission of helping others through Christ drives everything we do.
"Sixty-five percent of our kids here are on Medicaid … victims of child abuse, cancer, heart disease, under-developed lungs. We treat patients as Christ would."
There was a concern about the scores of millions of dollars needed for the new facility. However, Saint Francis has an advantage of being one health system, incurring no debt as it has grown and having the ability to shift and focus funds. That allowed The Children's Hospital to open five years after Saint Francis committed to the project.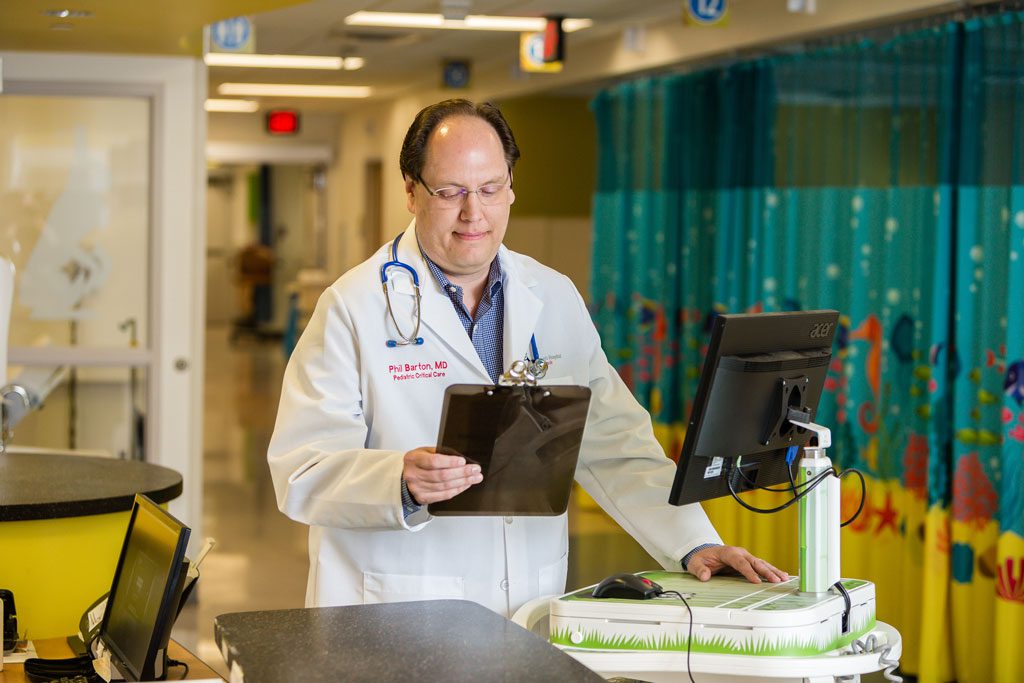 "Planning is a process," Henry says. "It drives our budget and our operations. We're the only health system in the city that's locally owned. This allows us to be nimble. We can move quickly because we have only one board."
Dr. Phil Barton, medical director of the pediatric intensive care unit, stresses that The Children's Hospital opened during the onset of the Great Recession.
"Five other children's hospitals closed during that time, and here we were opening ours," he says. "The administration took the aspect that this is what's right for kids, even though we're going to get killed with costs.
"We bucked the trend."
Barton is also proud that Saint Francis teaches resident physicians. On the most recent residents' orientation, Barton just happened to run into them in the spacious foyer of The Children's Hospital; he talked extemporaneously for several minutes with the group before carrying on with his schedule.
"This is a unique environment: a private health system that's also a teaching hospital," says Barton, who relishes his role as an associate professor of pediatrics at the OU-Tulsa and the Oklahoma State University-Tulsa medical schools. "Sometimes I learn more from my residents than I do by myself."
'How Can You Not Do This?'
Carrie Daniels, whose daughter Laney Kate was in the neonatal ICU for many weeks because of a life-threatening congenital condition, understands the stress and emotional toll of having an ill child in the hospital.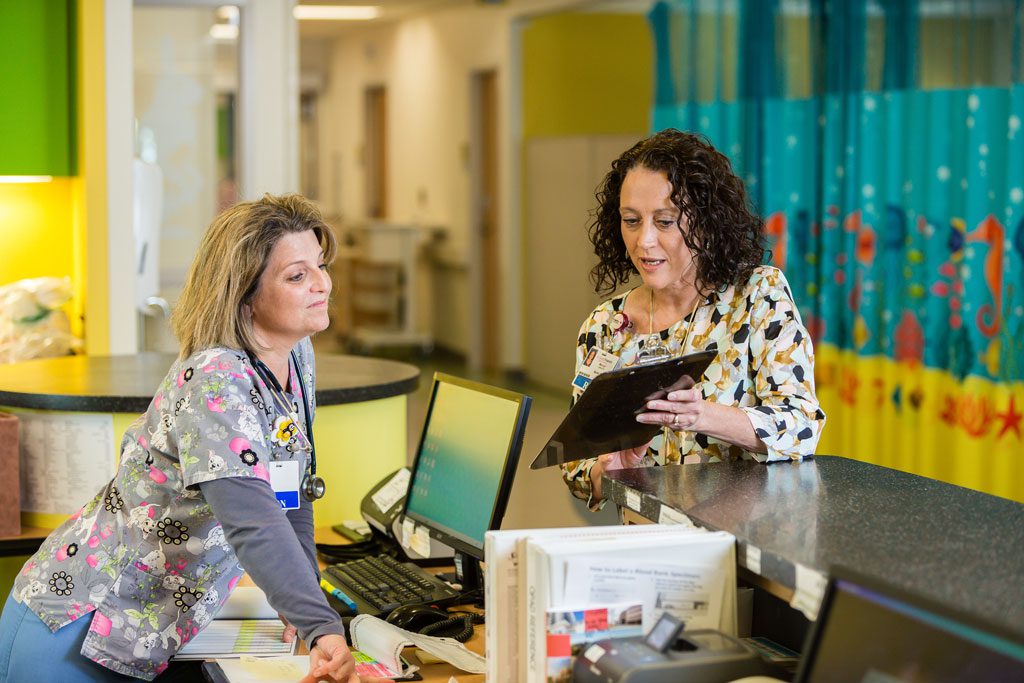 "The doctors and nurses have to tell you all the bad stuff that can happen," says Daniels, who does outreach for the facility as a volunteer. "But I get to tell about all the amazing stuff that happens. They are selfless servants in those hallways."
The Children's Hospital doesn't look like a medical facility. Natural light bathes every level because of floor-to-ceiling windows. Bright colors, soft curves and artwork much like that at a children's museum dominate the architecture.
One of the design commitments that Henry and other leaders made was making patients' families comfortable. From fold-out couches in the "family zone" of each room to providing laundry facilities and "respite areas," parents and loved ones get the care they need so they can bolster their children.
"It's well known that children battling disease or injury do better when they have strong family support," Henry says. "We purposely designed rooms for families. The Children's Hospital isn't just a big box. Involving the family is clearly efficacious."
The professionals in the hospital also feel the heartache because of the close relationships that they develop with children and their families. Burnout, particularly with nurses, can occur; Becky Reinholz, clinical director of the pediatric ICU, is keenly aware of this.
"You have to care about the nurses and everyone on the staff as much as the families," Reinholz says. "If we're focused on the quality and safety with the families, then that's going to extend to the nurses and the staff."
Reinholz says that when tragic and life-altering events occur, it helps to see that "every day is a new child, a new family. There are as many rewards as there are challenges. We're human, but you have to hope and lead people into the future. That's mission driven.
"Plus, how can you not do this?"
'Child-Centered, Non-Threatening'
Much of what The Children's Hospital does comes about from the Warren Foundation and the Painted Pony Ball. A common link between those two is Suzanne Warren.
"Philanthropy is the family business," Warren says. Her husband, William K. Warren Jr., is chairman emeritus of the Warren Foundation, and her son John-Kelly Warren is chairman. "I have the background of my husband's family, and I'm a hard worker. I've had a greater impact with them than as an individual."
Warren says much of The Children's Hospital success has come because many felt "that the Tulsa community should be involved and asked to support it."
Henry asked her to chair the inaugural Painted Pony Ball, which, through consensus, quickly acquired a western theme.
"You see every kind of dress and tux," she says. "I wear a Valentino dress and my husband wears boots and jeans. It looks like we're going to different parties."
The goal of this year's Oct. 21 event is $3 million to buy a pediatric MRI machine "that will be kid-friendly and decorated and equipped [with $60,000 virtual reality goggles] to keep them still during the process," she says.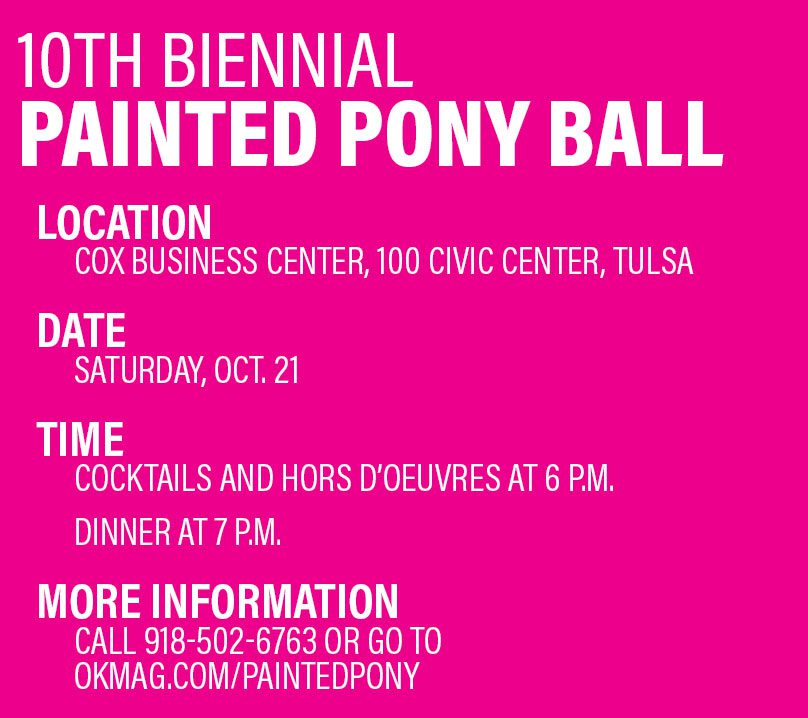 Warren says her involvement in The Children's Hospital made sense because she and her husband have six children and know firsthand the challenges of having children in the hospital. She also has a master's degree in education and was a tenured teacher.
Her goal for the hospital was to make it "child-centered, non-threatening." She recalls one critically ill boy who was there for many days.
"He recovered. He had done so well," Warren says. "But he didn't want to go home because of how he was treated.
"That says a lot."

Web-Exclusive 
1. Suzanne Warren
Photo by Nathan Harmon
Suzanne Warren gathers people together and accomplishes goals.
You see it in the annual Painted Pony Ball, the biggest fundraiser for The Children's Hospital Foundation at Saint Francis. You see it in meetings, which can result in tours of The Children's Hospital and (a side benefit) getting people to volunteer.
When she moved to Tulsa 37 years ago with her husband, William K. Warren Jr., she dived into the Warren family's contributions to the city.
"I wanted to continue their vision of philanthropy," she says.
Because of her work with The Children's Hospital and at least a dozen other organizations and institutions, the Connecticut-born Warren was inducted into the Oklahoma Hall of Fame in 2012.
"I am proud to be a non-Oklahoma native in the Hall of Fame," the former school teacher says. "I put committees together to get things done. I get people to rally around an idea. It's natural for me to rally people."
For one so immersed and involved in The Children's Hospital, you might think Warren's list of passion and visions for the facility would be lengthy. Instead, she offers one sentence: "I am ready to help in any way asked to further the mission of The Children's Hospital at Saint Francis: to extend the presence and healing ministry of Christ in all we do."
Warren is proud The Children's Hospital has led to the search and recruitment of pediatric specialists and sub-specialists.
"Their presence is what makes this possible for families in Tulsa who are faced with medical crises to receive treatment in Tulsa and remain [here]," she says.
Warren has fully embraced the Sooner State.
"I had never been to Oklahoma before my husband, Bill, brought me here," she says. "Tulsa is as beautiful as Greenwich, Connecticut, where I grew up, and people have been extraordinarily welcoming. There are many opportunities to be involved in organizations that improve a person's life. I have enjoyed a full family life, including every sport imaginable, for almost 40 years. I feel like a native."
2. Laney Kate Daniels
Photo by Shane Bevel, courtesy of Saint Francis Health System
Laney Kate Daniels, a typical 10-year-old, has multiple priorities: her dogs, books and tribal dancing – a normal mix of varying passions.
But Laney Kate's development and entry into the world were anything but normal. That's why she and her mother, Carrie Daniels, spread the word about The Children's Hospital at Saint Francis, where Laney Kate was born under traumatic circumstances.
In utero, Laney Kate had a congenital diaphragmatic hernia; her mother faced the prospect of a child not viable for the world and/or one requiring many risky surgeries before and after birth.
"But Saint Francis gave me hope for the possibilities of what could happen here in Tulsa," says Daniels, who had booked a ticket and long stay at The Children's Hospital of Philadelphia before remaining close to her Bartlesville home. "Saint Francis handled several cases like Laney Kate's a year."
On June 15, 2007, at 2:52 p.m., Laney Kate entered the world "with a healthy cry," says her mother, who had expected silence. The baby, immediately intubated, went through a series of steps (ventilation, oscillation and nitrous oxide) before the last hope, an Extracorporeal Membrane Oxygenation machine, allowing Laney Kate to stabilize.
Laney Kate's stomach was still in her chest; leaking in and around those cavities required a perilous three- to five-hour surgery. Laney Kate and the surgical team did so well that it was accomplished in two hours.
The dynamo, now 4-foot-2 and 47 pounds, has been healthy ever since … with no follow-up surgeries.
The Danielses embrace their Chickasaw heritage. Laney Kate, since she was 5, reguarly performs the Jingle Dance, which "is for prayer and healing," says her mother, treasuring its symbolism.
Laney Kate is quick to add that she does more than just dance.
"I play outside with my dogs, Koda, Lola and Ofie [the Chickasaw word for dog]," she says. "And I read books all the time. My favorites are the Wolves of the Beyond and Guardians of Ga'Hoole. Both are series by my favorite author, Kathryn Lasky.
"Oh, yeah. And I like to draw pictures of animals in pencil," particularly the wolf, her spiritual guide.
Laney Kate visits The Children's Hospital to show that a regular life can follow a dangerous beginning, but "it's just kind of normal to do that."
Her mother, however, understands the impact and annually devotes hundreds of hours talking about her and Laney Kate's stories.
"There's no tired in hope," Daniels says.
3. Shannon Filosa
Photo by Chris Humphrey Photographer
Shannon Filosa juggles dozens of figurative balls as executive director of women's and children's services at Saint Francis. The longtime neonatal nurse, who has seen practically every medical crisis that can happen to a baby, shrugs off her daily balancing act.
Her management at The Children's Hospital at Saint Francis focuses on two simple goals, not on all the working parts.
"We keep units financially stable and keep them up to our standards of quality," she says. "If you keep your patients safe and maintain quality, everything falls into place."
For instance, every morning begins with a safety huddle by medical teams comprising pediatricians, nurses, resident physicians, pharmacists, respiratory therapists and child-life specialists.
"We communicate. We don't solve problems in those huddles, but we identify them," she says. "We do it as a team. We designate who has what project and what focus.
"You have to deal with the 'right now,' but you also have to deal with all the other things."
Filosa says she tries "to be innovative, current, open and transparent. I expect a high performance level and have high expectations."
She says her teams of medical providers achieve those results because "fighting for children is part of our culture. We're all in. Everyone on the team is working to get the best outcome.
"That defines the culture."
4. Mike Barkley
Photo by Chris Humphrey Photographer
Mike Barkley, a patron co-chair of the Painted Pony Ball, keeps the gala's financial goals ($3 million this year) in mind because of the expense of running The Children's Hospital at Saint Francis.
But that doesn't mean there haven't been some anecdotes along the way.
Saint Francis, since its beginnings in 1960, is known by its signature Italian stone called pink modur. When the fundraiser for The Children's Hospital began, The Children's Hospital Foundation tried to call it the Pink Pony Ball.
"But Ralph Lauren – you know, the guy with the polo pony logo – had already registered the name," Barkley says. "So we switched it to the Painted Pony."
People attend in all sorts of party attire.
"The first year, I wore jeans and a pink tuxedo jacket rented from a place in Fort Lauderdale, Florida," he says. "Someone spilled red wine on it, so I ended up buying it.
"The funny thing was that I got it cleaned and it came out great, so I gave it to Eric Selby," son of Ken's Pizza/Mazzio's founder Ken Selby.
The Children's Hospital makes recruiting singers to the Painted Pony Ball easy.
"We've had entertainers come for free or for just the cost of bringing the band," Barkley says. "It's not a hard sell. We take care of children. Two years ago, we got The Band Perry because their dad's a pediatrician; they used to go on house calls with him when they were kids. We worked on getting Toby Keith for five years. We made it happen, and he couldn't have been better.
"Everyone in Tulsa and the region should be proud of the facility, the doctors and the nurses. The Children's Hospital loses money, so this makes a big difference. We take care of the sickest of the sick."
5. Jake Henry Jr.
Photo courtesy Saint Francis Health System
The moment was one of timing and leadership.
After Children's Medical Center on East Skelly Drive closed in 2000, Tulsa was without such a stand-alone facility. When Jake Henry Jr. took over the Saint Francis Health System in 2002, he and the board fixed that.
Henry met in 2003 with directors of the University of Oklahoma-Tulsa and Oklahoma State University-Tulsa medical schools and leaders from the St. John and Hillcrest health systems. The medical schools said Tulsa needed a separate children's facility.
"It was very quiet; no one said anything," Henry says. "We do a lot of collaboration with the other hospitals, but we also compete."
Hillcrest had absorbed Children's Medical Center, so it and St. John didn't commit.
Henry spoke: "I said, 'Look, I will take it back to my board.' [In] 6-8 months, we got the green light."
Saint Francis had never reached outside the Warren Foundation to finance construction.
"It was the pink place up on the hill and a bit insular," Henry says. "John-Kelly Warren [the Warren Foundation's CEO] and I decided to begin a fundraising foundation to let people get involved. Tulsa kind of owns The Children's Hospital. Kids tug at our hearts."
He lauds philanthropist Henry Zarrow, whose name graces the facility's neonatal intensive care unit.
"I still love him," says Henry, a pallbearer at Zarrow's funeral in 2014. "The Children's Hospital was a huge mission in his life."
The hospital was built … but not finished.
"Now came recruiting specialists and sub-specialists," Henry says. "They are hard to come by; at least 50 percent of pediatric patients are on Medicaid. There is a direct correlation between childhood injury and disease with poverty."
In managing Saint Francis, Henry says: "Be deliberate. Be dependable. Be predictable. No surprises. You get buy-in with a common vision – not settling for the status quo."
6.
Web-Exclusive Interview
Becky Reinholz
Life. Death. Hope.
Becky Reinholz, a pediatric intensive care nurse for 35 years (13 at the Children's Hospital at Saint Francis), runs a gamut of emotions in her role as clinical director of the PICU. She makes herself focus on the third element pervading the building's halls.
"It grounds me to always have hope," says Reinholz, who sees a daily reminder with the facility's Wall of Hope. "You have to have hope when you go home."
Life and death in the PICU can challenge anyone, particularly nurses, who are on the frontlines of traumatic cases.
"There are bad days," Reinholz says. "But then you see a nurse interact with a family and helps them through something. That helps a lot."
When Reinholz observes a nurse going through a tough time, she knows "it's not always about life and death. It could be all sorts of factors. Sometimes it's grief."
She says part of conversations with a stressed-out nurse is to ask, "What makes you want to take care of kids? Why do you want to do this?"
More often than not, those questions lead back to what Reinholz sees as a primary duty of the nurses: "You have to fight for the patient's life."
Reinholz recognized that passion Saint Francis before she began working in Tulsa and it was one of the reasons why she left Wesley Hospital in Wichita, Kansas. She says the Children's Hospital at Saint Francis is a monument of commitment "to the people. It's a welcoming environment.
"Children are our most vulnerable population and most amazing asset. When you walk through those doors, you're entrusting us with your care. And we do the best we can do can do. We have a heart for it and we want the community to be with us."
7.
Web-Exclusive Interview
Dr. Phil Barton
The Children's Hospital at Saint Francis recruits pediatricians from all over the United States, but Phil Barton is proud that he is home-grown.
The medical director of the pediatric intensive care unit graduated from Connors State College in Warner and Northeastern State University in Tahlequah before his first two years of medical school in Oklahoma City at the University of Oklahoma.
Since then, his life has revolved around Tulsa and Saint Francis.
"I finished my medical degree at OU-Tulsa," he says, "then, from 1990 to 1993, I was a resident and chief resident here at Saint Francis."
Barton says Saint Francis "gave me the passion to do pediatric critical care. And I'm especially proud of what this hospital does for residents."
Staff members and Barton himself often joke about his sometimes abrupt personality, but he happily attributes it to having a zeal for doing what's right for kids and having been around since the children's "hospital within a hospital" began in 1995.
"I was a grizzly bear early on – making my mark on things as the children's hospital grew – but now I'm a panda bear," says Barton, referring to the facility's longtime logo. "You have some ideals when you first start, but, with experience and research, you learn other avenues. Through a process, you get the best plan.
"The kids in the PICU have more than a 50 percent chance of dying, so it's important to come to work everyday to do it all. With that attitude, I may seem a bit aggressive, but it's all for the patient's care."