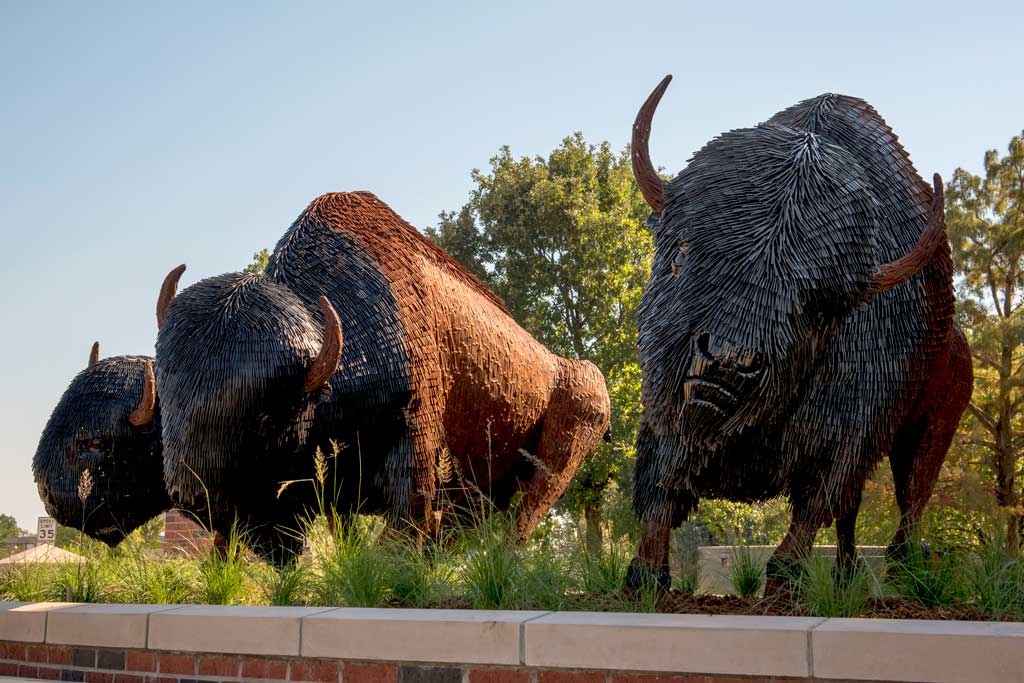 Editor's note: Shortly after this story was published in our print magazine, St. Gregory's University announced it would be closing at the end of the Fall 2017 semester.
Food, circumstance, geography, education and culture explain why people are drawn to Shawnee, be it in 1927 or just last month.
Ninety years ago, Joseph Macsas, newly arrived from the East Coast, hopped off a train in what he thought was Bristow to help his brother run a burger joint. He quickly realized his mistake, but Macsas stayed in the Pottawatomie County seat and opened a branch of the eatery.
Hamburger King has remained an icon ever since. Postcards of the simple white building have been found in Oregon and Maine. Customers still place their orders from phones at each table. And the family – third-generation siblings Michael Macsas and Cindy Macsas Hardin, and some of their children – still runs the place.
Hamburger King, Van's Pig Stand (1930) and Benton's Cafe (1960) comprise a triumvirate attracting foodies statewide.
The other end of the time and technology spectrum shows the state-of-the-art, 25,000-square-foot expansion of Georg Fischer Central Plastics. The new addition expands the production floor, upgrades robotics and houses a research and development facility for people throughout the Americas and Europe.
"On any day, you can hear German, Spanish, French and many other languages," says Tim Berg, executive director of the Shawnee Economic Development Foundation. "Shawnee is all about location, especially with Interstate 40. Some people joke that we're the last civilized town on I-40 between Oklahoma City and Fort Smith [Arkansas]."
Emily Lutz, of Visit Shawnee, moved to the city after spending most of her life in Texas and New York.
"You can find pretty much anything you want because we have a lot of retail," she says. "You have a rural lifestyle, but you can go into Oklahoma City for the ballet or see a Thunder game in just 45 minutes. I love that way of life. It's affordable. It's pretty. It's quiet."
Also part of Shawnee's charm is how its people help each other. For instance, Shawnee Mall devotes itself to children with autism and special needs during "Sensitive Santa" by eliminating music, bright lights and other harsh stimuli – scheduled for 9-11 a.m. Dec. 3 this year.
"A lady brought her 20-year-old son last year and it was the first time in his life that he was able to visit Santa," says Mindy Palmer, the mall's marketing director. "Kids aren't rushed through. They can sit with Santa for 5-6 minutes if they want. People from Kansas and Arkansas drive here for this."
FUN FACTS
Population
31,465
Tutu
Deciphered from hieroglyphics on her sarcophagus, the name of the only Egyptian mummy in Oklahoma; the remains of this high-status woman, who died about 332 B.C., are at the Mabee-Gerrer Museum of Art at St. Gregory's University.
Sonic
America's Drive-In began when Troy N. Smith Sr. installed a radio call-in system at his Shawnee business in 1959.
Castellated depot
A 60-foot turret makes the Santa Fe depot, built in 1902, look like a castle.
Astronaut and actor
Leroy Gordon "Gordo" Cooper, one of the Mercury Seven, born in 1927; Brad Pitt, heartthrob, born in 1963.
OBU
Oklahoma Baptist University began classes in 1911 in Shawnee's convention hall and First Baptist Church's basement; the campus opened in 1915.
Feeling lucky?
Five casinos call Shawnee home.