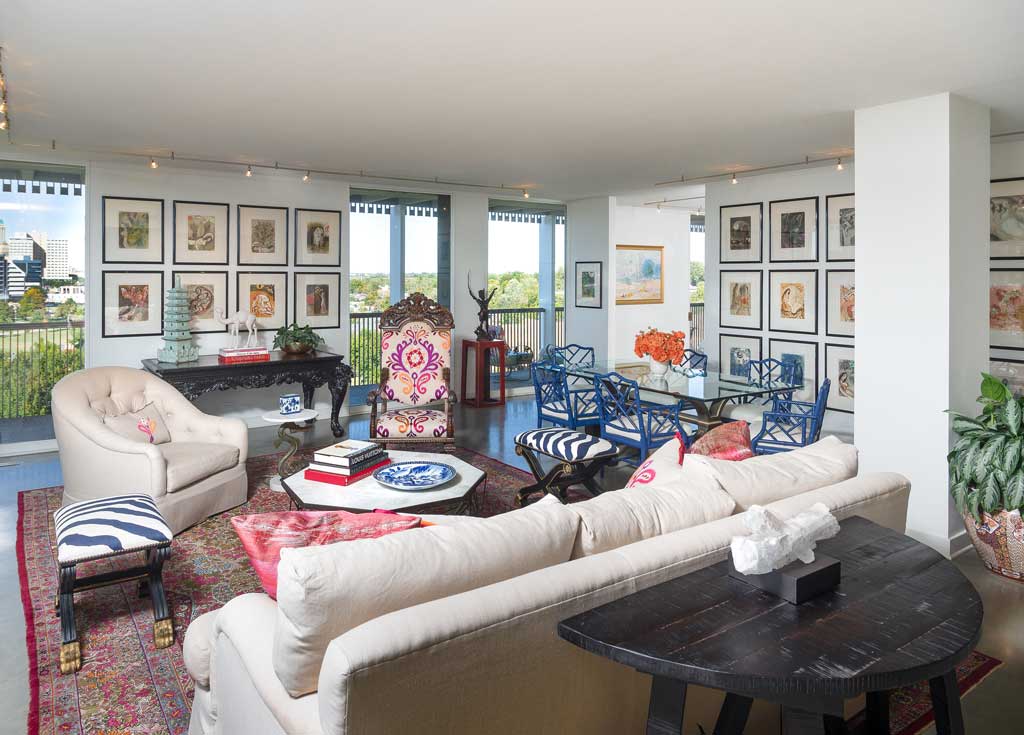 Photography by Scott Johnson, Hawks Photography
When Tulsa interior designer Lance Cheney talks about a stellar apartment at 2300 Riverside Drive, his praise reflects the exquisite taste of its owner, a gracious hostess, a collector of Asian furnishings and a connoisseur of modern art with a flair for dramatic interiors.
A design collaboration with Cheney began five years ago when the client moved from Oklahoma City to Tulsa.
"She and her daughter came into Richard Neel Interiors every week for several years and noticed our design style had changed – that something different was going on here after our namesake designer retired and moved to Santa Fe," Cheney says. "They were here every Saturday. One day, she said, 'I need new fabric for my dining room chairs. Would you help? I can't make up my mind.'"
These were dining room chairs with a history. At one time, 2300 Riverside had a restaurant featuring noted chefs, great dining and entertaining. These chairs lived in that dining room as witnesses to upscale social occasions and elegant dinners.
"She had the foresight to buy eight of them," Cheney says. "The mid-century style was wonderful, but they were all painted radiator gold, making them quite undesirable."
Cheney painted the chairs a vibrant blue and added blue-and-white Asian porcelains as accents on the glass dining table.
"The chairs popped," says Cheney, who, since that project, has refreshed, re-upholstered and refurbished his client's atelier for entertaining in high style.
The high-rise was built in the 1960s and became a landmark on Riverside Drive. Five years ago, Cheney's client bought a pricey 10th-floor apartment that had been completely redesigned with an open concept, replacing original rooms Cheney described as "rabbit warrens." Three bedrooms became one large master suite, concrete floors replaced wood or parquet, and the kitchen took on an open style with upper glass cabinets.
The major rooms have access onto two terraces: a west balcony offering spectacular views of the meandering Arkansas River and a north balcony with an ever-changing portrait of downtown.
"The apartment has a distinctive Asian influence," Cheney says. "She has a lot of Asian furnishings."
Her bedroom is a creative testimony to her love for the design heritage of eastern culture. A coromandel screen and a red-lacquer bed are signature pieces. Two Japanese chests serve as nightstands. A cloisonné chest adds another historic design note.
A study adjacent to the master bedroom reveals the client's love for mixing cultures and art periods.
"She has an old masters-style painting and a very modern painting hanging opposite each other on facing walls," Cheney says.
Other decorative accents include a herez-style rug, a custom-made console and an unusual bronze-elephant table.
The piece de resistance in her art collection is a 30-piece set of lithographs by Marc Chagall (1887-1985), a Russian-born artist known for his fanciful, brilliantly colored canvases. The pieces are from Chagall's 1960s Bible-inspired series and grace two separate walls.
"Her incentive for refreshing the apartment was to redo everything – to make it bright and modern," says Cheney, who took many of his design cues from her comment, "We need to pump up the rest of the house."
Cheney used as a backdrop a neutral, soft beige that he calls a "linen ground." He added the punch his client wanted – a vervain fabric featuring a palette of hot pink, purple and orange. With her addition of Persian carpets and throw rugs throughout the apartment, the visuals are exciting.
The final effect is "beautifully stunning," Cheney says. "I wasn't sure I could achieve this with her apartment. I spent the first part of my design career devoted to antiques and styles complementing historical eras. But this was a delight. The juxtaposition of modern and antiques gave me a new feeling for modern."