If you seem to have more time on your hands lately, you're not alone. Many people, perhaps those who loved to paint as children, have returned to the hobby as adults at a variety of venues across the state.
"The Edmond Fine Arts Institute is comprised of visual and performing art classes available year round," says executive director Shannon Price. "Our facility was designed specifically as an art center, so it is equipped to offer a variety of art mediums for all ages and levels of ability."
If painting isn't your thing, the institute's 36 part-time artists on staff can probably find something you'll be interested in.
"Curriculum includes beginning to advanced classes in drawing, painting, jewelry design, clay, pottery, sculpture, mixed media, printing making and theater," says Price. "Instruction is available for preschoolers through adults and is taught by professional instructors who are experts in their fields."
While weekday classes are available, Saturday and Sunday workshops and classes are also on the institute's schedule.
"During the current health climate, class sizes and programs have adapted to provide safe, creative ways for our students and teachers to continue their passion," says Price. "Class sizes are limited to adhere to social distancing guidelines, and proper spacing is easily identified in all areas. Surfaces and supplies are cleaned and sanitized with CDC-approved sanitizers at regular intervals throughout the day, and all employees, students and individuals entering our building are required to wear face coverings."
While Ziegler Art and Frame in Tulsa has been impacted by the pandemic, and is therefore not offering a full line of classes at the moment, some courses are still available. The store typically hosts classes in fine art, watercolors, and oil and acrylic painting. Those interested can call for available times and classes at 918-584-221 or visit www.zieglerart.com.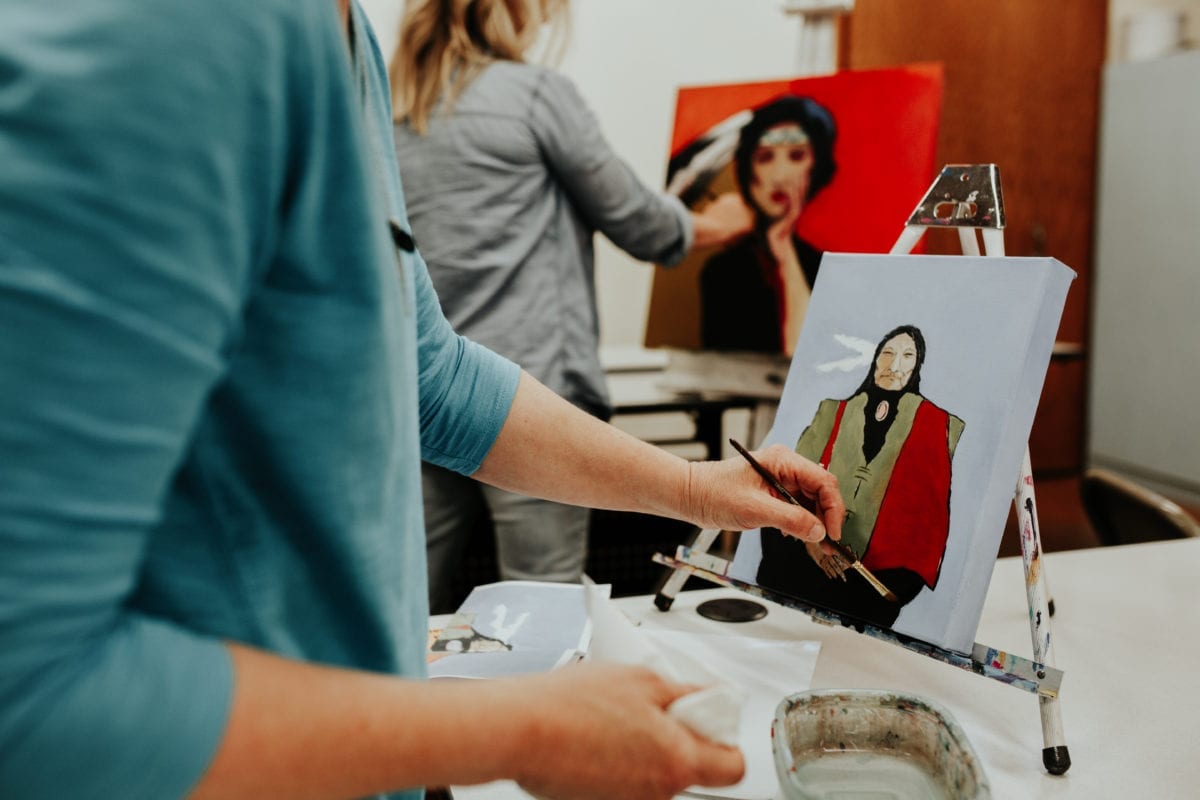 "Classes have been scaled way back due to COVID-19," says Trent Morrow, one of the owners and the store's marketing director. "Many of our students are at a high-risk age, so many are staying home for now. Hopefully, this pandemic will get under control someday and we can start having larger classes again. Until then, we will do what we can to provide a safe environment for the small classes that we do have."
The Paseo Arts District in Oklahoma City is lined with several shops that offer art classes for youngsters through adults featuring painting, drawing and pottery. Artsy Rose offers classes in oil pastels, collage, jewelry and sewing. Check with the Paseo Arts Association each month for class types and topics.
For those looking for a more unusual medium, try Tulsa Stained Glass studio. There, you can create a sculpture using the same tools and materials utilized in stain glass windows. Or visit the Guthrie Art Center, which offers classes to help you learn drawing, basket making, weaving and spinning. The Bartlesville Art Association also hosts classes just north of Price Tower, Frank Lloyd Wright's epic design.
With so many options, there's only one question: What are you waiting for?