Claud's Hamburgers
3834 S. Peoria Ave., Tulsa

Claud's Hamburgers has the distinction of not only being in business for more than 60 years, but also of being owned by the same family for all that time.
The restaurant was originally opened by Claud Hobson in October 1954 on Admiral Place and moved to its current location in 1965, where it has remained since. The restaurant is now run by Claud's son Robert Hobson, who took over from his brother Cliff around two years ago.
Robert Hobson says the restaurant works to keep the food at Claud's as consistent as the ownership, working with vendors to try to keep the same ingredients in the burgers.
"The consistency of the product we've been putting out over the years is an asset," Robert Hobson says. "We kind of pride ourselves on the fact someone can come in here and eat something their grandparents ate, or something very similar."
That sort of consistency is important to some people whose memories of the restaurants may stretch back to when they were children and ate at the restaurant with their grandparents.
"Almost daily we hear something like that," Hobson says. "I hear a lot of conversations about it. You'll hear a 50-year-old guy talk about how his grandpa brought him here, and you realize you've been here a long time."
Jamil's Steakhouse
3823 E. 51st St., Tulsa
Jamil's is one of Tulsa most legendary restaurants – and possibly its oldest steakhouse. It was opened by Jim "Jamil" Elias in 1945, and it continues on today by his son Tyrone Elias. The restaurant is best-known for its thick hickory-grilled steaks and seafood all served with their famous Lebanese hors d'oeuvres.
J. Bruner's Haunted House
7101 Miramar Blvd., Oklahoma City
The original owners, Marian and Arthur Thibault opened The Haunted House restaurant in1964 – one of the original fine dining establishments in Oklahoma City. For more than 50 years, unrivaled steaks and seafood have been served in the dimly lit 1935 mansion alleged to have been the site of three murders. Located seven miles from Downtown in the middle of the woods, the restaurant has always celebrated its spooky atmosphere.
Hank's Hamburgers
8933 E. Admiral Pl., Tulsa
This tiny restaurant has been making the exact same secretly-seasoned, grill-pressed burgers since 1949. Many of Hank's hungry patrons enjoy their burger patties piled four high on the famous Big Okie, weighing in at a solid pound. For dessert, try one of Hank's chocolate covered peanut butter balls.
Old Plantation Restaurant
Medicine Park Town Center
Built in 1910, the Old Plantation was a popular place for the vacationing rich during the Roaring Twenties. In 1966, Rex and Ruby Leath reopened the restaurant and ran it for nearly 35 years. The restaurant was restored and again reopened in 2008 and has become known for their steaks, seafood and a great selection of sandwiches, salads and appetizers. Don't forget to visit The Tap Room – the Old Plantation's original bar.
Cattlemen's Steakhouse
1309 S. Agnew Ave., OKC
Oklahoma's oldest continually-operating restaurant, Cattlemen's Steakhouse was opened in 1910 and has been in the same location ever since. With a history spanning more than 100 years, Cattlemen's has its share of interesting history – including a previous owner acquiring the restaurant over a throw of the dice.
Although current owner Dick Stubbs purchased the restaurant in 1990 by more traditional means, he feels he has some of the same luck that helped out the previous owners.
"I do feel like a winner because the restaurant has grown every single year since we got it," he says.
When Stubbs bought the restaurant, which was always known as a steakhouse, he changed the name from Cattlemen's Café to Cattlemen's Steakhouse and began featuring steak more than café food. The restaurant has 10 different steaks on its breakfast menu alone, and also it offers more unusual items like brains and eggs on the breakfast menu and lamb fries, which are mostly sold as appetizers.
The restaurant has had its share of celebrity diners, including President George H.W. Bush, who visited while he was in office. It has also been featured on several television shows and has been mentioned in at least six different books, Stubbs says. About 27 percent of Cattlemen's customers are from out of state, but the steakhouse's new reputation as a destination restaurant for some people hasn't changed Stubbs' focus.
"We still cater to the Oklahoma customer," he says. "We have some customers who eat with us every single day. We do breakfast, lunch and dinner, so we're pretty much satisfying all walks of life here in our restaurant."
Click's Steakhouse
409 Harrison St., Pawnee
In 1962, Clifton "Click" Nelson opened a bar and grill originally named Click's Alamo Club. Besides being known for his outstanding steaks, Click was also known for his colorful language and tirades. Over the course of years, and several different owners, the building has undergone numerous changes, and the menu has expanded. However, the quality of the steaks and the unique aging and preparation technique has remained the same.
Coney I-lander
2838 E. 11th St., Tulsa
The Tulsa chain dates back to 1926 when Greek immigrant Christ Economou opened the first location in Downtown Tulsa. Who can resist the Coney I-Lander's signature dish of a slow-grilled hot dog topped with chili, onions and mustard in a steamed bun? At the Downtown restaurant rows of coneys cooking on the grill are visible to hungry sidewalk viewers – luring them in for a bite.
My Place Bar-B-Q
2021 Gibson St., Muskogee
A Muskogee staple since 1927, My Place Bar-B-Q may have lost a bit of its charm when it said goodbye to its original, tiny building, but it still serves up the same mouthwatering ribs, smoked meats and tasty side items that they have been famous for since the beginning. Don't forget to pick up a bottle of their famous sauce on your way out!
Meers Store & Restaurant
Hwy 115, Meers
Once a busy mining town in the Wichita Mountains, all that remains now is the Meers Store and Restaurant, home of the Meersburger, a burger seven inches in diameter made exclusively from prize-winning Texas Longhorn beef raised on the family's own ranch. The restaurant has served a delicious selection of steaks, barbecue, home-baked bread and desserts since 1901.
Pete's Place
120 SW 8th St., Krebs
Authentic Italian cooking has been luring travelers to Pete's Place since 1925. In addition to the family-style helpings of homemade spaghetti, meatballs, ravioli and sausage, hungry patrons will also enjoy the handcrafted Choc beer served at the onsite brewery, all made with the same recipes that have been passed down from generation to generation.
Eischen's Bar
109 S. 2nd St., Okarche
If you ever get a hankering for some great fried chicken, stop by the oldest bar in Oklahoma. Originally known as Eischen's Saloon, the restaurant was established in 1896 by Peter Eischen and was open until statehood. Shortly after prohibition in 1906, it was reopened as Eischen's Bar by Nick and Jack Eischen, son and grandson of Peter Eischen.
The "oldest bar" recognition comes from the actual ornate bar that was carved in Spain in the 1800s. Nick "Curly" Eischen won the bar on a hunting trip in the 1940s. Although much of the building was destroyed in a 1993 fire, a piece of the antique, hand-carved back bar was preserved and remains on display today.
"There's a lot of memories here," says Edward Eischen, one of the current owners. "Back in the day we had a grocery store, too." Although the store eventually closed, the restaurant and bar lived on.
"After the fire, the reopening was amazing," Eischen says. "Lots of TV shows, radio stations, etc. created a lot of buzz and more and more people heard about the great chicken. We just keep on making the best chicken around, and people come from everywhere to eat it."
The fried chicken is made using George (Boog) Eischen's 1960 recipe. It's so popular they can go through 900 to 1,200 pieces of fried chicken just on Saturday, Eischen says.
If you order the chicken, come hungry because a regular order consists of eight pieces; two breasts, two thighs, two wings and two legs. It is served with sliced white bread, sweet pickles, dill pickles and onion slices.
People also come in to buy the colorful T-shirts and the chance to brag they have eaten in one of Oklahoma's oldest, family-oriented establishments.
Waylan's Ku-Ku Burger
915 N. Main St., Miami
Waylan's Ku-Ku Burger may be the last of its kind. Although owner Gene Waylan estimates there were as many as 200 Ku-Ku Burger restaurants around the U.S in the early-to-mid '60s, Waylan's restaurant is the only one still operating.
"It's the only one I can find, and I've looked all over," Waylan says.
Located off Route 66 in Miami, it's hard to miss the restaurant with its large green-and-yellow neon sign and fiberglass cuckoo bird positioned on the front wall. Although the Ku-Ku burger was part of a fast-food chain in the era of 15 cent burgers, it has become unique and distinctive.
The restaurant's reputation has given Waylan a chance to meet people he otherwise never would have. While the restaurant used to be a hangout for teenagers in Miami, it's now a hangout for people from as far as way as Australia and Brazil. Waylan says he talks to all the people who visit the restaurant and gives out key chains to people so they have a memento of their visit – and Waylan gets to keep the stories from people from places he may never see himself.
"That's the reason I'm still here," he says. "It's interesting. It's better than retiring and traveling."
Clanton's Café
319 E. Illinois Ave., Vinita
Clanton's Café, located off Route 66 in Vinita, is the oldest continuous family-owned restaurant on Route 66, according to Dennis Patrick, who owns the restaurant along with his wife, Melissa.
The restaurant opened in 1927, and has been in its current location since 1947.
Patrick says Route 66 is "the big draw," although the restaurant has been in magazines and road books all over the world and is known for its chicken-fried steak. That reputation has helped it gain a diverse customer base from all areas of the globe.
"We have a book up here where we have people sign in, and we have them from every continent and all different areas in the world," Patrick says. "It's pretty amazing, and it's a lot of fun because you get to talk to them. They're excited about experiencing Route 66, and we're really unique because we're a mom and pop operation that has been around for a while. We have a personality they really enjoy, and it's fun talking to them and hearing their stories."
Patrick and his wife took over the restaurant's ownership from Melissa's parents, Tom and Linda Clanton, 17 years ago. A Denver native, he says moving to Vinita was his first experience with life in a smaller town and was a nice change.
"The people are just so genuine and very open and hospitable," he says. "It was real easy for me to get attached to Vinita."
Beverly's Pancake House
3315 Northwest Expressway, Oklahoma City
Founded by Beverly Osborne and his wife, Rubye, Beverly's Pancake House has been an Oklahoma City tradition since 1936. At one time, Oklahoma City was home to as many as eight Beverly's restaurants, however, this location is the only survivor. Beverly's is famous for "Chicken in the Rough," a dish of fried chicken, shoestring potatoes and a biscuit with honey. The top of the original neon sign, complete with the Chicken in the Rough logo, was saved from a previous location and is proudly displayed in the restaurant's front window.
The Rock Café
114 W. Main St., Stroud
The Rock Café opened in 1939 and is another Route 66 favorite. The restaurant gets its name from the local sandstone used on the outside walls. The Rock Café takes pride in the fact that they are still using the original 1939 kitchen grill.  Betsy the grill has seared over five million burgers and chicken fries. The grill survived a 2008 fire at the restaurant that left only Betsy and the four rock walls standing.
Baker's Fish House
3606 W. 90th St. N., Porter
Located off highway 69, east of Porter and north of Muskogee, Baker's Fish House opened in 1947. The restaurant has gained a loyal, word-of-mouth following despite its out-of-the-way location and is known for its famous fried catfish, fried chicken, mounds of onion rings and homemade pie.
Nelson's Buffeteria
4401 S. Memorial Dr., Tulsa
Nelson's Buffeteria was a landmark in downtown Tulsa for years after its opening in 1929, serving as a lunch hot spot for downtown employees. The restaurant closed in 2003 and reopened in its new location nearly 10 years later. While the location may be new, the owners renovated the original neon sign and moved it from the former location on South Boston Avenue. The restaurant is open for breakfast and lunch only and is closed on weekends.
Anne's Chicken Fry House
4106 NW 39th St., Oklahoma City
Ann's Chicken Fry in Oklahoma City has served tasty, home-style food since 1948. Try what they are famous for – chicken fried steak with mashed potatoes and cream gravy, ordered with a side item of your choice. Located in a one-time gas station, the restaurant has a cozy, back-in-time feel. It is also a Route 66 landmark full of nostalgia – a pink Cadillac and vintage police car adorn the front lawn.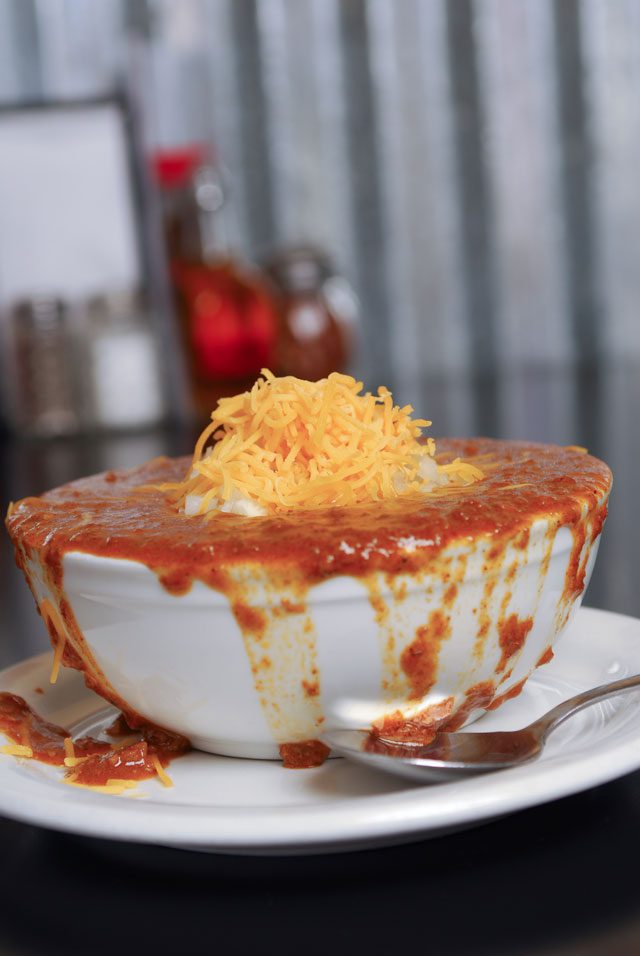 Ike's Chili
1503 E. 11th St., Tulsa
In 1908, Ike's Chili opened in Tulsa and quickly became known for their top-rate chili – with or without all of the fixings. The same recipe that keeps people coming back for more has been around for a century. The landmark is the best place on Route 66 to have what Will Rogers called a "Bowl of Blessedness."
El Rancho Grande
1629 E. 11th St., Tulsa
El Rancho Grande has been open since 1950. Nestled on the outskirts of Downtown Tulsa on Route 66, the historic neon sign has become a familiar landmark for locals and visitors alike looking for a great meal.
John Walden says he has worked at the restaurant on and off since he was 21. He now co-owns it with his brother, Jeff.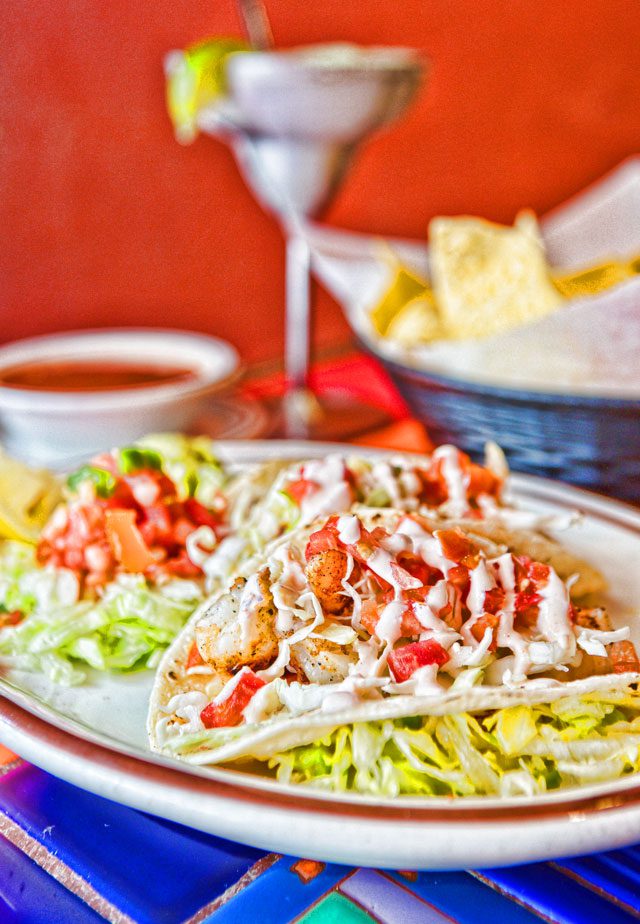 "There's so many memories here," Walden says. "I don't know where to begin. I ate here for the first time when I was 13 years old." It was his birthday, and his family had gathered at the restaurant for the celebration. "They had a Mariachi Band that wanted me to get up and lead a 'Happy Birthday' line dance through the restaurant. I just couldn't do it, so I cried."
The Walden family took over the restaurant in 1984. Since then, running the restaurant has been a family affair.
"I have served, I have cooked all the food, you name it," says Walden. He says he fondly remembers the time he learned to make tamales with one of the original cooks. Back then, the tamales were made with a big, industrial piece of equipment.
"All I remember was that it was big, and it spit out tamales really fast," Walden says. "And I had trouble keeping up – tamales were everywhere. So I've cried, laughed and everything in between at this restaurant."
These days the customers come in for a yummy cheese enchilada and an icy margarita, or for a more substantial dish the crew calls the Night Hawk. It consists of two cheese and onion enchiladas covered with chili con carne and cheddar and one soft cheddar cheese taco topped with queso. It was named one of the "Five Greatest Mexican Meals in the U.S." in Gustavo Arellano's book Taco USA, Walden says.