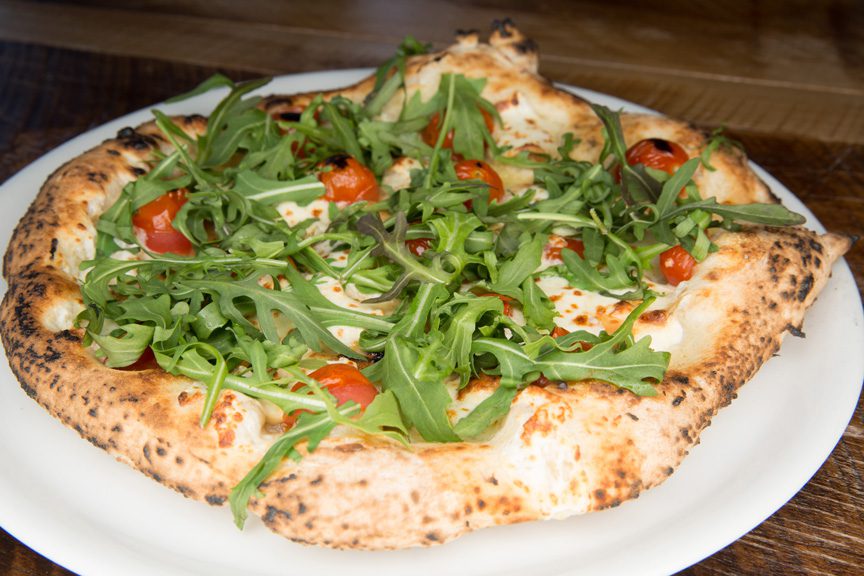 "Finally! I've been waiting six months for this to arrive!" exclaims Mike Bausch, lugging a large box.
Late-afternoon sunlight streams through floor-to-ceiling windows as Bausch unwraps the bundle, revealing a long, tripod-like metal stand.
"It's a palo holder," he says.
The holder helps position the pizza in the oven, though Bausch's experience makes it almost unnecessary.
"I got videos of the world's greatest pizzaioli using the oven, and I spent three months watching them, over and over. Then I started to practice," he says.[pullquote]I tasted 30 brands of San Marzano tomatoes before I found one that has the earthy taste of Vesuvius."[/pullquote]
Bausch has advanced so far in the science of pizza that sometimes you need an interpreter to understand what he's saying.
"Most people think the grade of flour is important," he says. "But what's most important is the 'W' factor. That measures the elasticity of the matrix formed when the proteins in the dough bond together."
Bausch's family grew up on the hardscrabble streets of Manhattan's lower west side. His father, like so many in his family – including Bausch himself – joined the Marines. Home from deployment, he'd take the 9-year-old Bausch to local pizza joints.
The shop that sold the biggest pizzas fascinated him, but his dad taught him to appreciate the place that sold the best pizza: the ancient, coal-fired ovens of Lombardi's on Spring Street.
"I never thought I'd be doing this for a living," he says. "I just loved it."
Bausch joined the Marines, did a tour of duty, moved to California and was accepted to law school. His life was set, and he got a job at a local pizza shop to pay the bills. Soon, pizza became more fascinating than a potential law career.
A few months later, his brother Jim phoned him: "Mike, I found this town called Owasso, and there are no pizza shops at all!"
Andolini's would be its first, and a year later, a branch on Cherry Street in Tulsa welcomed diners. Meanwhile, Bausch continued his pizza education. He went back to California to learn from his friend Tony Gemignani, who runs what Forbes magazine calls "the best pizzeria in America." Bausch also competes in pizza contests around the world, and throughout his travels, he does a lot of tasting.
"My idea of sightseeing is to go to a city and hit the four best pizza places, one after the other, starting at 11 a.m.," Bausch says.
From trips to Naples, Italy, the idea for STG Pizzeria and Gelateria was born.
"Andolini's is our spin on pizza. But STG, it's not 'kind of like Italy,' it is Italy. What you find here is exactly what you'd find in Naples," he says. "Some of our pizzas – the Margherita, for example – you'll find all over Naples. We do others that you'd see only if you go way off the beaten track. That Scamorza, with its smoky cheese and plump, fresh tomatoes, that was invented in one Naples shop. We chose pizzas with personality. But everything here is what you'd see in Italy."
Moving to a counter, Bausch carefully flattens a ball of dough.
"I touch the dough as little as possible, so as not to disturb the gases from the yeast," he says, reaching for a spoon of tomato sauce. "I tasted 30 brands of San Marzano tomatoes before I found one that has the earthy taste of Vesuvius."
By now, the pizza is in the oven. The 900-degree flames cook fast but not always in the same way. Bausch makes split-second, instinctual decisions when and whether to rotate the pie or move it to a cooler spot. Today, he gives two quick spins, and soon the pie emerges. It is rough, puffy, slightly charred and beautiful.
"Look at that leoparding!" Bausch boasts, referring to the tiny black char spots on the crust.
It has an ineffably rich flavor and a gooey blend of sin and reverence.
Like the pizzas, the richly flavored gelato made here is just what you'd find in a lazy cafe on a Naples side street. The Carpigiani pasteurizer, imported, like the oven, from Italy, heats and blends all the ingredients, and that, says Bausch, makes the gelato "silky, creamy and smooth."
Like the pizza, it's perfect. He won't settle for less. 114 S. Detroit Ave., Tulsa. www.stgpizza.com