[dropcap]Strolling[/dropcap] through the doors of Hoboken Coffee Roasters in Guthrie feels like coming home, or at least visiting a dear friend's house. The fact the coffee shop is housed in an old tire garage adds to its warm charm. M. Ward's "A Wasteland Companion" plays lightly on the record player over the low hum of conversation.
Owner Trey Woods says newcomers can expect great drinks and a pleasant environment, mentioning that roasting its own coffee makes Hoboken unique.
"We bake all of our own pastries," he adds. "Everything is baked fresh every morning. I think those two things really set us apart, for sure, in terms of our menu."
Co-owner Mallory Woods began working through recipes a year before the shop opened.
"She really honed in on a muffin recipe that she loved, and the crumble bar," says Woods.
Hoboken's food selection consists of made-from-scratch granola, boiled eggs, crumble bars, an array of muffins, varieties of cookies and biscotti. The chocolate peanut butter cookies alone are worth a repeat. "I really like our boiled egg option," says Woods. "They're farm fresh, they're really local, and it's a great alternative from a pastry. It gives you a little protein and gets you on your way for the day. And the granola, we make that from scratch. It's delicious, and it goes great with coffee."
The coffee selections, made from in-house roasted beans, focus on origins. Patrons can choose their favored version of coffee, from pour-over to flavored lattes or cold brew. For non-coffee fans, there are chai lattes, hot chocolate, hot tea, Italian soda and bottled soda.
"A latte is our most popular drink, no matter how you like it, iced or hot or flavored or not," he says. "We sell a lot of lattes, because it's creamy, and it's got caffeine in it. It's delicious."
The roaster is off the beaten path, behind an auto repair shop near the downtown district, a location that appealed to the Woods. While living in Oregon, the couple's favorite coffee house was tucked away – something they wanted to bring back to Oklahoma with them.
Since opening in December 2012, Hoboken's reputation for fantastic coffee and welcoming atmosphere has spread throughout Oklahoma, as well as across state lines.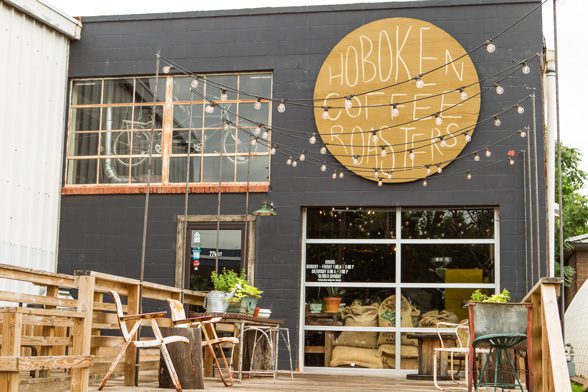 "I think word-of-mouth is a great way for people to find us, especially people within the state, but a little further away," says Woods. "Maybe they know someone who comes in regularly and posts on social media all the time. They'll think … 'I gotta see what's going on over there.' We get that a lot. Honestly, we get a lot of people that walk in that just Google-searched 'coffee.' We've had a lot of good reviews, so they'll come for that."
Visitors are drawn to Hoboken for its impeccable coffee reputation, and they become regulars for the unique experience provided. Whether enjoying creations on the patio or inside, the visit is always laid-back and enjoyable. That's something Hoboken employees take pride in. Every customer who walks in is greeted warmly. Hoboken aims to make every customer's experience as good as its coffee.
"That experience, where you felt like you were acknowledged and welcomed. You weren't just a means to an end for us," Woods says. "We're more interested in the people that are helping support our business than just working through a drink line."