[dropcap]Andolini's[/dropcap] Pizzeria has continued to grow in the Tulsa metro area, and the restaurant's newest location, which opened in Broken Arrow's Rose District last fall, has met the same level of success as the other locations.
"It has definitely exceeded all of our high expectations and all our performance numbers," Andolini's co-owner Mike Bausch says. "We're very happy and proud of what we're bringing to BA, and also thankful to the Broken Arrow Chamber of Commerce for what they facilitated in creating the Main Street Rose District we're part of now."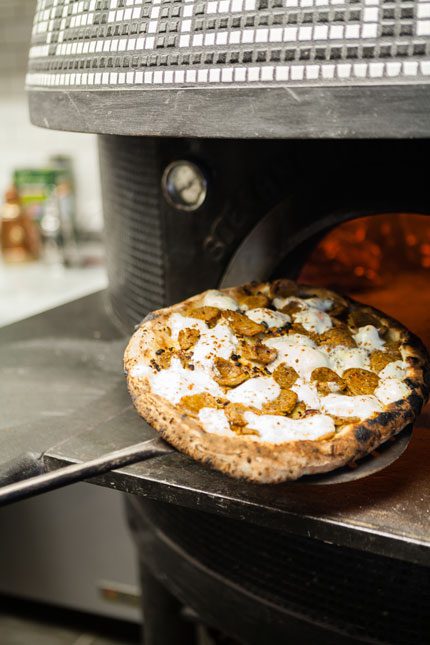 Bausch and his brother, Jim Bausch, own three Andolini's Pizzerias in the Tulsa area – besides the location in Broken Arrow, the company also has a restaurant on Cherry Street, the original location in Owasso and a food truck. The brothers also own STG Pizzeria & Gelateria in Downtown Tulsa and Gelateria – STG on South Sheridan Road.
The Broken Arrow location is unique because it serves two styles of pizza. The restaurant's locations in Owasso and on Cherry Street use RotoFlex ovens to create what Bausch describes as their take on Italian classics, while STG Pizzeria & Gelateria uses an imported wood-fired oven to create "exactly what you get in Italy," Bausch says. The Broken Arrow location uses both types of ovens to give customers a choice of either style.
"We like the idea of having both styles under one roof," Bausch says. "We're the only place in Oklahoma I know of that serves these two very different styles of pizza."
The Broken Arrow location is also larger than the other locations, but Bausch says the restaurants strive for consistency so people have the same experience in all locations. That includes the same innovation that drives the menu selection and variety of pizza for which Andolini's is known.
"Our mentality on food is to make the best product possible and let the cards fall," he says. "We want to be ahead of the curve, not just to be trendsetters, but to make the best, most interesting, unique foods possible. We draw inspiration from places, but we always want to make it our own."
Bausch says they take the same approach to creating new pizzas, coming up with multiple ideas and combining the best parts of each until they find something they think is unique, special and great.
The constant search for new menu selections, as well as the company's growth strategy of  placing restaurants wherever people like to walk, is likely to pay off for years to come.
"From the business side, we're set to grow," Bausch says. "From a food and culinary side, we could completely not make another new pizza and be OK. But that's not we're about. We're too excited about pizza to stop."