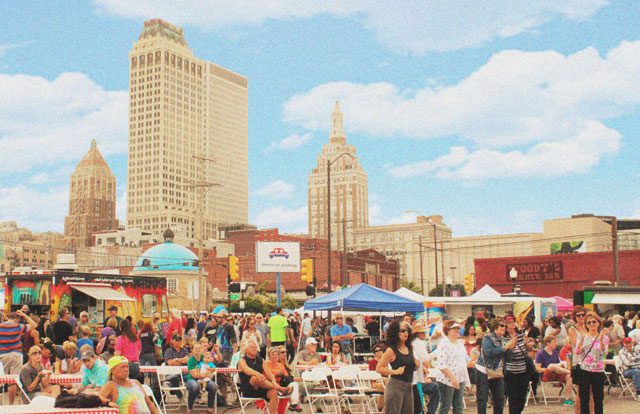 [dropcap]Oklahomans[/dropcap] hoping to see some art, listen to live music or try new food will have plenty of opportunities this month in both Tulsa and Oklahoma City. Three different festivals will be held in the two cities during May, giving people plenty of entertainment options.
The Paseo Arts Festival, held on May 28 through May 30 in the Paseo Arts District located on NW 30th Street and Dewey Avenue in Oklahoma City, will be celebrating its 40th anniversary this year. The festival will host more than 85 artists from Oklahoma and across the country and three stages of live music and dancing.
In addition to the restaurants in the district, there will also be a food court with a variety of options.
"We want people to come down here and spend the day," Paseo Arts Association Executive Director Amanda Bleakley said. "It's a great way to let people know the district is here and invite them to come back another day."
The festival began with a group of local artists and has grown into a true fine arts festival, Bleakley says. The festival uses jurors from across Oklahoma to help select the art displayed at the festival, which includes paintings, ceramics, photography, leather goods and sculptures.
"We do lean toward Oklahoma artists, but we want to have a good variety," she says. "It's kind of a natural progression, because we also want the best artists."
Paseo is the oldest shopping district north of downtown Oklahoma City, and people attending the festival will not only have the opportunity to see art set up for the festival but also to shop at the art galleries and retail stores that are located in the district all year.
Downtown Tulsa will also be hosting two major arts festivals this month. Mayfest will be held from May 19 to May 22, and the Blue Dome Arts Festival is running from May 20 to May 22.
Mayfest will have dozens of booths showcasing artists from across the country. The artists will be displaying examples of their work, and the festival includes a Market Artist section with a selection of handmade goods. More than 100 musicians and dancers will be performing at the festival over four stages, featuring not only local musicians but headline musicians from all over the country.
The festival also hosts an indoor Invitational Gallery, which will have art from more than 100 of Tulsa's best artists in oil, metal, photography and other specialties. All works in the Invitational Gallery are available for sale.
The Blue Dome Arts Festival will be held a short walk away from Mayfest, allowing people to easily walk from one to the other. Blue Dome Arts Festival Director Jo Armstrong says there are several new additions to the Blue Dome Arts Festival this year, including a PetZone, that will feature some of Tulsa's local pet businesses. The PetZone will be held on a fenced-in portion of the street covered with sod, giving it a "backyard feel," Armstrong says.
"Blue Dome has always been a festival where people have felt good about bringing their pets, so we thought, 'Why not make a fun zone for them to go to?'" she says.
The festival has added the Philbrook Family Zone, expanding the former Kids Zone from previous festivals with collaborative art projects children can work on with the entire family. Armstrong says the festival has also added some fun features to the handprint wall, which will continue artwork created on the same wall at last year's festival.
Armstrong says one of her goals for the Blue Dome Arts Festival is to make sure there would be something for everyone who attends while still keeping the focus on local artists – the festival originally started because local artists were looking for a space to share their artwork.
"I'm always just continually amazed by the talent here in Oklahoma," she says. "I think it's a really eye-opening experience for people to realize that."
Being held at the same time as Mayfest allows people to visit both festivals, which provides even more options for people,
"I think that's part of the fun of it," she says. "If you're not in downtown Tulsa that weekend, you're missing a huge weekend."