In the classic novel The Grapes of Wrath, John Steinbeck called Route 66 the "Mother Road." In the 1930s, the paved road carried hundreds of thousands of Depression-era migrants from the Midwest to California in the hope of jobs and a better life.
Years after the Depression, Route 66 took on the role of America's main highway for adventure, beckoning countless family road trips which, in turn, brought a rise in interstate commerce. Leading up to the Mother Road's Centennial in 2026, event and festival committees are forming, as well as a fund in preparation for upcoming events: the AAA Route 66 Revival Fund.
AAA Route 66 Revival Fund
With community efforts ranging from the Kansas border to the Texas Panhandle, the fund has been established to support development and improvement projects. The fund will assist Oklahoma Route 66 communities pay for improvements including public restrooms, street lighting, beautification, walkability efforts and bike lanes.
Additionally, it could help support preservation of the original route and encourage new businesses such as motels, shops, diners as well as roadside stops and tourist attractions. Gov. Kevin Stitt and Lt. Gov. Matt Pinnell are advocates of the fund, along with organizations including the Oklahoma Route 66 Association, the Oklahoma Historical Society, and the Oklahoma Tourism and Recreation Department.
Oklahoma Road Trips
Always encouraging and promoting travel along Route 66, the Oklahoma Tourism and Recreation Department has publications outlining in-state road trips. For example, the Oklahoma Route 66 Guide highlights attractions throughout the state including museums, roadside attractions, historical sites and diners.
"Our Route 66 Passport and the accompanying Route 66 Guide Through Oklahoma are great resources for exploring the more than 400 drivable miles of Route 66 in Oklahoma," says Rylie Mansuetti, research and communications specialist for the Travel Promotions division of the department.
For online travel planning, TravelOK.com has myriad resources on Oklahoma events.
Route 66, which runs through the state capitol, makes Oklahoma a great state to host the Mother Road's milestone celebration. A few events in the coming months include: A visual arts and live performance event Aug. 4 in Edmond; a Tulsa Art Crawl on Aug. 5 in various locations downtown; and the Route 66 Blowout in downtown Sapulpa on Sept. 22 – a decades-old tradition that celebrates the nostalgia of the Mother Road.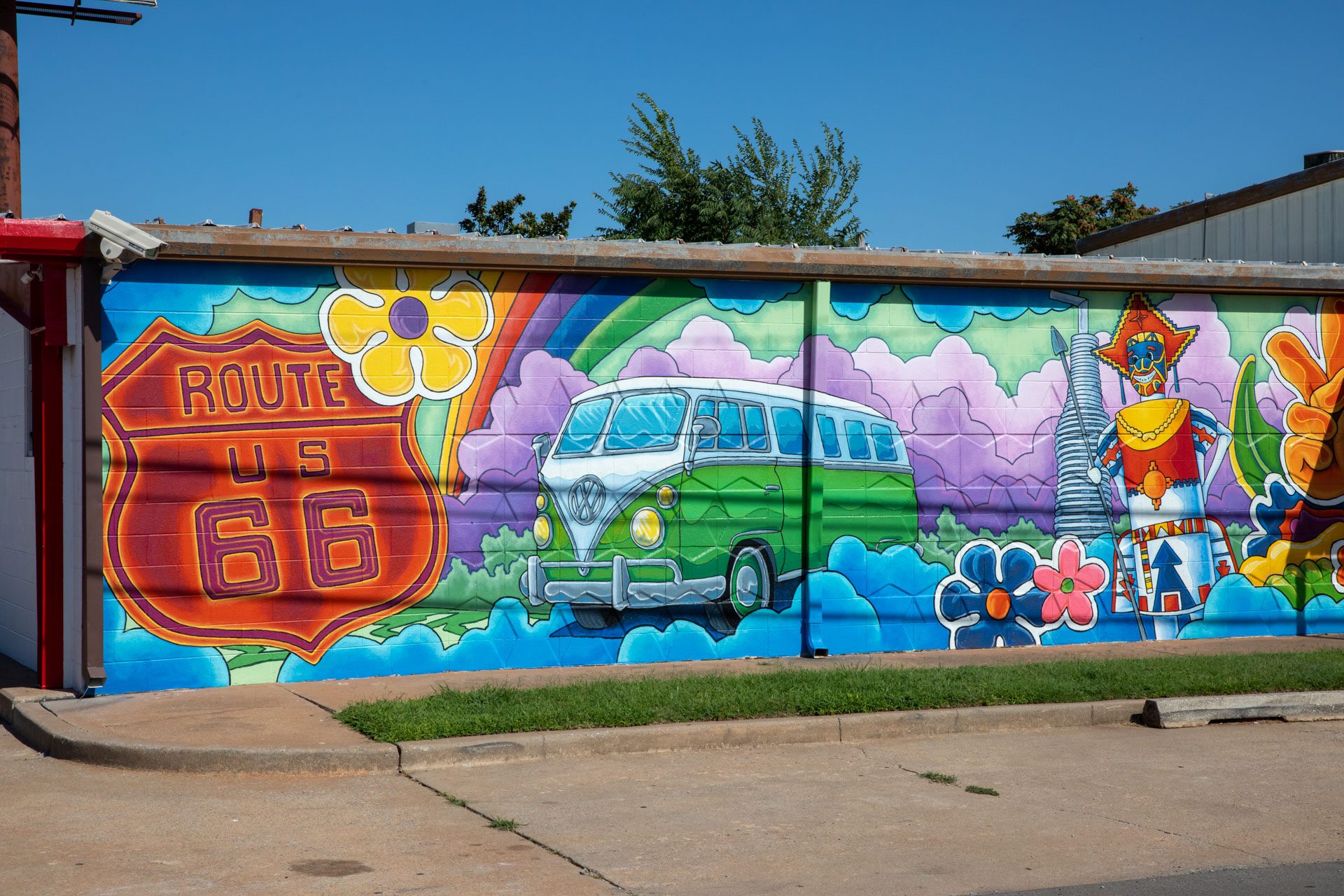 Route 66 Investment Benefits
In regard to advertising investments, Mansuetti pointed to data from "Route 66 in 2020: A Winding, Winning Journey." The report shows that in that year alone, the Oklahoma Tourism and Recreation Department invested $92,672 into the Route 66 advertising campaign.
For every dollar spent on marketing, Oklahoma earned $92 in lodging revenue. This information, Mansuetti says, "shows the incredible impact Route 66 has on tourism in the state."
The data also revealed a 32% growth in visitation since 2019; $8.6 million earned in lodging revenue, and 2.8 million Route 66 out-of-state visitor trips.