At some point, you've probably thrown a bowling ball down a lane, but an axe … not so much.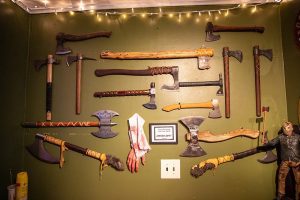 That has changed in Oklahoma. Often called an extreme alternative to darts or bowling, urban axe throwing, which began in Canada, has gained momentum as venues pop up across the nation.
Mario Zelaya, owner of Bad Axe Throwing in Oklahoma City, says if you want a unique, entertaining, new activity, throwing axes and hatchets at targets might do it for you.
"There aren't very many new concepts around," he says. "Bowling has been around for decades, we all know what it is, and we all know what it's like. Axe throwing is similar to bowling … except with a fun factor dialed up by a thousand."
Along with the growing number of axe throwing clubs, the number of members joining leagues continues to increase. One of the largest is the World Axe Throwing League.
"People travel across North America to compete, drink beer [or] wine, hang out and have a great time," Zelaya says. "It's a very inclusive community – no one cares about your age, gender, race, political views, career – everyone is there just to throw axes and have fun. That's what makes this sport so great and unique."
You might be reluctant to try the sport, maybe because you don't fit a certain profile or don't have much strength. However, Jason Kearney, co-owner of Got Wood Axe Throwing in Jenks, says fun can be had by all adults.
"There's not one set demographic," he says. "It's perfect for a date night, family gatherings, parties, or corporate events such as team building and client entertainment."
Safety is always a priority. Kearney advises visitors to dress comfortably and wear closed-toe shoes. Experts are on hand to provide safety training before anyone starts throwing.
While many just want the experience of throwing an axe or hatchet, others are driven by competition, which can be fostered by joining a league.
"Once you stick the axe [and] get a bull's-eye, there's a rush combined with a sense of accomplishment, where you want to do more and be better," Zelaya says. "It's fun – people love doing it recreationally and competitively. No experience is required [to join] leagues. We train people, we encourage them to come in and practice, [and] it's included with their league registration."
Axe throwing hasn't made it to the Olympics, but that doesn't mean it falls short on the number of events. Some include the World Axe Throwing League Arnold Open (March in Dublin, Ohio) and the National Axe Throwing Championship (January-February in Toronto).
"If you're remotely curious, go try it," Kearney says. "It's safer than you think, and it's really satisfying. It's also a great way to unwind and blow off the steam of a hectic day."
So, grab a few friends, book a lane and head to your local axe throwing club … lumberjack get-up not required.