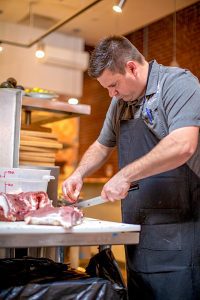 A few months ago, in the dead of winter, executive chef Kevin Snell took some of the staff of Amelia's restaurant to Joe's Farm in Bixby, where they spent the day digging through frozen sod and planting onions.
"I wanted them to see the hard work that goes into farming," Snell says. "When they're cutting these onions to serve at Amelia's, they will appreciate all the labor that went into them. And besides, I wanted to help Joe. There are so many farmers I want to help, but it's hard on the back – I was sore for four days."
Snell's desire to educate doesn't stop after work. He and his wife, Linda, also involve their two young children in cooking – most recently teaching them how to wrap pork for storage.
"Kevin taught them how," says Linda, who met her husband in cooking school. "He's very patient with the kids. He's a good teacher."
He's always learning too, she says. One year, he taught himself welding, built a 6-foot steel tower for grilling meat and set it up outside the BOK Center for a charity event.
Kevin Snell grew up in a little Arkansas town right by the White River. By age 4, says his mother Darby Barksdale, "I noticed each evening when I prepared our meal he'd push a small stool up to the counter and, using a butter knife, start chopping carrots."
Ten years later, his best friend got a job at a Tex-Mex restaurant and Snell joined him.
"I thought I'd make some money and eat a lot of free food," Snell says. "But my friend was a really hard worker and he inspired a work ethic in me. Oh, I wish he were still alive. I'd love to have him working beside me."
Snell says he taught himself knife skills ("I cut so many vegetables I got huge blisters"), butchering ("I can cut up a chicken in 55 seconds") and dishwashing ("I put a lot of thought into how to be the fastest person in the dish room").When he turned 18, he says his grandfather asked him what he was going to do with his life.
"Well, cooking doesn't aggravate me" was his response, so his grandfather helped him go to cooking school, where he was taught by Philippe Garmy.
Years later, Snell met Tim Inman, chef/owner of Stonehorse in Tulsa, where he worked for five years. It's there he met Amelia Eesley (owner and namesake of Amelia's), and the rest is history.
Now, Snell tries his best to pass on this love and technique to his own workers. Several times a year, he has a tasting day, where members of the staff develop a unique dish and cook it for Snell. He then offers constructive criticism.
But right now, Snell has news he's bursting to tell.
"We just bought Sette, the restaurant next door," he says. "I have such great plans. We're going to turn half into a retail market and the rest will be a classic brasserie. And of course we'll keep Sette's chef, Holly Biersack. She'll join our team. I'd never let a good person like that lose her job."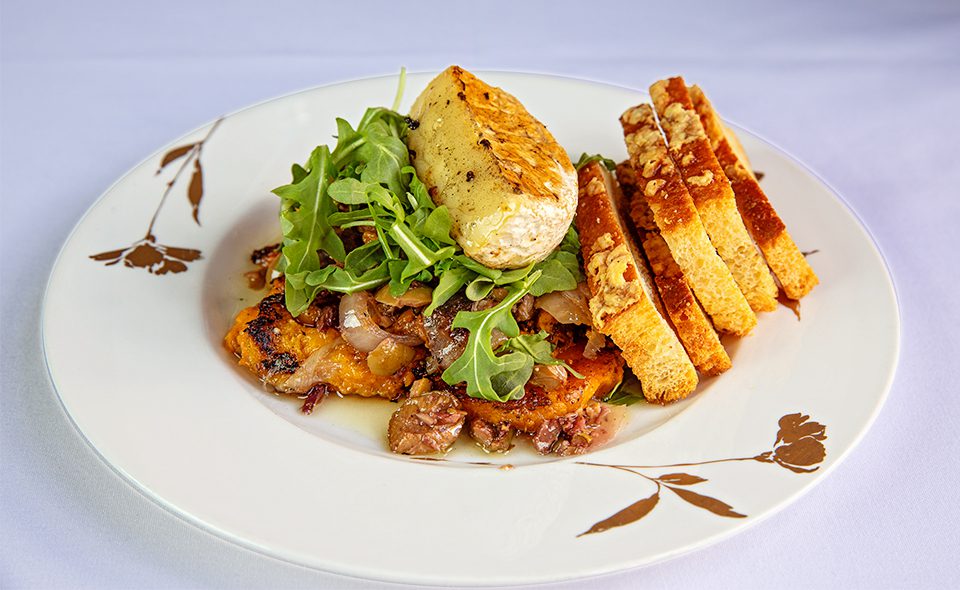 Rescaldo Veggies and Grilled Brie
1 Sweet potato
1 Red onion
1 Egg plant
1 cup Chopped Kalamata olives
1 cup Olive oil
½ cup Red wine vinegar
1 wheel Brie
1 cup Arugula
Salt and ground black pepper to taste
For vegetables:
Create a fire in your outdoor fire pit. Burn it for 2-3 hours, feeding it a few logs occasionally to build up coals and ashes.
Push all the fire to one side of the pit. Put your veggies, with peels and skin still on, down on the bottom of the pit.
Cover he veggies with ashes and coals. Use the ashes to protect the veggies from being burned directly by the coals.
Check if the veggies are done by poking them with a long skewer. You want it to go in and out with ease. The sweet potato will take the longest (45 minutes), and the onion and eggplant will take 30.
Place veggies on the counter. Even better, refrigerate them for an hour.
Peel each veggie with a pairing knife to take all the char off, but don't remove too much of the 'meat.'
Slice the veggies into half-inch slices.
For vinaigrette:
Place the olives and vinegar in a bowl large. Don't add in veggies yet.
Whisk in the olive oil slowly. This is not an emulsified vinaigrette, so stir it right before you use it.
To finish:
Heat cast iron pan on your stove, or outside on your fire. Put a 'glug' of olive oil in the pan.
Heat the pan to make a sizzle, but not enough to smoke.
Add cheese and veggies on opposite sides of the pan. Sprinkle some salt and pepper. Have the veggies laid flat to achieve color from browning.
Flip the cheese and the veggies after 3 minutes. Season this side of the veggies, too. You should have a golden crust on the cheese.
Place the veggies in the bowl with the vinaigrette after 3 more minutes. Pull the brie out of the skillet and set it aside.
Mix the veggies and vinaigrette. Carefully place your mixture onto a platter.
Top with a sprinkle of arugula and cheese on top.