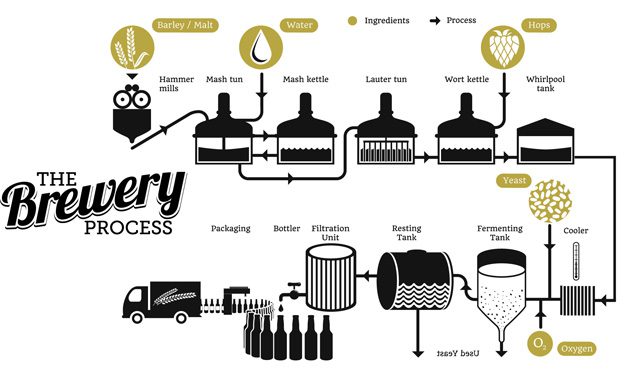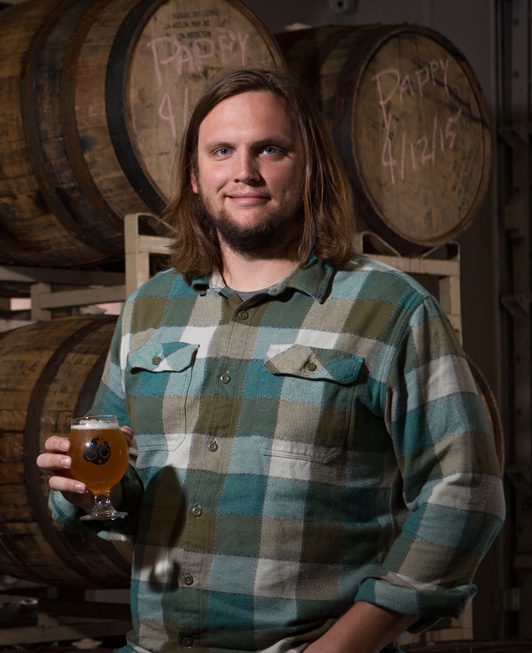 Anthem Brewing Company
"Our beers are our anthem to the world," says Patrick Lively, president and brewmaster of Anthem Brewing Company.
Anthem opened in 2012, manufacturing beers at OKCity Brewing, a brewers' cooperative that housed three brewing companies.
"Brewing is our passion, so when the opportunity came up to make that our profession we jumped," says Lively.
The company's logo, a big-eyed creature with a star-shaped mouth, is called an imp. The company considers it to be "a representation of perfection in imperfection." It is a symbol for the individual taste they seek in their beers, and those tastes are catching on.
"The response has been incredible," Lively says. "Our community has really embraced our products."
In May 2013, Anthem announced that they would be moving by the end of that summer. Later that month, a tornado hit the OKCity Brewing facility, shutting down production for all involved. Fortunately for Anthem, the brewery was already making moves to open a building of its own.
Two months earlier, they had purchased a 15-barrel brewhouse in Chicago that they brought to Oklahoma on three semis and a rental truck. Anthem now brews in a space called the Urban Farmhouse Brewery. In this building, Anthem is able to distribute its beer in bottles and cans instead of just kegs. There's also room to expand production to make more types of beer.
"Currently, we have four year-round beers, and in addition, we will release 12 barrel-aged beers throughout the year," says Lively. "With the beginning of every year, we are going to set goals for production growth that will allow us to continue to reach out to new customers while maintaining our current customers."
Anthem now has the freedom to brew exactly how it wants, including the use of open fermentation, a traditional way to brew beer that uses wide, shallow containers rather than enclosed tanks.
"All of our beers are flavor-forward and brewed with the highest standards of quality," he says. "We are very proud of our commitment to our product and to our community."
Golden One, a Belgian-style golden ale, is currently the company's most popular brew. Anthem aims to create interesting beers that pair well with different types of food.
Lively says there is a lot of hard work that goes into running a brewery, but their motivation remains simple: "We make beer because we like to drink beer."
---
Black Mesa Brewing
Black Mesa Brewing was named for the state's highest point, and although the company does not brew out of the panhandle, the owners hope it inspires others to discover everything the state has to offer.
"We think the name issues a challenge to explore all corners of the state, especially those that might be blank spots on the map in terms of your own experience," says co-owner Brad Stumph. "Of course, we hope that adventurous spirit carries over to your palate."
For Stumph, that spirit was necessary to risk his career in the environmental field to open a brewery. Three years later, Black Mesa has proven worth the risk.
"The smell of a brewery on brew day, tasting beer out of the fermenter, the thought of having something you made with your own two hands at a pub your friends and family frequent, that's gratification," he says. "Craft brewing is also a relatively young industry in Oklahoma. There is a certain excitement about being part of a small group of entrepreneurs helping to foster Oklahoma's craft beer culture."
Stumph says Black Mesa's beers are inspired by Old World brews. It is a style that he believes may be overlooked by new generations of beer-drinkers.
"At a time when IPAs in all their glorious bitterness are the bestselling craft beer style, we feel it gives us a unique and clear perspective," he says. "We are trying to reach craft beer drinkers who feel that Old World styles are under-represented by American craft brewers as well as introduce Millennials, who came of age during the height of the IPA, to our favorite styles and encourage them not to overlook some of the classic European beers."
Black Mesa currently brews its batches in O'Fallon, Mo., where the brewery moved after a tornado destroyed the OKCity Brewing Cooperative, where they began. The owners hope to move back to Oklahoma soon, but in the meantime, Stumph and co-owner and head brewer Chris Sanders are focusing on what they love most about running a brewery.
"Chris would tell you it's recipe development," he explains. "After we have identified a style, we like to gather a small round table of friends and ask them to bring one or two examples of their favorite brews in that style. We drink. We discuss. Chris furiously scribbles recipe notes. He brews. For the next 21 days during fermentation and conditioning, we can only hope the beer will taste like the symphony the group imagined. For [me], the joy is in sharing. There are so many great beer-tasting events across the state. To get to share our beer and our brewing perspective and have it be well received is really energizing."
---
Roughtail Brewing
Blaine Stansel and his business partner, Tony Tielli, had been home brewing for several years when they decided to start Roughtail Brewing in Oklahoma City.
"The opportunity presented itself, and we both obviously really like craft beer," Stansel says. "We made a really good team. I handle all the business stuff, and he handles all the brewing. It just kinda worked."
Roughtail specializes in hoppy, west-coast style beers. The Roughtail IPA is the most popular brew, but the Hoptometrist, a double IPA, is quickly gaining ground now that it has earned a year-round release.
Roughtail's beers can be found across Oklahoma, and with craft beer fans spreading the word about Roughtail brews, more locations are likely to pop up soon.
"Microbreweries are a little bit unique in the fact that most of our marketing is going to be all from word of mouth," says Stansel. "We rely heavily on local people enjoying our beer and telling someone else, because we don't have the budget to go do Super Bowl ads."
For Stansel, time with the public is extremely valuable to the growing company.
"My favorite part of the business is just going to events and having people sample our beer and getting feedback," he says. "Even if the feedback is negative but constructive, that allows us to go back and refine what we're doing a little bit."
The brewery's most recent addition is a citrusy pale ale that will replace Red Republic, one of its older beers.
"It's a real traditional west-coast style pale ale," Stansel explains. "We're using a new strain of yeast on it, so it's going to be a little bit different than what we've been doing in the past. I think it's going to be really good, and everyone so far has just loved it."
Roughtail is planning bigger changes as well. Its current rental location will soon be too small to accommodate growing production. In a couple years, the owners plan to build a new facility.
"Our landlords have been great, but at some point we do want to expand and grow the business," says Stansel. "So it's off on the horizon, but it will be coming up. Two years will fly by like nobody's business."
In the meantime, the pair will continue to hone their products and develop more.
"At the end of the day it's a manufacturing business," Stansel says. "It's not as glamorous as everyone pictures, just sitting around drinking beer while we make beer. There's just a ton of work involved."
---
Prairie Artisan Ales
Brothers Chase and Colin Healey started Prairie Artisan Ales in 2012. They began brewing their farmhouse beers at Choc's brewery in Krebs, Okla., but have recently moved into their own building in Tulsa.
"I've been in the beer industry for seven years now, so opening a brewery has always been the plan," says brewmaster Chase Healey. "I got into beer as a college student and haven't looked back."
Just three years after Prairie began operations, it is already a popular name in the business.
"I wanted a name that represented our part of the world. I feel like the prairie defines us in a way that a drinker in a place far away like Japan can still relate to," says Healey. "Prairie might be local to Oklahoma, but we sell beer all over the country and around the world."
Healey says the company focuses on staying true to their brand of bold beers rather than bending to what is popular.
"We try to make most of our beers a drinking experience over just a casual beverage," he says. "Most of our beers are very dry and more wine-like."
Healey says the response from the community has been great.
"People love to come to our events and tastings," he says. "I think our brand has been something that people in Oklahoma like to be able to brag about to their friends around the country."
Prairie Bomb! is the current fan favorite.
"It's a big, thick stout infused with espresso beans, ancho chilies, vanilla beans and chocolate," he says. "We made it once thinking that would be it. For the last two years we haven't stopped making it."
Prairie has several brews in its lineup, and Healey hopes to develop more while retaining that hometown-brewer feel.
"We are always working on new beers and exciting projects," says Healey. "We aren't trying to be a huge brewery, but adding tanks for more beer is something we are always looking into."
Healey appreciates the process of making the beer, all the steps that are necessary to get to that tasty bottled beer.
"The hardest worker in the brewery is the yeast," he says. "Without it, beer wouldn't exist."
There is an art to making beer, and at Prairie Artisan Ales, the brothers care about doing it right.
"The moment that the liquid starts to fill the bottom of the brew kettle, you know a beer is soon to be born,"  he says.
---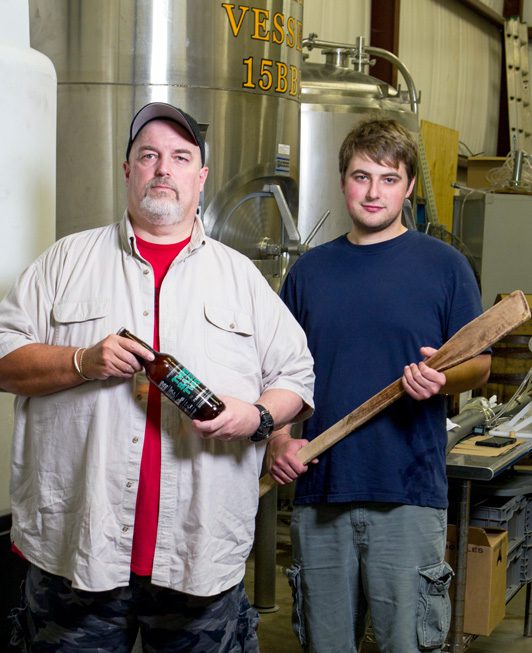 Battered Boar Brewing
Mike Sandefur's passion for brewing began as it does for many craft beer enthusiasts: at home.
"The first year I started brewing, I made over 200 batches," he says. "As time passed I wanted to bring some of my best beers to the public. I wanted to push the limits of the beers I saw in the market."
The inspiration for his brewery's name, Battered Boar Brewing Company, came from a more unconventional source.
"Years ago I went on a knife-only wild boar hunt," he explains. "I killed a 475-pound Russian boar with a knife. At the time it was just a smart-ass name for my home brew. It ultimately turned into the name for our brewery."
He describes Battered Boar's brews as "tasty, thought-provoking and unique." The most popular beer is a farmhouse ale called LaPadite. However, Sandefur is proud of all Battered Boar's products.
"Our beers are like our kids, we love 'em all," he says.
Sandefur says in a time where talented brewers are all around, Battered Boar's focus is on what makes it unique.
"We are always curious about the ingredients that make a great beer. If we can clearly articulate our vision of the beer and adequately produce it, we will," he says. "We don't follow trends or brew a style for the sake of brewing it. Our ideas are hard-fought and have to pass through our own scrutiny before they leave our brewery."
Battered Boar's slogan is "little brewery, big beer," but because of recent expansions, the brewery is a bit less little than it once was.
"We're about five times the size we were before," Sandefur says. "Our brewery is in the middle of regional expansion as well. It's really exciting for us. We're very blessed. It's taken a lot of work to make this happen, and we're about to see the fruits of our labor."
Sandefur says his favorite part of the brewing process is sharing their beers with the public.
"For me, the best part of my job is pouring someone a beer, a beer that we've worked hard to produce, and watching their reaction as they try something they've never had before," he says. "When that thing is one of our beers and we see the smile on their face, we know we did our job. That's the best feeling in the world. I always say, 'You can't help but smile when you taste a great beer, and you can't make yourself smile at a bad one.'"