If you've lived in one of the larger eastern U.S. cities during the past decade and liked to chase down exotic cuisines, you probably remember the endless hunt for the rarest of them all: Peruvian food. You might have been haunted by visions of purple and green castles sculpted of herbs and potatoes and topped by a fiery red sauce; of fragrant, savory peanut stews invented 500 years before Shakespeare was born; of a shockingly bright yellow concoction invented in the 1790s by French chefs fleeing the guillotine and made with chicken, walnuts, cheese and a kind of pepper found only in Peru.
Yes, the food of Peru is exotic, seductive, eye-popping and wildly creative. And, if you're lucky enough to live in Tulsa, you can sample the cuisine at its finest with no more inconvenience than a short car ride, all thanks to a woman named Kelly Tandazo.[pullquote]When I was a child, I learned to cook from my mother, my sisters, my whole family," she recalls, "and this is just the way they served it at home. [/pullquote]
For Tandazo, the foods of her homeland are a source of endless fascination. The terrain of Peru varies from seacoast to mountain to the unexplored rainforest of the Amazon, and the food varies with the land. She grew up in Iquitos, a rich boomtown in the Amazon jungle that has the dubious distinction of being the world's largest city unreachable by road. She married an oilman from Lima, and his job took her to all the regions of Peru and the surrounding countries of South America.
The flags of all those nations flap proudly atop the long, one-story building that houses Tandazo's restaurant in south Tulsa: Mi Tierra. Step inside, and you'll see bright walls, immaculate, white-starched tablecloths and ample light streaming in to spotlight paintings by Tandazo's Brazilian friend F. Thompson. Sultry cumbia music plays on the sound system, and it dovetails with Tandazo's upbeat mood. She's excited about the new décor – there's a coffee pit in the back, with comfy sofas, Alpaca rugs and even a Wi-Fi connection – and menu.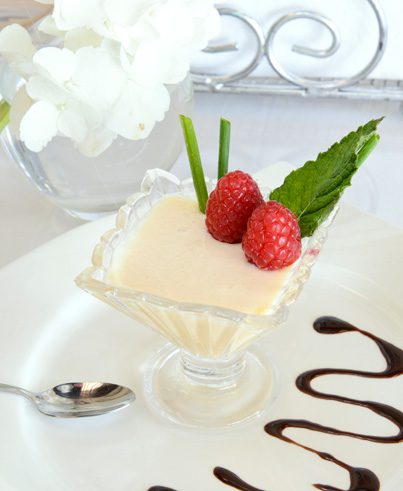 "We're serving breakfast now, every day at 9," she says. "You get your choice between Brazilian, Colombian and, of course, Peru."
She's excited about finding a fish called arapaima, native to Peru.
"We eat it in my hometown," she says. "It grows to be seven feet long and weighs more than 200 pounds. I'll cook it for you just the way we do in Iquitos!"
She's excited about everything in life, and her joie de vivre is infectious.
But who can stay unhappy when those purple, green and bright yellow towers, named Causa Limena, all sculpted from potatoes, arrive at your table? Who can be sad after tasting the bright, bracing treat known as ceviche, one of Peru's best-known culinary gifts to the world?
And if you come on a weekend, even more treats await. Perhaps you'll delight in a half-avocado topped by an artfully arranged mound of shrimp surrounded by a golden lake of Huancaina sauce, a sophisticated, rich French sauce made from Peruvian yellow peppers. Or slender cucumber rolls stuffed with pabellon stew from Venezuela. Or, if you're lucky, you'll have sudado de pescado, fish served with a rich sauce made from chicha de jora, a lightly fermented corn beer; a kind of pumpkin found in Peru; vinegar; and many more ingredients.
"And here's the fish I told you about," she exclaims.
Tandazo proudly carries a huge platter holding enormous cubes of lightly fried arapaima, cassava mounded into little balls, fritters made of plantains and an intricate yet sprightly salad of hearts of palm and shiitake mushrooms.
"Not exactly like our Amazon mushrooms," says Tandazo, but close.
"When I was a child, I learned to cook from my mother, my sisters, my whole family," she recalls, "and this is just the way they served it at home."
When Tandazo first opened Mi Tierra, it was a small grocery store, jammed with rack after rack of jams, spices and canned stews, all from Peru. But, Tandazo recalls, her South American patrons begged her to open a restaurant.
"We can't find our food anywhere," they'd say.
And so, she jammed a few small tables in between the shelves, put up a blackboard with a menu scrawled in Spanish and started cooking. 6703 E. 81st St., Tulsa. 918.477.7155.