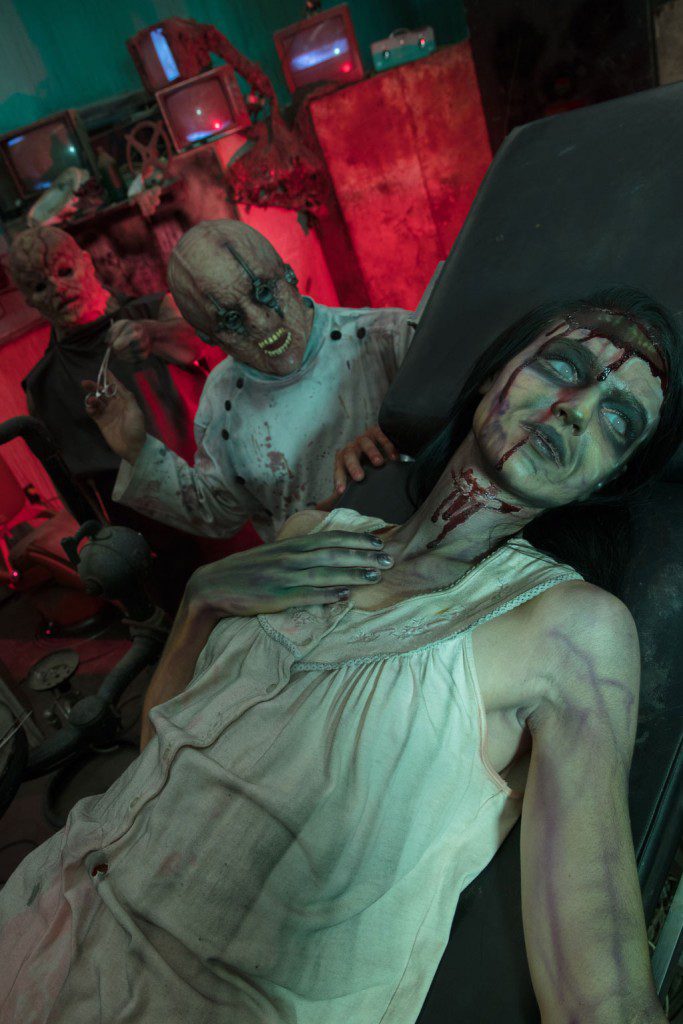 As the crisp fall air settles in, one occasion springs to the forefront of many minds: Halloween. With it come ghosts and ghouls, costumes and cauldrons, monsters and mystery, spooks and screams, and there's no better place to indulge in all the terrifying tricks and treats than a haunted house.
Long lines of people filled with a palpable mixture of excitement and dread take shape in October as they anxiously await their turns to be frightened. But for those on the other side of the scare, the anticipation has increased for a much longer time. Preparation for Halloween began as soon as last year's ended, just as it does every year.
"We definitely have a go-big-or-go-home mentality," says Tino Pascuzzi, owner of The Sanctuary, a haunted attraction in Oklahoma City. "It doesn't feel like work when you love what you do, and it's just one big playground for us. We don't want to be stagnant. We redesign scenes [and] add scenes. We change about 25 to 30 percent of the haunted attraction each and every year."
Pascuzzi says keeping the haunt fresh is crucial because the public is desensitized to everything, thanks to online sources and horror movies.
"You really have to go that extra mile to figure out what's going to move people," he says. "Our attractions are psychological. We research a lot. We try to hit on many different phobias. There have been many, many studies about how people perceive fear and how they react to fear, why people are more prone to scare on the left hand side versus the right hand side. [It's] because most are predominantly right-handed, [so] they feel safer.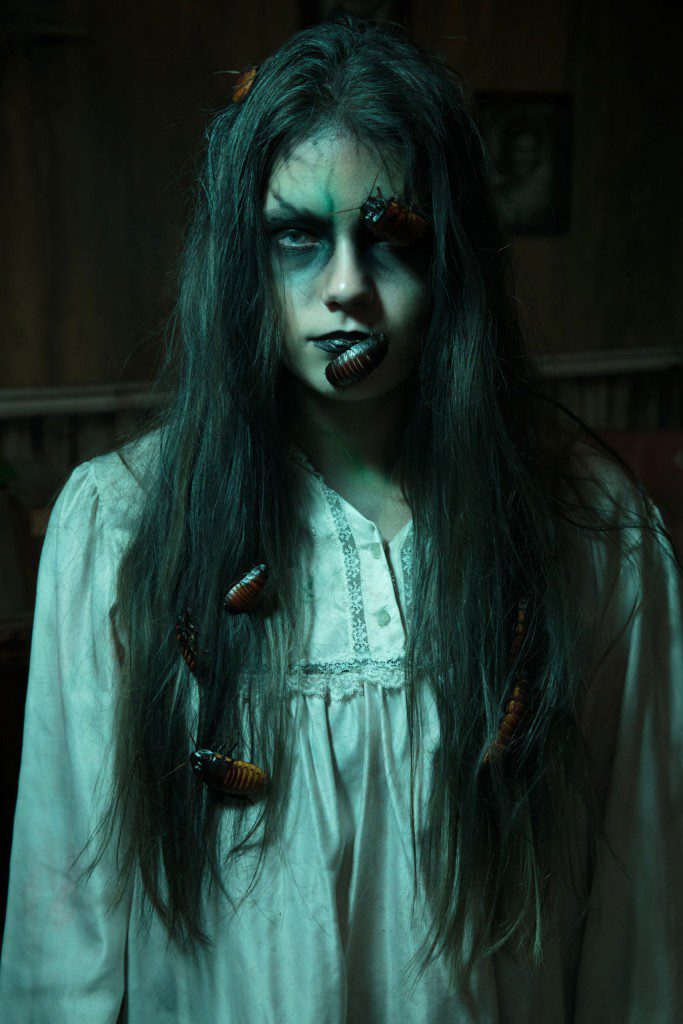 "There are some interesting things – why turning left is a little more ominous for people and why they have a little trepidation about it versus right. There are a lot of things that most people don't even realize that go into what we what we create."
Kenton Baird, owner of Nightmare in the Country in Woodward, hosts a camp each March to prepare for Halloween.
"We invite all the actors and cast members of the past to get together, and we just have these big brainstorming sessions," Baird says. "We have hot dogs and hamburgers and watch movies. We just throw out ideas and some stick and some get put back for the next year."
Ethan O'Neil, one of the Nightmare in the Country actors, says a lot of work goes into putting the 5-acre Woodward haunt together each year.
"After you have your theme, you have to then construct the haunt with props and other effects," he says. "You also have to design the foot traffic on how they proceed without crossing paths into another haunt. You also need to make safety paramount; the last thing you want is an accident. As an actor, you have to plan out your costume, makeup, props and things to say to the victims. It all pays off – becoming a monster and seeing people's reactions. It is almost therapeutic."
O'Neil says his two years at Nightmare in the Country have been a great educational experience.
"I have learned how to use power tools, supervising skills, safety precautions, managing people, makeup artistry, managing money, video productions, commercials and marketing," he says.
The casting process begins in the summer in order to have the haunt fully staffed by autumn.
"We'll make up very specific things on the spot and have actors improv," Pascuzzi says. "We want to see what you can do off the cuff. It's what you do under pressure for a second. It's more about seeing, 'Are you comfortable in your own skin?'"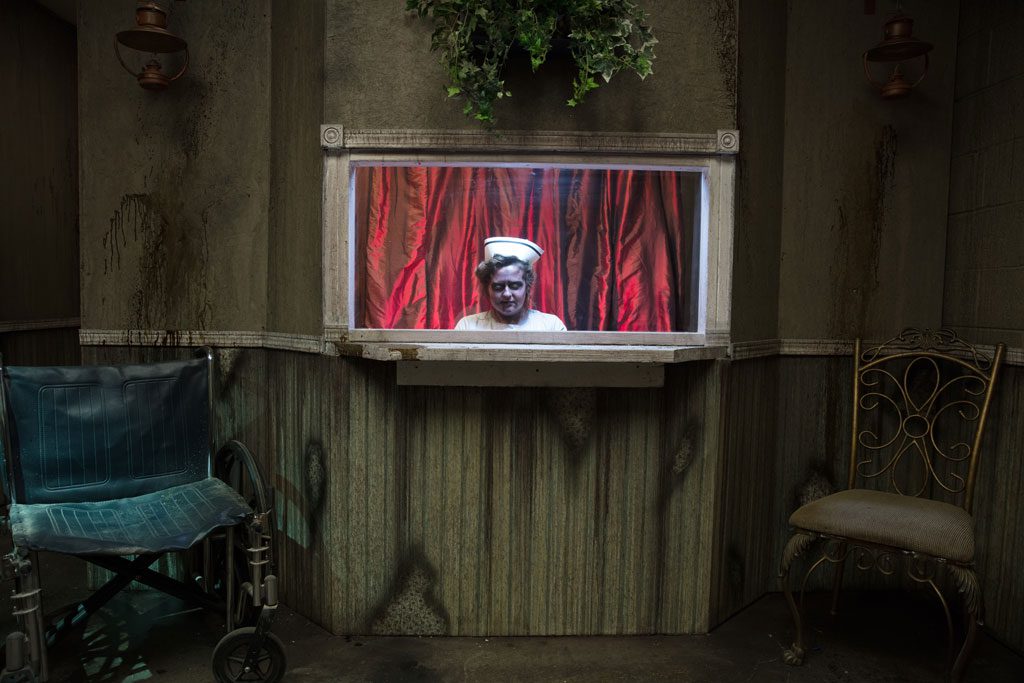 Both haunts have several actors who return regularly. Shawna Grivich has been with Nightmare in the Country for eight of its nine seasons, even while she was eight months pregnant. She says there's a price to pay for being great at the job – the risk of getting a reactionary injury from a scared guest.
"It's kind of a rush whenever you get good scares," she says. "I'm pretty sure it doesn't matter who you are or what you're doing, you'll probably get hit at least once, especially if you've been there as long as I have. If you are really good at scaring, you will get hit."
Pascuzzi says the adrenaline rush from a good scare keeps actors coming back, plus a welcoming atmosphere that's hard to beat.
"We've created an interesting little Addams Family of ours over the years. It's really neat," Pascuzzi says. "We cook for our actors each and every night that we're open. It's really conducive to a family environment."