Note: This archival story was originally published in August 2008, and is being republished to mark the 10 year anniversary of BOK Center.
Open for Business
Tulsa celebrates the opening of the BOK Center, a monumental architectural project of historic significance to the city, with a series of special events.
Ribbon Cutting & Community Open House – Aug. 30 from 10 a.m. – 4 p.m.: This free event invites all of Tulsa and surrounding areas to the arena for a day of music, $1 concession items, contests, interactive games and tours of the BOK Center. Attendees will receive a free commemorative poster. Free parking is available at 100 West Garage courtesy of American Parking.
Multi-Faith Celebration – Aug. 31 from 3 p.m. – 4:30 p.m.: One Song. Many Voices. The BOK Center's Multi-Faith Celebration will feature a 300-person community choir with special guest, Oklahoma native and TV and Broadway star Sam Harris. The program will include a 10-minute blessing of the facility featuring 11 different faiths. The event is free and open to the public. Free parking is available at 100 West Garage courtesy of American Parking.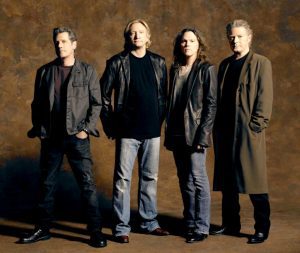 Opening Night Concert – Sept. 6 at 8 p.m.: The Eagles "Long Road Out Of Eden Tour," Following the success of their No. 1 album, Long Road Out of Eden, the Eagles will perform live at the BOK Center. The band – Glenn Frey, Don Henley, Joe Walsh and Timothy B. Schmit – will perform current hits, as well as their classic songs.
Construction Workers Honored – Oct. 25: 1,000 workers will be recognized and honored at the first Tulsa Oilers home game.
BOK Center Art Collection Dedication Nov. 5: Official tour and presentation in conjunction with the Ruskin Art Society's 100th anniversary celebration of all the artwork in the BOK Center.
[nextpage title="The BOK Center At-A-Glance"]
Note: This archival story was originally published in August 2008, and is being republished to mark the 10 year anniversary of BOK Center.
Naming Rights
Bank of Oklahoma paid $11 million for naming rights to t he arena for 20 years. The "BOK Center" letters adorning the main entrance to the arena measure nine feet tall, and the "BOK" logo stands 16 feet tall.
Glass Wall
There are approximately 1,200 panes of glass in the Icon Wall, totaling around 52,000 square feet. No two panes of glass are the same size due to the geometry of the building. 
Metal Skin
There are approximately 33,000 stainless steel shingles that make up the exterior of the arena.
Architectural Marvel
Perhaps the greatest architectural wonder of the BOK Center is the front canopy over the main entrance located near Third Street and Denver Avenue. The canopy "cantilevers" about 80 feet from the last support column and seemingly extends into open air. Cantilever construction provides for overhanging structures without external bracing.
Fancy Floors
Approximately 110,000 square feet of terrazzo flooring line the main concourse of the BOK Center. The aggregate is made up of 70 percent mother of pearl – an extremely high percentage, which is rare – and gives the floor a glittery look.
Public Art
Four artists – native Oklahomans Joe Andoe, Mark Lewis and father-son team Bill and Demos Glass, and Kendall Buster of Virginia – will have artwork displayed in the BOK Center. Approximately $1.5 million – one percent of the total budget of the arena – was spent on the art installations.
In and Out
At capacity, it would take 15 minutes to evacuate all 18,500 people from the arena. 
Vision Builders
Anywhere from 10,000 to 12,000 people touched the project from start to finish. At times there were up to 600 people working onsite daily. Tulsa Vision Builders, the construction management agent for the project, is a joint venture between Tulsa-based construction companies Manhattan Construction and Flintco. Manhattan was established before Oklahoma statehood, and was the first company to be incorporated in Oklahoma. Flintco, the largest Native American-owned construction company in the world, was established in 1908. These two companies joint-ventured for the Oklahoma Capitol Dome project.
Posh Seats
The 38 suites, 20 loge boxes and 682 club seats in the BOK Center leased within a week of placing each on the market. ONEOK signed a 15-year commitment to purchase the naming rights to the premium seating. The 16,156 regular seats – 6,679 in the lower bowl and 9,477 in the upper bowl – measure 22 inches across.
Floored
The arena has four different floors to accommodate the different events it will host: a standard floor, a basketball floor, an ice floor and an arena football floor. When not in use, the floors are stored in the center and end stages.
Marquee
There are 80,000 individual LEDs on a Vegas-style marquee sign at the entrance to the arena.
Bathrooms
16 – Men, 20 – Women, 9 – Family. Toilets:  346.
Concessions
At least seven Tulsa restaurants and vendors have been tapped to provide concessions for the arena. They include In the Raw, Billy's On the Square, Oklahoma Style BBQ, Te Kei's, Rubicon Restaurant and Mazzio's. Over 100 points of sale will be available in the 14 different concession areas throughout the arena.
Parking
Those attending events at the BOK Center will rely on existing parking in downtown Tulsa. Arena officials estimate that 6,000 parking spaces will meet arena-goers' needs. There are 4,488 parking spaces within a two-block radius and another 9,051 within a 10-minute walk.
Hotels
A – Hotel Ambassador – 1324 S. Main St., Tulsa. 918.587.8200.
B – Doubletree Hotel Tulsa Downtown – 616 W. 7th St., Tulsa. 918.587.8000.
C – Crowne Plaza-Tulsa – 100 E. 2nd St., Tulsa. 918.582.9000.
D – Downtown Plaza Hotel of Tulsa – 17 W. 7th St., Tulsa. 918.585.5898.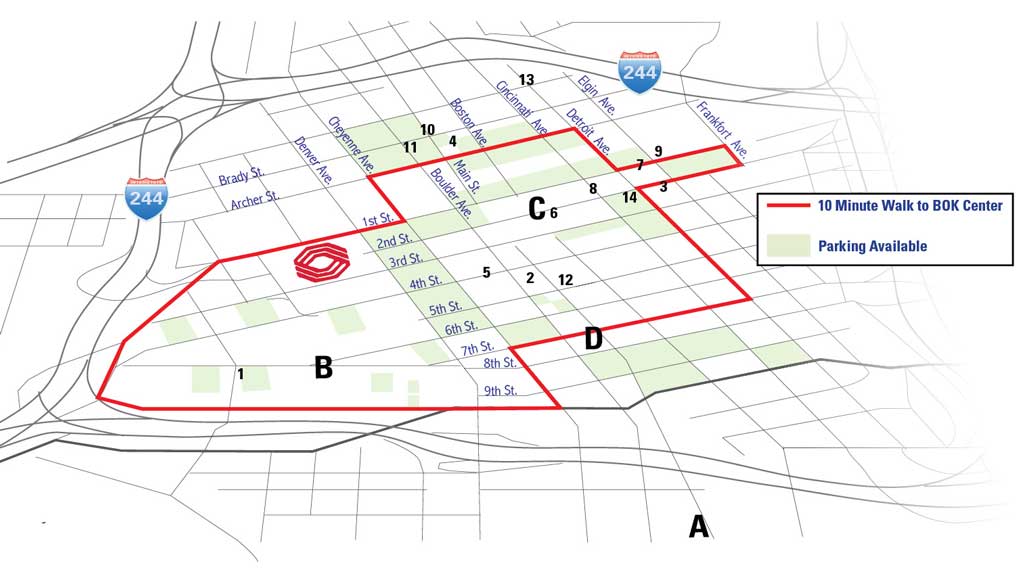 Restaurants
Baxter's Interurban Grill – 717 S. Houston Ave. 918.585.3134. www.baxtersgrill.com
Billy's on the Square – 424 S. Main St. 918.583.8703.
Blue Dome Diner – 313 E. 2nd St. 918.382.7866. www.myspace.com/bluedomediner
Caz's Chowhouse – 18 E. Brady St. 918.588.CHOW. www.cazschowhouse.com
Coney Island – 123 W. 4th St. 918.587.2821
Deco – 100 E. 2nd St. (inside Crowne Plaza). 918.582.9000. www.cptulsahotel.com
El Guapo's Cantina – 332 E. 1st St. 918.382.RITA. www.elguaposcantina.net
Fortune Chef – 109 S. Cincinnati Ave. 918.582.0280
James E. McNellie's Public House – 409 E. 1st St. 918.382.PINT. www.mcnellies.com
Lola's at the Bowery – 5 E. Brady St. 918.592.7995. www.lolasatthebowery.com
Mexicali Border Café – 14 W. Brady St. 918.582.3383. www.mexicalibordercafe.com
[nextpage title="Positively Pelli"]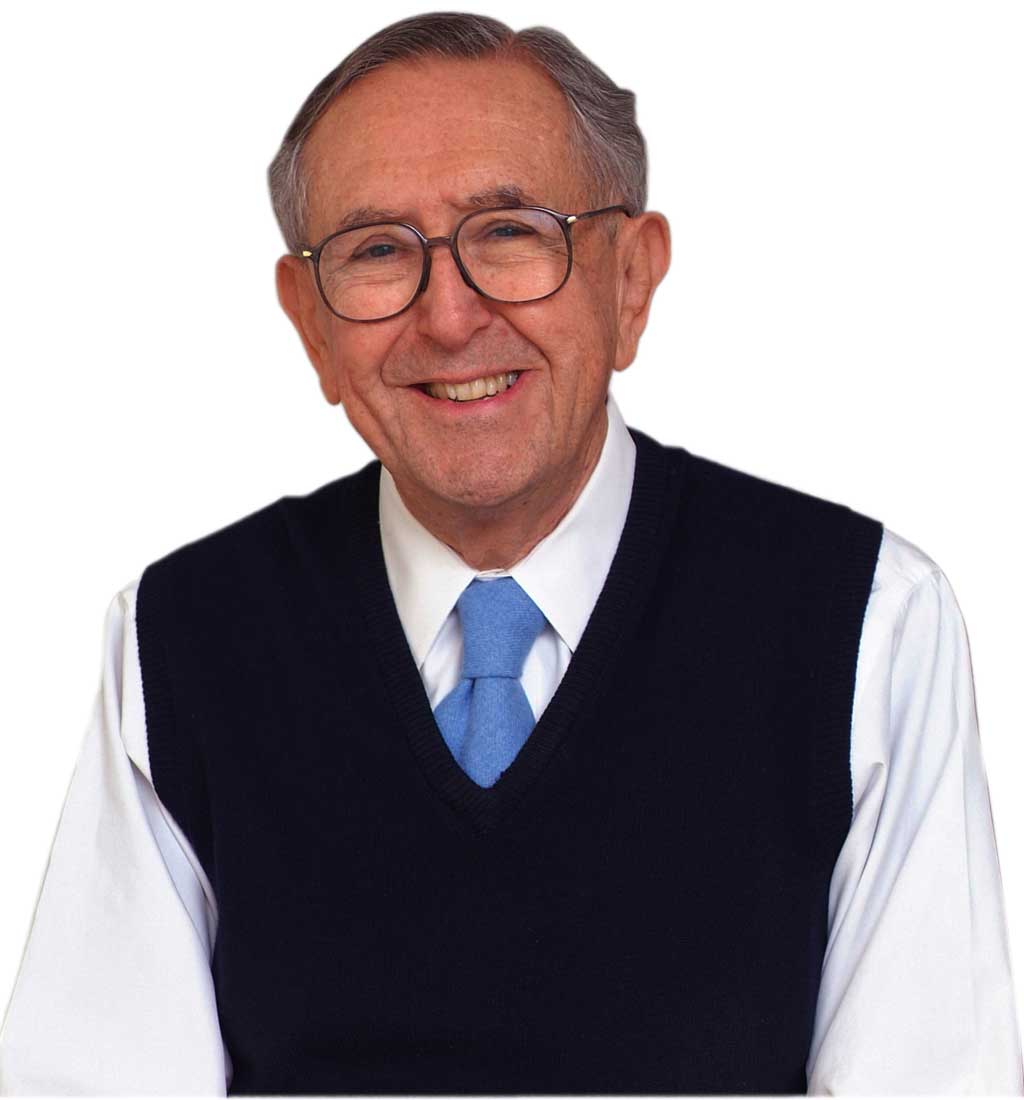 Note: This archival story was originally published in August 2008, and is being republished to mark the 10 year anniversary of BOK Center.
The world-renowned architect's dazzling design debuts downtown
Like the mesmerizing allure of a swirling, tantalizing strip tease, Tulsa's new BOK Center has of late been steadily peeling back glimmering layers of glass panes, unveiling more seductively, the breadth of the inspiration of its designer, architect César Pelli. With its inaugural curtain call set for Aug. 31, rapt observers will soon get a full-scale glimpse of the spectacular new facility, which planners hope will help put Tulsa on the map for having one of the country's most show-stopping downtowns.
"The primary inspiration came from the client's request that we create an architecturally significant icon with a world-class identification for the city of Tulsa," Pelli says. "The project fully expresses these aspirations and the dynamism of Tulsa.  It is an exciting and unforgettable form."
With funding made available through Tulsa's Vision 2025 initiative, the 18,000 seat, $178 million project is already receiving national attention with US Architecture slated to publish a story about the facility in an upcoming issue, and a recent invitation-only launch party in Los Angeles for concert and touring professionals.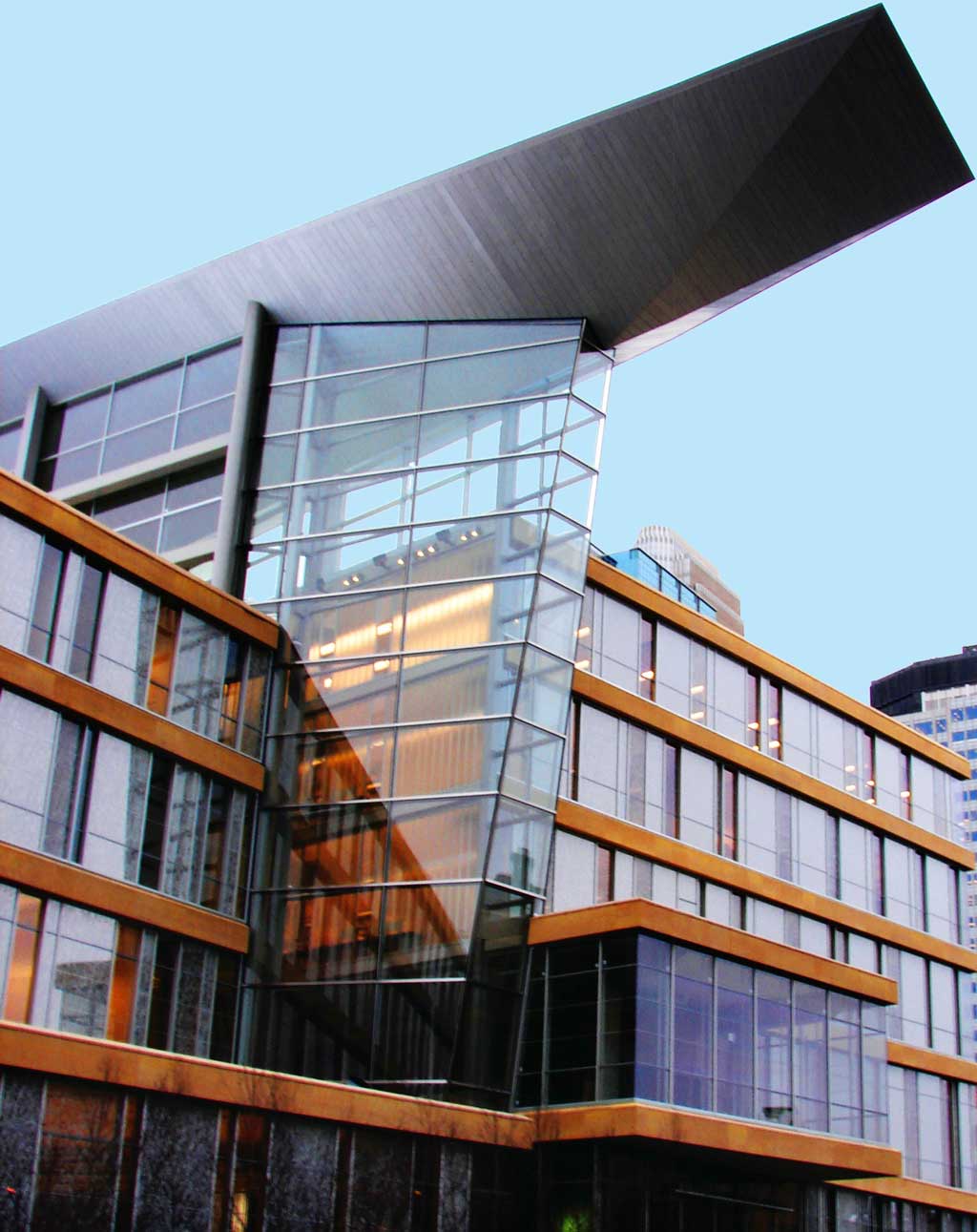 For the internationally acclaimed Pelli, whose many awards and distinctions include being named one of the Ten Most Influential Living American Architects by the American Institute of Architects, the invitation to design the BOK Center was a compatible fit for his firm, Pelli Clarke Pelli, which carefully limits the selection of new clients to ensure quality involvement from its principal architects.
"We accepted because we thought this was an important civic project and an opportunity to create a memorable structure," the 81-year-old Argentine American says.  "I was most impressed with the 'can do' spirit of its people and the great cohesion among political leaders, business leaders and the citizens of this great city. This made it a pleasure for us to work on this project."
Plans for the grand opening are underway, while final primping is tended to around the facility. In the meantime, how does the center's creator feel about his nearly finished project?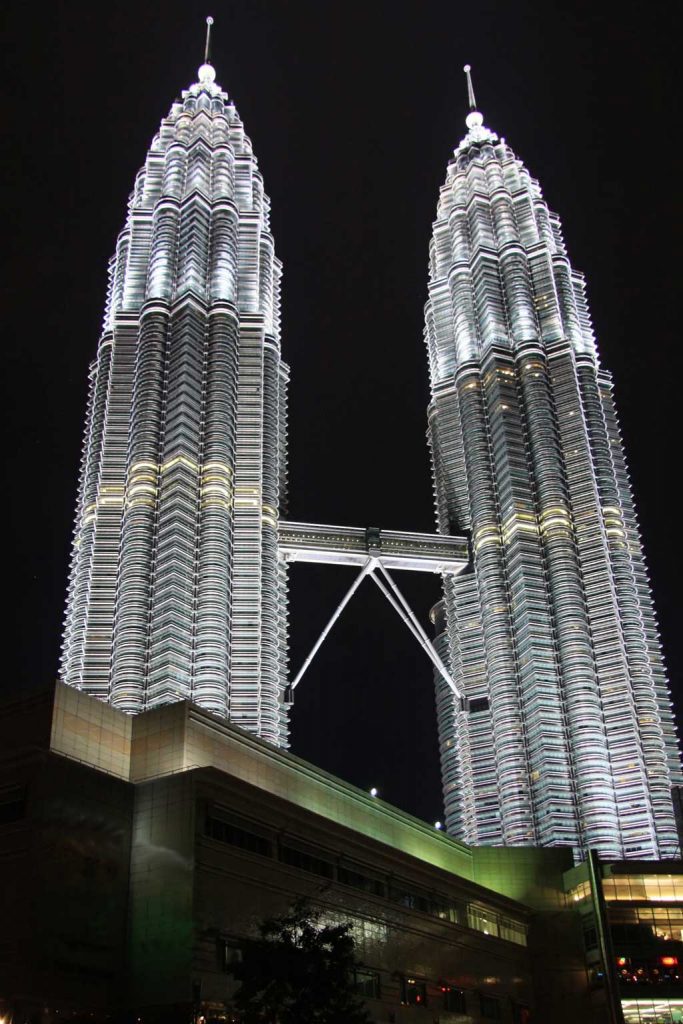 "I am delighted with the way the building is looking," Pelli says. "It is everything I dreamed of and it is a sheer pleasure to see it gleaming under the Tulsa sunlight and against its deep blue skies." 
Know Your Pelli
César Pelli, the signature designer of Tulsa's new BOK Center arena, is widely recognized as one of the world's greatest living architects. He has created iconic designs strewn around the globe, from high-rise office buildings to performing arts centers. However, Pelli doesn't have a definitive look. Instead, he tailors his design to each individual project using a multitude of influences. For instance, the oil industry, Art Deco design, the Arkansas River and the wide-open Oklahoma skies all influenced the design of the BOK Center.
Petronas Towers, Kuala Lumpur, Malaysia – This graceful, twin-tower design echoes traditional Islamic architecture. When completed in 1998, they were the tallest buildings in the world.
Transbay Transit Center and Tower, San Francisco – An ambitious new project that includes a new transit center for the city, topped by a five-and-a-half-acre public park that acts as a green roof, and a 1,200-foot office tower that will be the tallest building in the U.S. west of Chicago.
Minneapolis Public Library, Minneapolis, Minn. – This downtown Minneapolis landmark features a five-story glass galleria and a soaring, iconic roof.
International Financial Center, Hong Kong – A dramatic new headquarters for the Hong Kong Monetary Authority reflects the island-state's importance as a world financial center. 
[nextpage title="Vision Becomes Reality"]
Note: This archival story was originally published in August 2008, and is being republished to mark the 10 year anniversary of BOK Center.
Complex arena construction provided plenty of challenges.
Ice storms, 100-plus degree heat, tornado-like winds, snow flurries and even massive hail storms can combine to provide almost insurmountable obstacles to construction projects as massive as the new BOK Center.
But according to arena construction director Bob Eggleston of Tulsa Vision Builders, those weather-related hurdles were minimal compared to the unique and often formidable architectural and engineering challenges the BOK Center presented his construction team. 
What sets the $189 million BOK Center apart from new arenas in such locations as Buffalo, Omaha, Kansas City and other cities?
In one word, complexity.
"The whole complexity of the building, the curvature, the swirling lines, to actually get the building water tight, the fact that there are no square corners, how the roof comes tucked into the building. It is not your regular box building," Eggleston says.
Perhaps the single most complex detail in the entire arena is the front canopy over the main entrance located near Third Street and Denver Avenue. The canopy "cantilevers" about 80 feet from the last support column and seemingly extends into open air. Cantilever construction provides for overhanging structures without external bracing.
Whereas many of today's arenas may take on the complexion of a big-box building with little personality and even less pizzazz, the BOK Center promises plenty of both.
Another striking feature that will distinguish the BOK Center from other arenas is the flooring. 
Approximately 130,000 square feet in the building will be covered with mother-of-pearl terrazzo, consisting of crushed white marble and stone chips, rather than just the standard polished concrete found in most arenas. 
Terrazzo will also be featured in the designs of the four medallions imbedded into the floor that will be part of the main concourse.
Argentine architect Cesar Pelli, best known for designing some of the world's tallest buildings, such as the Petronas Twin Towers in Malaysia and other major urban landmarks, designed the BOK Center. This is his first arena project.
His trademarks are his use of curved facades and metallic elements.
"Pelli's contract with the city was to design an icon for the city," Eggleston explains.  
"He has definitely fulfilled his contract. When people from around the country see the BOK Center on television while watching a sporting event or other activity, they will instantly recognize it and connect it with the city of Tulsa."
Eggleston is proud that the project was able to utilize many local and in-state contractors.
"We have been fortunate to have some excellent local subcontractors on this project. Many are local companies with vested interests for the project's success."  
Oil Capital Electric, L.L.C., of Tulsa is one of the major subcontractors on the arena project and is responsible for all the electrical work inside the building including the arena 00lighting and power. The Tulsa business has also subcontracted the building audio sound system, fire alarm systems and lightning protection systems.
Randy Hargrove, project manager with Oil Capital Electric, says his company had peaked with approximately 55 employees on the project while their subcontractors added approximately 10 more. 
Working in such a unique environment as a world-class arena is not without challenges. 
"One of the biggest challenges our employees have encountered is the working heights, such as working on the catwalk 100 feet above the arena floor and working out of 135-foot boom lifts to reach ceilings to install electrical for lighting," Hargrove explains.
Another local subcontactor, McIntosh Services, along with their partner Palmer Mechanical installed all the plumbing systems in the new arena. 
Steve Johnson of McIntosh Services says their arena work crew peaked at about 70 employees coming from both firms.
Johnson also acknowledges that working on the BOK Center entailed some complications.
"The shape of both the exterior and interior walls, ceilings and corridors was challenging to detail and install piping and equipment. With the circular nature of the layouts, it required a lot of checking and verification to coordinate spaces with other crafts," Johnson says.
Both Hargrove and Johnson agree that civic pride is definitely playing a large role in their respective businesses' involvement with the arena.
"Our employees could see from the beginning that this was not a typical building and was going to be something that they would be proud of when completed," Hargrove explains. 
"Many of our employees have stated that this structure will be something they will be proud to let people know that they worked on and to bring their children or grandchildren."
Hargrove believes that everyone who visits the arena will understand this project was a challenge to build, both structurally and electrically. 
"Most of our employees have been very dedicated to working on this project in order to meet the scheduled opening date, and at the same time, maintained a high degree of workmanship," Hargrove adds.
"I believe our employees have a sense of civic pride that this building will be in use for many years and will put Tulsa on the map for major events," Johnson adds. 
[nextpage title="Events"]
Note: This archival story was originally published in August 2008, and is being republished to mark the 10 year anniversary of BOK Center.
There's an exciting year planned at the BOK Center, and much that hasn't even been announced yet. Here is a peek into the center's upcoming and much anticipated events. Visit www.bokcenter.com for more updates.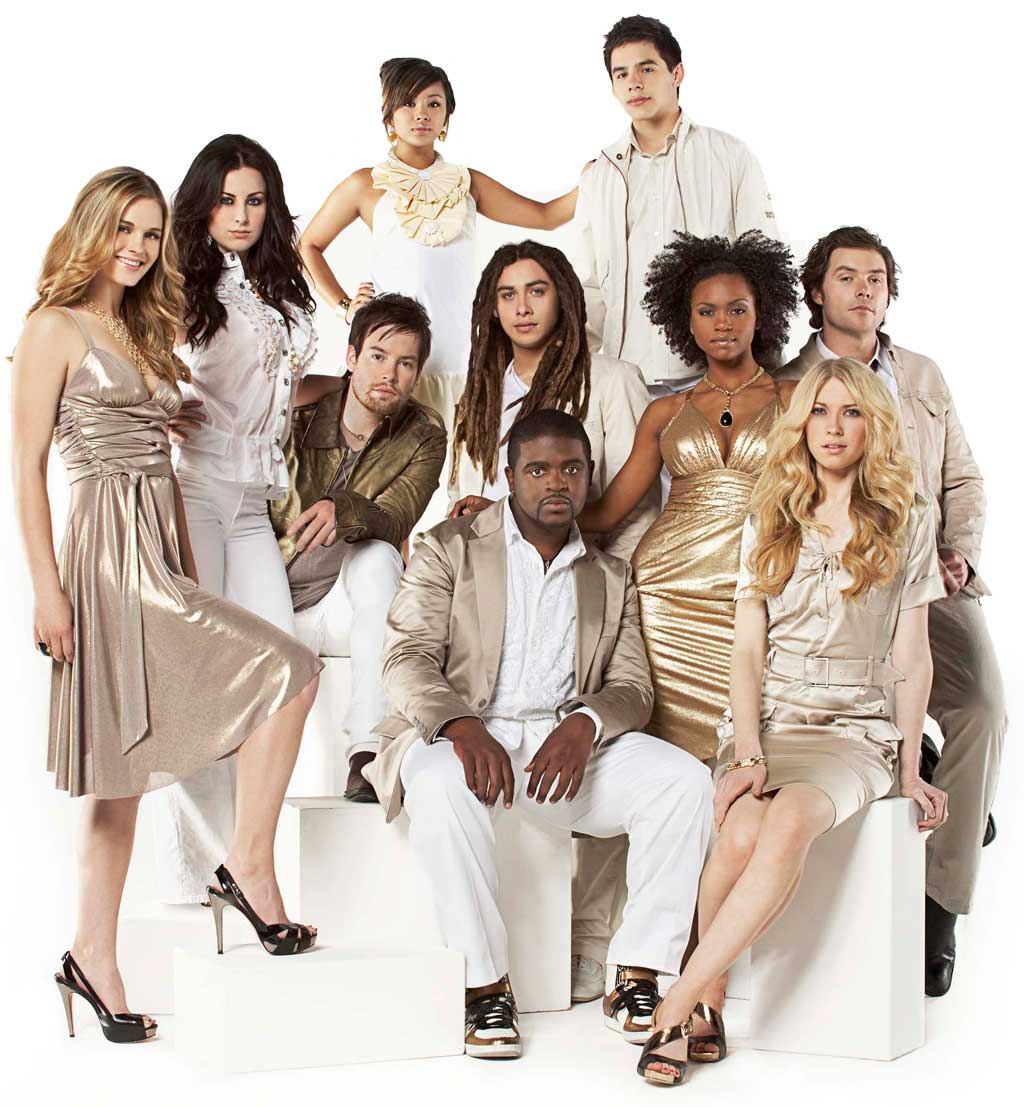 American Idol – Sept. 13: This year, the American Idol tour is even more special. With former T-Town resident David Cook coming to town, along with David Archuleta, Jason Castro and Syesha Mercardo, it's a unique opportunity to see the top 10 contestants, who we've grown to know throughout the contest, live in concert. 
Ringling Bros. Barnum and Bailey Over the Top Circus – Oct. 17-19: Experience a wild and unbelievable event as Ringmaster Chuck Wagner and clown eccentric Tom Dougherty compete for control of a magical top hat. Ringling Bros. is known for their greatest show on earth, and Over the Top will be no different. Where else do you get to see skipping elephants, Bengal tigers, flying dogs, equestrian stunts and a double-decker trapeze?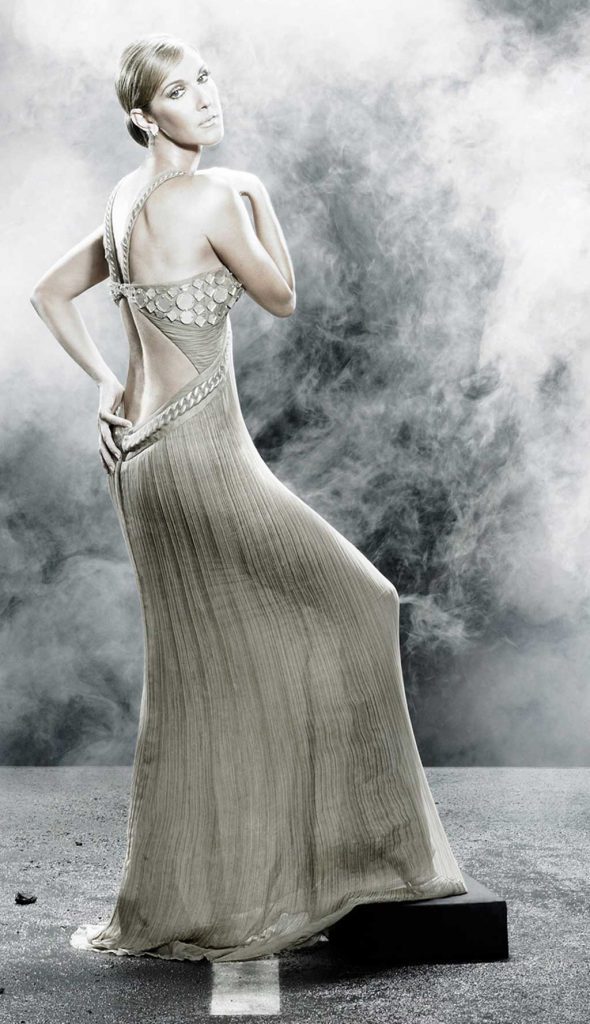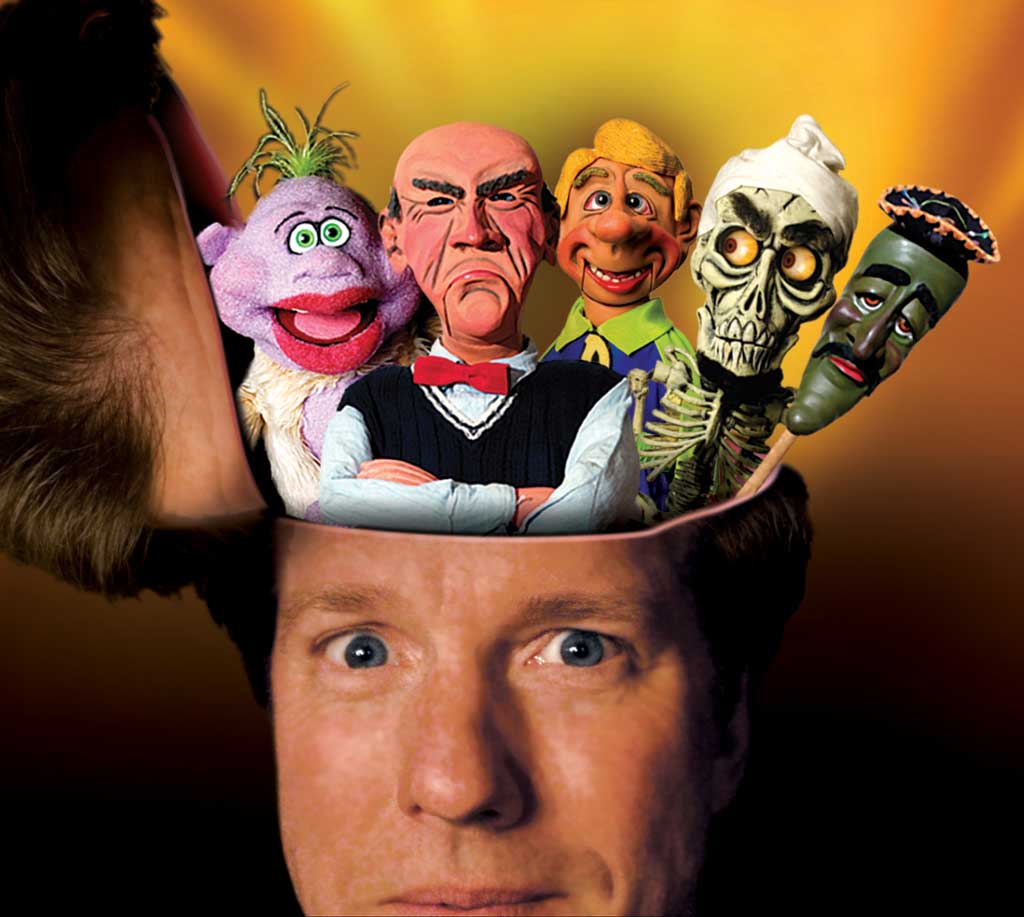 Celine Dion – Nov. 13: Tulsa is international superstar Celine Dion's only stop in Oklahoma. After first gaining recognition in the '80s, Dion has since captured hearts around the world. After concluding her highly acclaimed Vegas run in December 2007, Dion embarked on a world tour, which began this past February in South Africa and will conclude in January 2009 in Florida.
Kenny Chesney with LeAnn Rimes
Sept. 10
Rascal Flatts with Taylor Swift
Sept. 25
Jeff Dunham
Oct. 3
Houston Rockets vs. Orlando Magic
Oct. 13
Neil Diamond
Oct. 21
Carrie Underwood
Oct. 29
Celtic Thunder
Nov. 19
Casting Crowns
Nov. 30
TU vs. OU
Dec. 7
Radio City Christmas Spectacular
Dec. 22
The World-Famous Lipizzaner Stallions
March 1