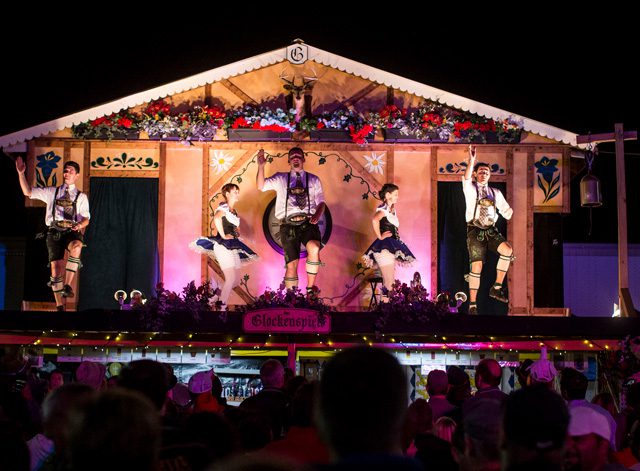 [dropcap]Bratwurst[/dropcap]. Beer. Bavarian cheesecake.
Now that I have your attention, it's time to talk about Linde Oktoberfest. This bustling celebration waltzes into Tulsa every October and overtakes the River West Festival Park with an authentic German experience. From the 33.8 ounces of German beer per serving to its rousing step-by-step polka lessons, Linde Oktoberfest is all things German and has been for 38 years running.
The original Oktoberfest took place in 1810 as a wedding celebration of King Ludwig I and Princess Therese in Munich, and what was once a fleeting yet momentous matrimonial event is now a world-famous festival. At its core, however, Oktoberfest remains all about honoring Deutschland.
"Linde Oktoberfest Tulsa is a celebration of German heritage and culture," says Tonja Carrigg, Oktoberfest director. And celebrating that German heritage translates into several different activities – whether it's busting out the chicken dance, donning your best lederhosen, downing some strudel or dancing atop a table to the tunes of a band actually flown in from Germany. As an event that has been ranked in the top 10 Oktoberfests in the U.S. by USA Today, these folks aren't kidding around when it comes to providing the highest quality entertainment, with new attractions each year that keep audiences coming back for mehr – including a new double-decker stage and bar, called Das Glockenspiel, that will serve beer and entertainment in equal measures.
"The Glockenspiel is something fans won't want to miss," Carrigg says. "This two-story structure is like a giant cuckoo clock with real humans coming out to perform short skits every hour, on the hour. They are sure to bring smiles and laughter to those who stop by to enjoy the action."
A Jugendzelt, or children's tent, will offer plenty of entertainment for the youngsters, and many adults enjoy the commemorative stein, called the Maßkrug, as a keepsake of your German jamboree. Beer barrel races, dachshund races, a lederhosen lauf and Siegi's World Championship Sausage Eating Contest are all among the various Oktoberfest activities. The festival is also teaming up with Tulsa organizations to bring a local flavor to the celebrations.
"The German American Society of Tulsa, or GAST, brings dancers who perform traditional German routines while dressed in traditional dresses, called dirndls," Carrigg says.
And for the more adventurous among us, carnival rides are also a fan favorite – just make sure not to eat too much schnitzel beforehand.
The Linde Oktoberfest runs Oct. 20-23 at the River West Festival Park. For details, head to tulsaoktoberfest.org.