[dropcap]One[/dropcap] is tempted to wax poetic when pondering the spectacular palette of vibrant colors emerging each fall as Mother Nature struts her stuff throughout the forests of this great land. Inland forest tapestries are dappled with scarlet, crimson and persimmon – woodland oceans drip with dazzling cerise, burgundy, auburn and ginger. OK, it's not poetry, but you get the idea.
The fact is, however, when confronted by fall foliage at its best – the simple yet breathtaking reds, oranges and golds – words often fail us and we stand transfixed with mouths open, gawking at nature's glory.
That's the what. The tricky parts are the when and the where. Climate and recent weather play large roles in determining peak leaf-peeking times, so anything is possible – but here are some guidelines for a foliage tour.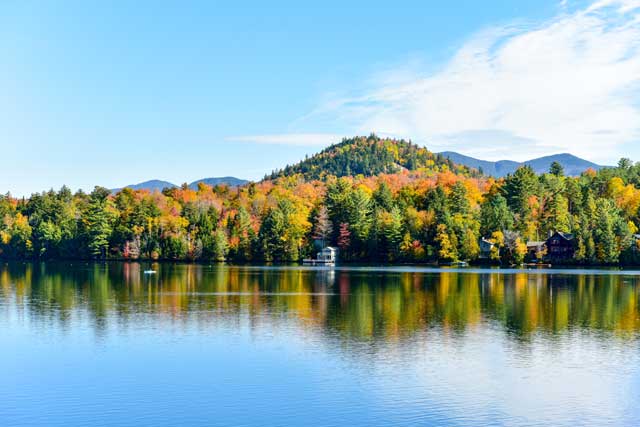 Lake Placid, New York
Foliage Peak Mid-September to mid-October
Host to the 1932 and 1980 Winter Olympics, Lake Placid is a colorful place to begin autumn. Scenic routes to explore include state Routes 73 and 74. Enjoy shopping in the Olympic Village, then board the Adirondack Railroad Fall Foliage Train, scheduled to run Wednesdays through Sundays from Sept. 8 to Oct. 14. For prices and departure times, visit adirondackrr.com.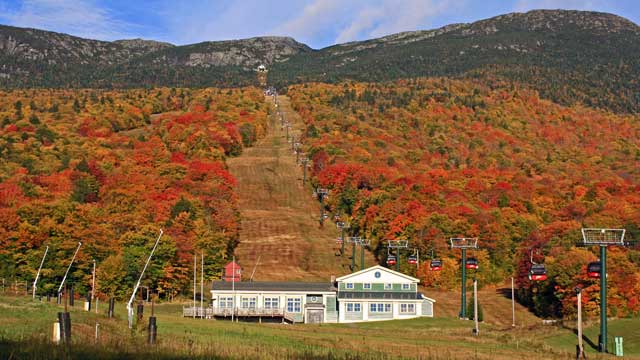 Stowe, Vermont
Foliage Peak Last week of September to first two weeks of October
State Route 100, known as Skier's Highway, meanders through picturesque Vermont towns, including Killington, Sugarbush and Stowe. Don't miss the Stowe Gondola SkyRide for breathtaking foliage views near the summit of Mount Mansfield, the state's highest mountain. At the top of the ride, you can access hiking trails or dine at the Cliff House Restaurant. Go to gostowe.com/gondola for more details.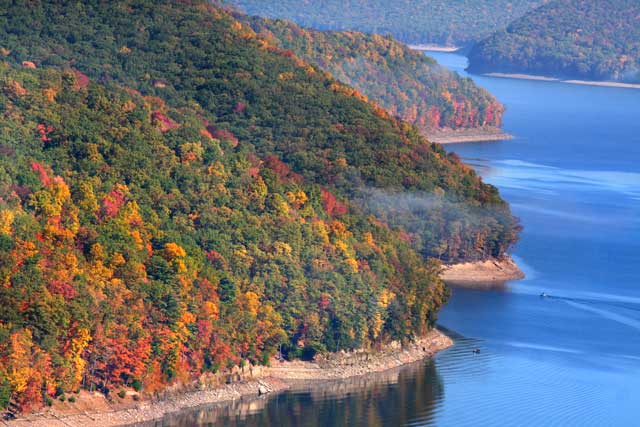 Mount Jewett, Pennsylvania
Foliage Peak Late September to early October
Kinzua Bridge State Park in Mount Jewett, home to the Kinzua Bridge Skywalk, is about 200 miles west of Scranton, Pennsylvania, along state Route 6. The foliage peak is from late September to early October. The Skywalk was built along the 301-foot-high Kinzua viaduct, once an old railway structure. Although heavily damaged by a tornado in 2003, the bridge was redesigned as a 600-foot pedestrian walkway that opened in 2011. Visitors can marvel at miles of forest. At the end of the bridge, leaf peepers can look down through a glass platform for different views of autumn scenery bursting with color. Learn more at www.dcnr.state.pa.us/stateparks/findapark/kinzuabridge.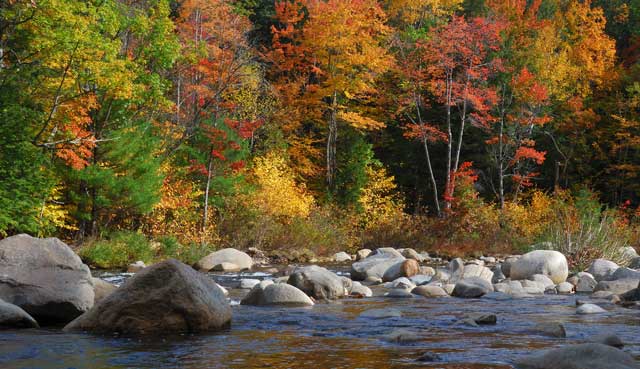 Maine
Foliage Peak Last week of September to late October (regional)
Northern Maine is normally at or near peak condition from the last week of September to the first week of October. The central and western mountains are at or near peak around Columbus Day. Coastal and southern Maine typically reach peak or near-peak conditions from mid- to late October.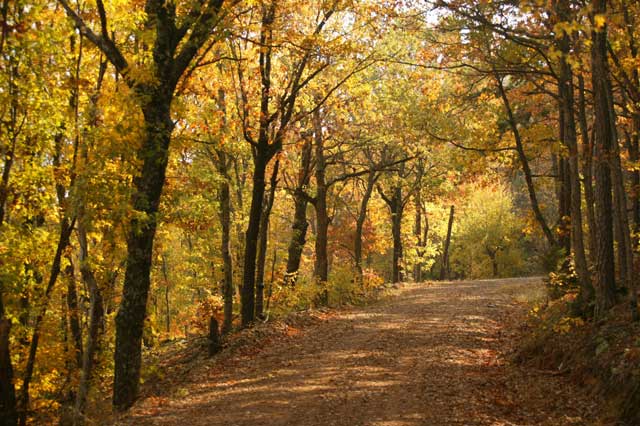 Oklahoma
Foliage Peak October
Awesome autumns aren't limited to the Northeast, so don't dismiss Oklahoma when planning your adventures. Topping just about everyone's list is Talimena Drive, state Highway 1 running between Talihina, Oklahoma, and Mena, Arkansas. October is prime time for a spectacular tour that'll have you saying, "Are we still in Oklahoma?"
Also of note: U.S. 59 from Stilwell to Sallisaw, state Highway 10 from Twin Bridges State Park to Lake Tenkiller, state Highway 51 from Tahlequah to Stilwell and U.S. 259 from Beavers Bend State Park to Big Cedar.
---
Autumn Updates
Of course it's difficult to predict what Mother Nature will do, and when. Look for updated New England foliage reports at www.discovernewengland.org/fall-foliage-maps; for Oklahoma, visit www.travelok.com/fall_foliage_and_festivals. For updates on the best colors, call these "hues" hotlines:
Maine 888-624-6345
Massachusetts 800-227-6277
New Hampshire 800-258-3608
New York 800-225-5697
Oklahoma 800-652-6552
Pennsylvania 800-847-4872
Rhode Island 800-556-2484
---