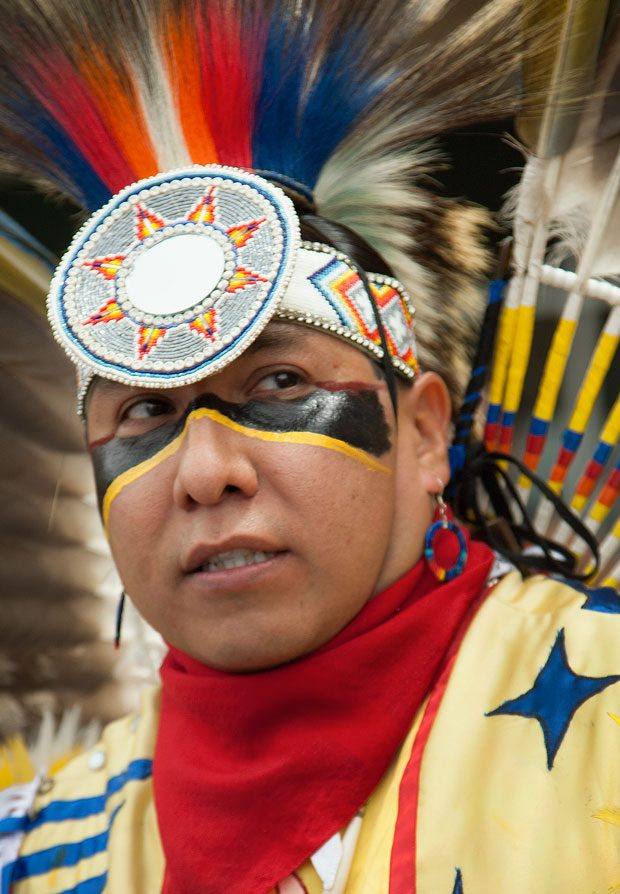 [dropcap]Watch[/dropcap]. Eat. Dance. Shop. Learn.
One of Native America's biggest festivals returns to Oklahoma City June 10-12 for its 30th anniversary. This year's Red Earth Festival, celebrating Native American art and dance, may be the biggest yet. The Cox Convention Center will be home to the three-day celebration.
"The Red Earth Festival highlights the cultures that make Oklahoma unique," says Eric Oesch, deputy director of Red Earth Inc., the festival's primary sponsor. "There are 39 federally recognized tribes with headquarters within our state's borders. That's more than any other state in the nation."
Around 26,000 people attended last year's festival. This year, Oesch expects 30,000. More than 1,200 American Indian artists, dancers and singers from around the nation will converge on this year's show, making Oklahoma City American Indian headquarters for three days.
"Each tribal nation works diligently to keep their languages and historical customs alive and vibrant," Oesch says. "Native cultures aren't just in the history books. They are living and vibrant cultures of today."
The Red Earth Festival was named by USA Today as one of the top 10 of its kind in the nation. It has won numerous awards and draws guests from around the world.
"I show in Santa Fe and New York," Choctaw painter Dylan Cavin says. "The Red Earth festival easily competes with those types of shows in sales and attendance."
Guests will be able to view the work of some of the country's most celebrated American Indian artists. They'll be selling contemporary and traditional examples of beadwork, basketry, jewelry, pottery, sculpture and paintings.
"Oklahoma's Native American art is very diverse," Oesch says. "When people think of New Mexico or Arizona Native art, they immediately think of beautiful jewelry and black pottery. Oklahoma's Native art is more diverse because our Native tribes come from all parts of the country."
While a number of the country's top Native American artists will be showing at the festival, it's far more than just an art show. Red Earth's dance competition is a breathtaking kaleidoscope of colors featuring hundreds of Native American dancers in their distinctive tribal dress. The competition is one of the most prestigious in the nation.
Red Earth opens with a spectacular parade on the morning of Friday, June 10. The streets of downtown Oklahoma City will brim with Native American pride, featuring tribal members from around the country, many in their tribes' distinctive regalia.
A sunrise breakfast on Saturday gives visitors the opportunity to quiz a panel of Native American jewelry makers about the craft and how to find good examples of it. It's a new addition to the festival that has both jewelry makers and collectors excited.
Lots of Oklahomans have Native American art on hand that they've picked up but don't know much about. On Sunday afternoon, visitors will be treated to an "Ask the Experts" panel modeled after the popular Antiques Roadshow. While the experts won't be appraising items, visitors will be able to learn if the items are authentic, where they come from and their significance. Guests can bring up to three items, and the event is free with admission.
"Many of the tribes in Oklahoma were relocated from different parts of the country. What we do at the festival is celebrate that diversity," Oesch says. "When you come to the festival, where we have so many Oklahoman artists, their artwork reflects their tribal heritage. The diversity at the festival is totally unique."