Learning In Place
Tulsa is a perfect place for a program like Educare. According to Andy McKenzie, Tulsa Public School assistant to the superintendent for early childhood services, "The way our laws are set up for pre-K programs, there's a lot of flexibility that allows us to partner with community groups in offering the best educational programs and care. Tulsa gets a lot of national attention based on the fact that we have universal pre-k programs and have had them for a while."
The TPS district liaison and coordinator for relationships created with Educare, McKenzie is an enthusiastic supporter of the Educare model.
An important component of Educare is the ability to learn in one place. Tulsa Educare 3, which opened in 2012 and serves 164 children, is located on the MacArthur Elementary and Hale Junior and High School campus complex.
"The beauty of this site is that all programs are on one campus," McKenzie says. "A mom can drop off all of her kids at the same place. A child can go from birth to 12th grade all at one complex."
Educare buildings are built from the ground up, their designs inherently tied to the curriculum.
"The first thing you notice when you walk in an Educare site is the quality of the facility," says McKenzie. "They are top notch. Educare planners traveled across the country to find how others are meeting the needs of all learners at their facilities. There's so much thought put into designing the environments for children."
This thought is apparent at MacArthur, which has a water room with drains in the floor, see-through walls so children can splash around and a garage-style door that opens to the outside in warm months.
"The design is a valuable learning tool built into the facility," says McKenzie. "The children construct their learning by experimenting with lots of different elements of the environment and by trial and error."
He also notes something subtler about the Educare buildings.
"Most people probably don't notice the continuity of care by design in the facility. The children stay in pods and rotate from one side to the other. This is the National Educare model," McKenzie says.
Educare 3 was made possible with bond moneys, federal and state funds and with moneys from the George Kaiser Family Foundation. The two previous Educare sites – Kendall-Whittier opened in 2006 and serves 212 children, and Hawthorne opened in 2010 and serves 164 children – were funded by the George Kaiser Family Foundation, along with grants from other organizations.
McKenzie says that there is currently no plan to add another Tulsa Educare site; instead, planning is being invested in "looking into skills for moms and dads to be employable and continue education, with our ultimate goal being trying to break that cycle of poverty," he adds.
The program has received support from OU-Tulsa, and McKenzie meets with Horm and Calhoun on a monthly basis. The goal of the partnership among the three is to continually build staff development programs and ways to help parents, children and teachers in the transition from Educare to regular schools.
Jennifer Hays-Grudo, the head of the Human Development and Family Science department at OSU, oversees the research and projects that are collaborations with Educare. OSU faculty is conducting research projects at Educare that involve parent training, staff development and leadership training. Hays-Grudo says the collaboration with Educare allows them to collect data for research purposes and to test the findings in a real-world setting, the effectiveness of the interventions developed.
"Our students get experience in working with early childhood educators and mental health professionals in recruiting and interacting with parents as well as children," she says.
This collaboration is "invaluable," adds Hays-Gurdo.
"It enables the research and training we do in our department to be grounded in reality," she says.
The Educare program then benefits because both programs are working toward the overall goal.
"Their commitment to breaking the cycle of poverty by working with two generations mirrors the focus of many of our faculty members' research, providing great opportunities for both research and training," says Hays-Grudo.
Community Continuity
To understand why Tulsa is leading the way in the nation with Educare, one need look no farther than one of the state's most generous philanthropists.
"[George Kaiser] has been a very strong supporter, and that's not even the right term – he is adamant about breaking the cycle of poverty through early education efforts," McKenzie says. "There's no doubt he's the reason we have more Educare sites than any other city. He's not only invested money in Educare, but time and effort, and he has dedicated lots of people in his foundation to this cause. Without him, Tulsa Educare wouldn't be here. Oklahoma City's Educare wouldn't be there."
Breaking the cycle of poverty is a phrase one hears often in the Tulsa Educare community. To fully address a child's educational needs, basic needs must also be a part of the equation.
Research shows that poverty is often a problem in single-parent homes, and 67 percent of Tulsa's Educare enrollment is comprised of one-parent families. Oklahoma ranks fourth in the nation in the number of grandparents who are raising children, a situation linked to the rate of female incarceration in the state. Oklahoma has the highest rate of per capita female incarceration in the nation.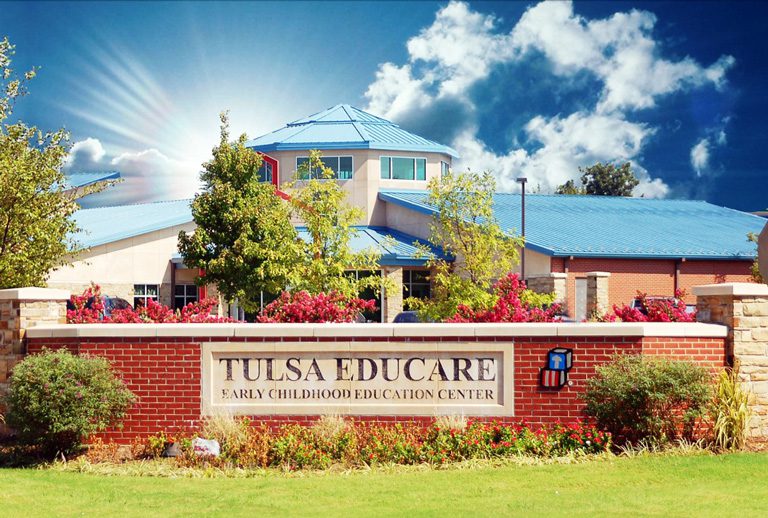 These issues of particular note in Oklahoma are only a few of those that Tulsa Educare is attempting to address with its comprehensive program. Because the problems are so far-reaching, no one agency can be successful on its own.
Besides its integral partnership with the George Kaiser Family Foundation, Tulsa Educare partners with the Community Action Project, OU-Tulsa, Tulsa Public Schools and Family & Children's Services in its attempt to build a successful, quality program.
Research shows that the efforts are working.
In 2013, Tulsa Educare received an Oklahoma Nonprofit Excellence Award, an award from the Oklahoma Center for Nonprofits that was given to only nine of the approximately 19,000 nonprofits in the state.
The award strengthens Educare's goal to bring children from low socioeconomic standings up to par with their peers.
"Educare children have more extensive vocabularies and are better able to recognize letters, numbers and colors than their peers," Calhoun says.
Educare's most recent program analysis detailed how the program's children develop strong social skills, including self-confidence, persistence and methods to manage frustration. These abilities are related to success in all areas of life. The report summarized that early findings indicate the "gains Educare children make hold as they move through elementary school."
"I like the whole program, from the time I walk in the door and see all the smiling people, it's just a great place with really helpful people," says Gerald Foster, a grandfather and guardian of Nevaeh, who attends Hawthorne.
Foster, 58, who has already raised four children, says he did not imagine he would be raising any more and is thankful for Educare.
"If I had to do all the stuff they do, if I didn't have any help, I would be really worn out," he says.
The extended hours are helpful to Foster, who works at the Tulsa Housing Authority, and takes Nevaeh to school at 7 a.m. Nevaeh, who will turn 4 in April, has an "all-around happiness" about her, Foster says, because of Educare.
"She's just a better person than she would have been. She comes in and talks about her teachers and the other children. I can see that they spend a lot of time with her," he says. "It's kind of a struggle being a grandfather, having a granddaughter to raise, but anything I need, any questions I have, they help me out."