Walk north from 31st Street and the magic begins. Through a narrow canyon you go, and the path climbs up to a high place. You're surrounded by some of the Gathering Place's 6,000 trees and millions of plants.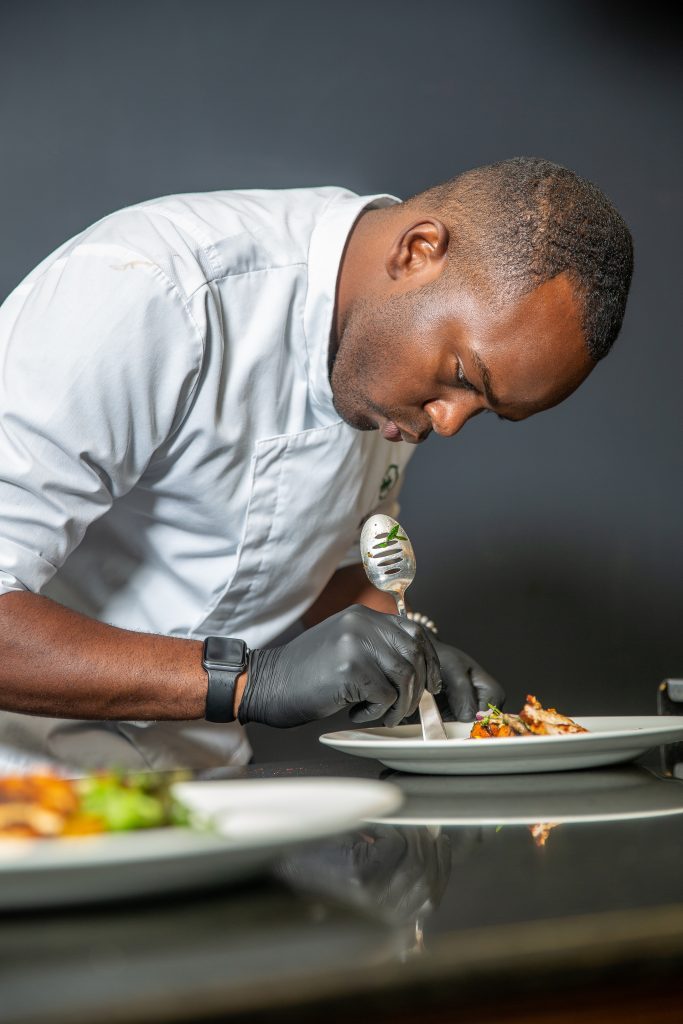 All around are people, people, people from every neighborhood and nationality and socioeconomic group. There are children everywhere – playing, running free. Up ahead, a strange, fantastic structure soars, with glass walls and white sails looking like something from another planet. That's the boathouse.
On the top floor is an inviting patio with chairs and tables, and a big glass door. Behind that door is Vista, soon to open as the park's fine-dining restaurant.
"It will be like dining at a top New York restaurant, but with Tulsa prices," says a young man behind you.
He exudes strength and quiet authority; you can tell he's the guy who says, "Listen up." He's Kirk Swaby, in charge of feeding everyone in the park. On a busy weekend, that can be 20,000 meals. For him, it's a calling.
"The core mission of the Gathering Place and my core values – they're the same," he says. "We want to draw people in from all walks of life, make them feel equal, give them a memorable experience. And most memorable gatherings have food at the center."
Swaby grew up in Jamaica in a home that served as a gathering place for friends, neighbors and anyone who happened to wander in around dinner time.
"My grandmother was a bold, strong woman," Swaby says, "loving, caring. We all cooked together, and I joined in when I was only 7. My love of bold, bright memorable flavors … I got that from her." 
Swaby insists on hiring men and women in equal numbers and from every ethnic group he can find (he learns recipes from them), pays them a fair, living wage, and helps them choose career paths and advance. Perhaps that's also why he's enamored with a fusion cuisine borrowing techniques and flavors from Thailand or Japan or South America.
"I want every visitor to find a flavor he knows," he says.
Two older women stroll past, along with a little boy who's running in circles and chanting, "I want ice cream! I want ice cream!" Off they go to find it. Walk a ways and you see the crisp stone-and-glass walls of the Lodge. There, the kid finds his ice cream, in a combination cafe, ice cream parlor and candy shop named the Redbud.
Just next door is the Patio, where you find picnic food like hot dogs and chicken salad. A family of four can eat well for $25, and there's a kids menu.
"It's fast food," Swaby says. "But we want to show the world that fast food can be high-quality, delicious and produced with love."
His proudest creation is the Tulsa Dog, served on a brioche bun from a local bakery, with Mexican mole topped by chowchow mixed with ranch dressing.
But Vista is Swaby's special joy.
"We're exploring food," he says. "We're having fun. I take American classics, throw in new twists from different cultures and reintroduce them in a different light."
For example, with fried chicken, "we'll have a cumin fried chicken thigh with red tamarind-flavored Thai curry," he says. "There'll be mango and fig chutney, pickled garlic and homemade mayonnaise.
"I want Vista to be one of the best restaurants in Oklahoma. But Vista doesn't need national fame. That's not what we're about. What I do want is to show the nation what a park can do for a city. And I want every dish served in the park to be made with pride and love."