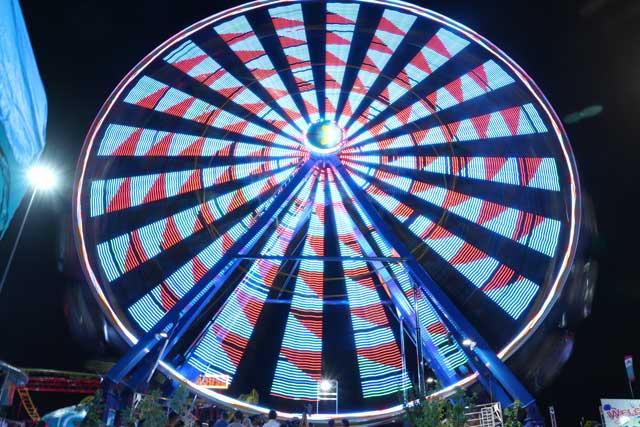 [dropcap]What[/dropcap] do chocolate-covered jalepenos, Cap'N Crunch battered chicken-on-a-stick, Disney on Ice and Xtreme Bulls have in common?
They're all available at the Tulsa and Oklahoma state fairs, of course. As the weather becomes enjoyable again during the cooling month of September, it's the perfect time to venture to the fairgrounds and experience a colorful slice of Oklahoma culture. Both the Tulsa and Oklahoma state fairs kick off this month with plenty of rides, musical acts and tempting deep-fried food to keep your nights and weekends wonderful.
J. Scott Munz, vice president of marketing and public relations for the Oklahoma State Fair, says he's most looking forward to "seeing the smiling faces of the people, especially the children, as they move around the fair, enjoying all that we have to offer."
And what exactly do these fairs have to offer? A lot.
"State fair food, creative arts displays, livestock and equine competitions, the carnival midway, free concerts with national artists and lots of shopping" are only some of the happenings available at the fair, Munz says, so you won't be bored or hungry for a single minute.
For northeastern Oklahomans who want to partake in the unique, exciting fair culture, the Tulsa State Fair has plenty of exciting entertainment options lined up as well.
"Each year we strive to book a variety of new entertainment. The 2016 Tulsa State Fair will feature Ma'Ceo Gypsy Horse Circus, Moto Maniacs, Flippin' and several other new grounds shows," says Sarah Thompson, marketing director of Expo Square.
There's nothing more quintessentially Oklahoman than the fair, so make sure to stop in – if not for the rides, then at least for the red velvet funnel cake.
The Oklahoma State Fair will run from Sept. 15 to Sept. 25 at the Oklahoma State Fairgrounds, and the Tulsa State Fair will run from Sept. 29 to Oct. 9 at Expo Square. For more information on the events, go to okstatefair.com or tulsastatefair.com.