[dropcap]On[/dropcap] top of a glorious menu filled to the brim with Oklahoma comfort food, Hammett House in Claremore provides a lengthy list of mouthwatering desserts. A house favorite is the lemon pecan pie, an original recipe from LaNelle Hammett herself, made fresh in the kitchen daily. Rich and tart, this unique combination of lemons and pecans is the perfect twist on a traditional pie. 1616 W. Will Rogers Blvd., Claremore; hammetthouse.com.
A Taste of Latin America
Cafe Kacao in Oklahoma City was founded on strong family traditions – with recipes handed down from generation to generation, the restaurant understands and masters the art of Latin food made with love. A classic dish is the huevos rancheros with carne asada – nestled on a bed of black beans, fried eggs, chirmol, pico and more, how could you resist? 325 North Classen Blvd., Oklahoma City; cafekacao.com.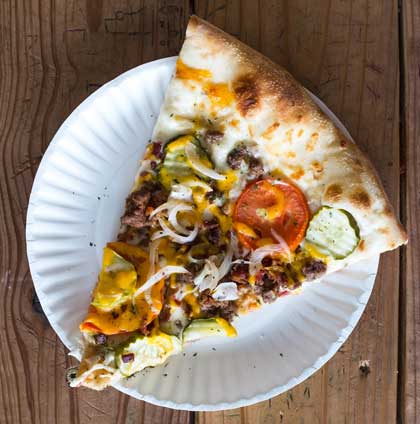 The Perfect Slice
Empire Slice House knows their brand: "It's like Frank Sintara and David Bowie had a pizza baby," according to the restaurant's website. Combining the laid-back atmosphere of a bar and the chic yet comfortable ambiance of a modern restaurant, this dining experience is beyond unique. With appetizers, salads and so many variations of pizza – toppings include jalepenos, brussel sprouts, roasted chicken and more – you'll undoubtedly find the perfect slice. 1734 NW 16th St., Oklahoma City; empireslicehouse.com