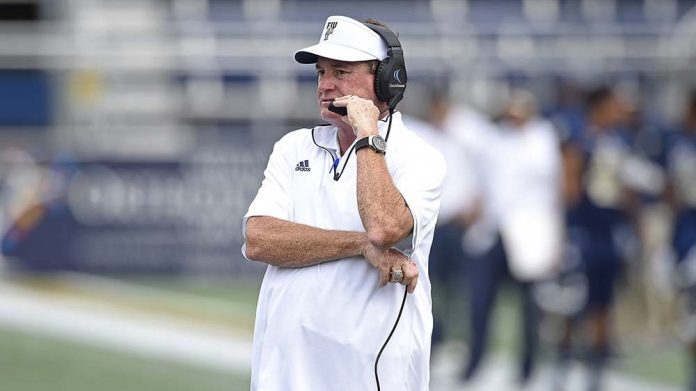 In his 47th season coaching football, Butch Davis is a gridiron lifer.
For Davis – born in Tahlequah, a graduate of Bixby High School, and in his third season as head coach at Florida International University in Miami – the seeds for his long tenure in the game were sown in Oklahoma.
"My father was a high school coach at Grove and Bixby," says Davis, 67. "At Collinsville, he was an athletic director. He got inducted into the [Oklahoma] coaches hall of fame.
"Oklahoma's a unique, special place. My wife grew up in Oklahoma and went to high school at Tulsa Will Rogers. We still have family members that live there. My sister lives in Vinita. She's a guidance counselor and has been in education for 25 or 30 years and my wife's brothers and sisters still live there. We love going back."
After an all-state career at Bixby, Davis played at the University of Arkansas, but a severe knee injury as a freshman resulted in his becoming a student assistant during the rest of college. That led to his first paid coaching job at Fayetteville High School. After one season there, he returned to Oklahoma as Pawhuska High's defensive coordinator.
Davis remembers that time fondly.
"I taught five classes a day, coached football, helped with the strength and conditioning program," he says. "I was the boys and girls track coach, coached girls basketball, junior high boys basketball, was the girls golf coach and drove a yellow school bus because they paid you 25 dollars a month [extra] if you had a commercial license.
"They wouldn't hire you to be a coach unless you could drive the bus because you had to take all those teams to meets [and] games."
After stops at Sand Springs' Charles Page High and his wife's alma mater, Rogers High, he made his way to Stillwater in 1979 as an assistant under Oklahoma State University head coach Jimmy Johnson. Davis followed Johnson to the University of Miami, which won the 1987 national championship, and worked on Johnson's staff with the NFL's Dallas Cowboys, who won Super Bowls to finish the 1993 and 1994 seasons.
In 1995, he got his first head coaching job, back at the University Miami. He later coached the NFL's Cleveland Browns and the University of North Carolina. After a stint as a commentator with ESPN, he signed to coach at Florida International in late 2016.
As he nears the 50-year mark in coaching, Davis, who led FIU to a school-record nine victories in 2018, still adores the game.
"I love teaching what football can teach you about life – dealing with adversity," he says. "One of the things that's always been critically important to me is having the chance to make a difference in the lives of kids. Nothing makes you feel better than knowing you helped somebody in their life."
Summarizing his coaching career, Davis expresses gratitude for all the opportunities he's received.
"My life has been blessed," he says.