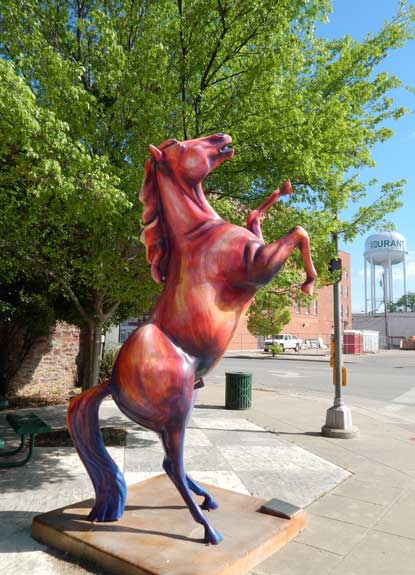 [dropcap]One[/dropcap] of the quick ways to tell whether one is a native of or transplant to Durant is the pronunciation of its name.
DOO-rant, say the locals; der-RANT, say the imports. Regardless of the accent or dipthong, the seat of Bryan County has just about everything for a varied lifestyle: recreation, beauty, culture, history and gaming.
"We're doin' it right in Doo-rant," says Janet Reed, executive director of the Durant Chamber of Commerce.
Fifteen miles north of the Red River and about 2.5 hours by car from Oklahoma City or Tulsa, Durant also draws extensive crowds from North Texas.
Dixon Durant, whose father came to southeastern Oklahoma during the Trail of Tears removal of the Choctaw people, is credited as the founder after he established a general store in 1873. The original pronunciation of his name, der-RAWNT, actually provides a third option if one wants to use the proper French.

But how the city's name is said makes little difference to Reed, who merely wants everyone to come visit.
"We have all the necessities, along with our boutique stores downtown, which are unique," she says.
The Magnolia Festival, which will celebrate its 21st year in late May and early June, has gotten so big that it moved to the Choctaw Event Center three years ago. At that venue, everything is under one roof, which has allowed the festival to grow because inclement weather is rendered moot.
The Choctaw Nation's Casino and Resort, with 776 rooms and two gaming areas each over 108,000 square feet, is the city's largest employer. The Grand Theater is routinely packed; Kid Rock, who will appear there late this month, has already sold out two shows.
With its headquarters in Durant, the Choctaw Nation is a major partner in planning events with the city, along with Southeastern Oklahoma State University and the Durant Independent School District, Reed says.
"All three entities have representatives on our board of directors, so they're part of the process," she says.
SEOSU, home to about 4,000 Savage Storm students, is a NCAA Division II-sized school. Originally Oklahoma's teaching college, it was founded in 1909 as Southeastern State Normal School. It also hosts the annual Oklahoma Shakespearean Festival, which offers several productions during the summer and theater classes year-round.
Other Durant destinations nearby are Lake Texoma, a camping, hiking, fishing and skiing wonderland, and the Three Valley Museum ("One of our best-kept secrets," Reed says), which is named for the area's three rivers (the Red, the Blue and the Washita).