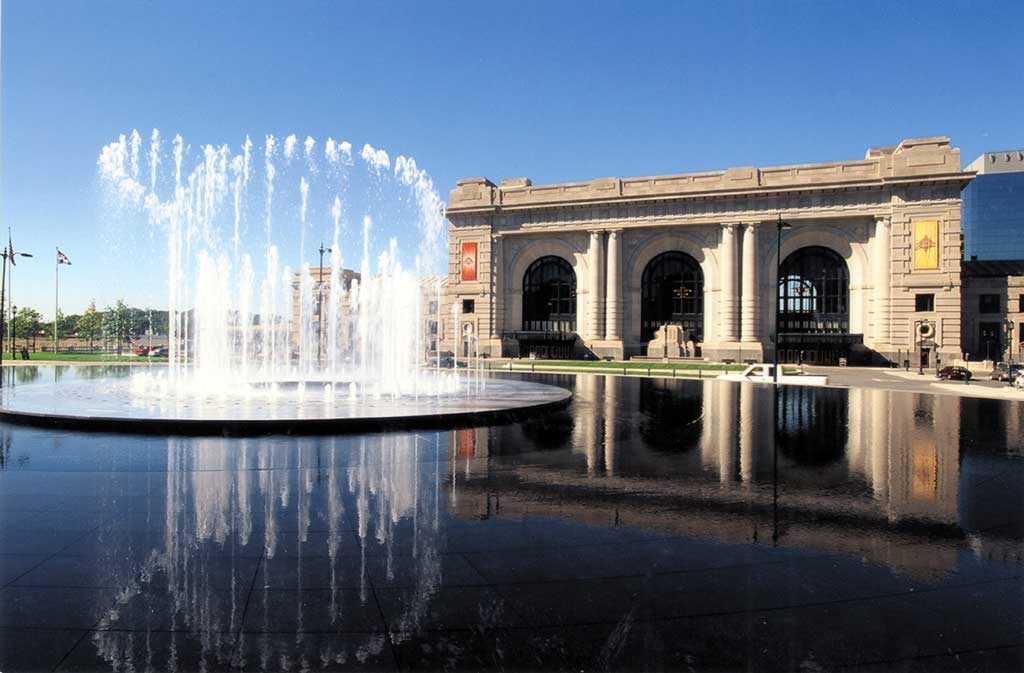 [dropcap]Metropolitan[/dropcap]. Cultural. Diverse. Entertaining. Kansas City has all these qualities. Midwestern yet international, KC provides so much to do that you can't fit it all into one trip. But making a second excursion is easy since, by car, it's four hours from Tulsa and five hours from Oklahoma City.
Lacking the crazy traffic of most large burghs, Kansas City boasts whiskey distilleries, steakhouses, murals, barbecue joints, trolleys, specialty grocery stores, breweries, museums, live music and art galleries galore. Also known as Paris of the Plains for its architecture, KC has on its seal the moniker City of Fountains for its approximately 200 fonts (reportedly only second in the world to Rome's 2,000 fountains).
Museums 
Museums you can reach off Main Street from Country Club Plaza are the Nelson-Atkins Museum of Art, the Money Museum (part of the Federal Reserve Bank), Union Station's Science City (with the Gottlieb planetarium) and the National World War I Museum.
Districts
Power & Light, Westport, Crossroads Art, City Market, Brookside, Waldo, West Bottoms and Southwest Boulevard all have never-ending interest and eclectic appeal. Where else can you buy crepes in a former opera house like Chez Elle? Around the corner, eat cafeteria-style, authentic Mexican food within a grocery store at Los Alamos, where the locals dine. Nearby is the Boulevard Brewery.
Shopping and Dining
Westport, a hip district located next to The Plaza, boasts Victorian buildings renovated into charming cafes, taverns, music stores and old-style boutiques. Visit Re-runs and Wonderland vintage stores and get a drink on the Ale House balcony. Westport is a 10-minute stroll from The Plaza. Stay at a midway point (such as the Marriott Courtyard) to be within walking distance of both districts. The Plaza is chic and classy while Westport is casual and quaint. Re-Runs has a substantial collection of vintage clothing that celebrities have frequented. It's a must-see.
City Market is a lively international farmers market. Al Habashi Mart and Carollo's Grocery and Deli will thrill you with exotic items that you can't find back home, like fresh spices in an open-air market that delight the senses.
A Three-day KC Weekend
Friday afternoon: Stroll 15 blocks of glorious European architecture at The Plaza. Byron, with its tailored men's suits and clothing, is an experience once you walk in the door. Gram and Dun's patio, Bloody Mary cart and unique way of bringing you the bill are defining Plaza treats.
Evening: If you're in town at the beginning of the month, go to the First Friday Art Crawl in the Crossroads Art District and enjoy this free event through art galleries. There's also street dancing. Regardless, make reservations at Lidia's restaurant for an Italian farmhouse atmosphere or The Majestic, a historic steakhouse with a jazz club on the original speakeasy, basement level.
Saturday: Choose from the following: the city's museums; the NCAA Hall of Fame and College Basketball Experience; the Kansas City Zoo; Worlds of Fun; Schlitterbahn; Kansas City Fun Tours; the Kansas City Streetcar; brewery and barbecue tours.
Late afternoon: Have cappuccino at Kaldi's Coffee in The Plaza and enjoy magicians, street performers and live music while watching horsedrawn carriages stroll by. Christmas lights on The Plaza last until mid-January. Then go for happy hour at Tom's Town Distilling Co. on Main Street. Other options include, depending on the season, Top Golf, a Royals baseball game, a Chiefs football game or a Sporting KC soccer game.
Dinner: Make 7:30 p.m. reservations at Tasso's Greek Restaurant on Wornall Road for an unforgettable taverna experience of food, interactive open dancing and belly dancing. Dine and stay all night to enjoy the show.
Sunday: Stroll the idyllic Loose Park near The Plaza. After breakfast at the Classic Cup Cafe, drive Ward Parkway to gaze at the mansions of Mission Hills. Union Station's Science City opens at noon for an amazing family experience as well as absorbing the beauty of this enthralling depot's interior. Have barbecue at Arthur Bryant's, Gates or Q39.
The best way to summarize KC's magic is to quote a mural painted in the art district: "Kansas City, I'm So in Love!"