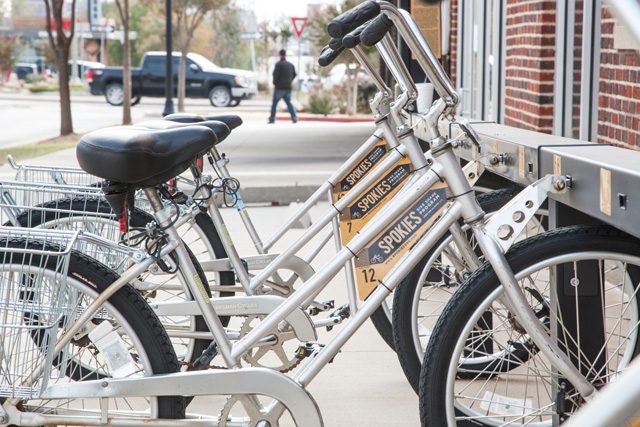 Urban is chic. It's the buzzword of city planning committees across the state. It wasn't that long ago that Oklahomans were accustomed to following "urban" with "decay." But Oklahoma City and Tulsa are adding "renewal" to the vocabularies of those city planners. The cities have proven it works. It has worked so well that urban is cropping up in some unlikely places, as well.
OKLAHOMA CITY
Oklahoma City's wildly successful MAPS program entered its third iteration in 2009. MAPS 3 will bring a new convention center, a downtown streetcar system, a new public park downtown and a host of other goodies. MAPS was the brainchild of Mayor Ron Norick, but the city's current mayor, Mick Cornett, is a big fan as well. He doesn't just talk about MAPS. He lives it.
"We love living downtown," Cornett says. "We're able to walk to the movies, restaurants and events at the Bricktown Ballpark, Chesapeake Arena, Myriad Botanical Gardens, Oklahoma City Museum of Arts and the Civic Center. Soon we'll be able to see live music at the Criterion or go whitewater kayaking at the Boathouse District."
He's not the only one loving the downtown life. Nathan Fisher lives near downtown in the Deep Deuce neighborhood. For him, downtown's new walkability was a critical factor in his decision to make Deep Deuce his home.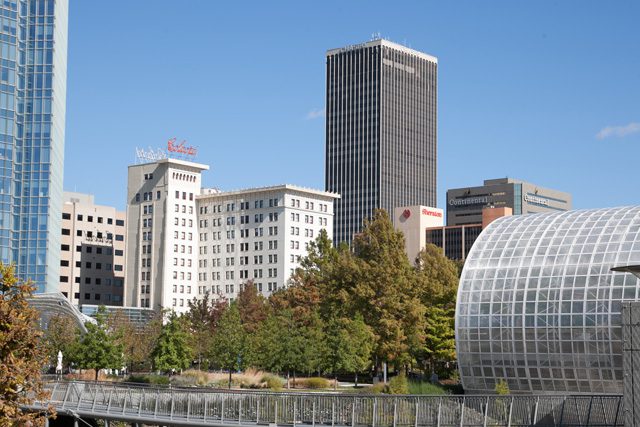 "I work downtown," Fisher says. "I like being able to walk to work and walk to many of the places where I hang out. There are a lot of entertainment options, cultural activities, the park, the museums, the bars and the restaurants. Having all of that within walking distance, as well as my job, made everything pretty attractive to me."
Fisher recently took a part-time teaching position in Norman, but other than that, he doesn't feel like he needs his car much. If it weren't for the occasional commute to Norman, he says, his car would go unused for two to three weeks at a time. Most of what he needs and wants is within walking distance. For things a bit farther away, he prefers his bike.
Fisher also values community and variety. His downtown neighborhood offers both and shows that the appeal of downtown isn't limited to one kind of person.
"In my neighborhood, there's definitely a community feel," Fisher says. "In our development, there's a wide variety of people, from young professionals to empty-nesters. One of the cool things about it is that it's a really wide variety of people in different stages of life."
The incoming streetcars mean that Fisher might be using his bike less. His neighbors will appreciate them as well. A rough guesstimate suggests that about half of the people in his community work downtown.
An essential ingredient for a successful downtown is culture. Where the arts go, people will follow. It's something Mayor Cornett loves to brag about when he gets the opportunity.
"The growth of the arts in Oklahoma City has taken downtown living to a new level," he says. "There are galleries, museums, music, theater, dance and an increasing amount of public art that really enhances the quality of life throughout the city. From the Skydance Bridge to sculptures to murals, public art is really making our city a great place to live."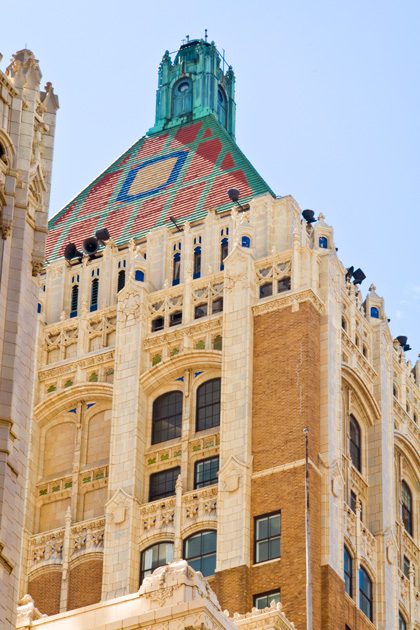 TULSA
"It's a pretty unique place," says Kyle Johnston, marketing and promotions manager for Tulsa's Downtown Coordinating Council.
Downtown Tulsa residents enjoy a host of amenities, including easy access to the BOK Center, a premier event venue, and the OneOK Field, home of the Drillers baseball team.
The only thing lacking is a supermarket, but Johnston says that's about to change.
"There's not a whole lot in the immediate downtown section for groceries," he says. "That's something on the horizon. There are two units that were announced last week that have an opportunity for a marketplace. That's what we want to hear."
Downtown Tulsa has undergone a transition over the last decade, starting primarily with the renovation of the Mayo Hotel. There's a lot of shopping to be done downtown, and there's more on the way. There are plenty of bars and restaurants. It's also home to a handful of museums. Who wouldn't want all that in their backyard?
Downtown Tulsa is becoming a less expensive place to live, as proven by the large amount of millennials moving into the area. Depending on location and size, $600 to $700 per month can snag a decent apartment in the area.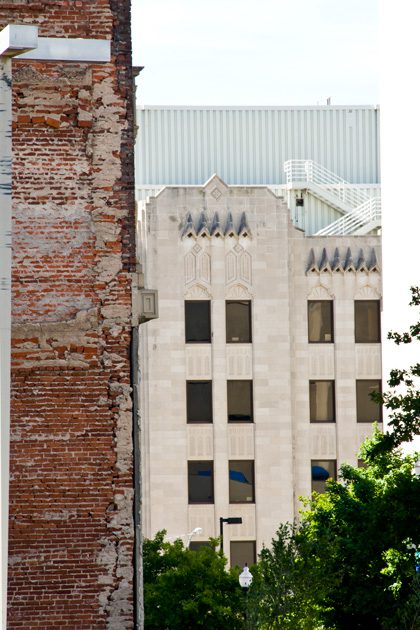 "The market for downtown housing is the millennials, where you have these young professionals that want the urban lifestyle in the downtown with all the energy and activity," says Joe Westervelt of Mapleview Associates. "About 50 percent of the market is those millennials. They're filling up most of the apartments there and contributing to the vibrancy."
By 2017, the number of new apartments and condos in Tulsa's downtown will number in the hundreds.  Waiting lists will be the norm. On the high end, expect to pay about $1,800 for a 1,200-square-foot apartment.
GUTHRIE
With a population of 11,000, Guthrie epitomizes small town America. Guthrie may seem like an unlikely place to find urban, but it's there. Like many small towns, Guthrie is making an effort to revitalize its downtown area. Unlike many small towns, the effort is succeeding. The stately, old Victorian buildings that line the town's main drag, Oklahoma Avenue, are being restored one by one. Many of them are now homes for restaurants, antique shops, fitness centers and bars.
It may also be the most walkable town in Oklahoma.
"You can bank downtown. We have a grocery store in downtown Guthrie. There are retail shops and restaurants. There are businesses and a post office. There are bars downtown. There's just a good little mix," says Gregory "Heady" Coleman, president of the Guthrie Chamber of Commerce.
Cherie Gordon owns the building she lives in and the art gallery, Aunt Gertrude's House, on the first floor. She moved from Oklahoma City to Guthrie in 1997 and has never regretted the decision.
"You can walk everywhere," she says. "I hardly ever take my car out of the garage. I walk to the post office, the grocery store, the vet and the pharmacy. There are just a lot of advantages to living downtown, and there's a lot to do here if you choose to do it."
"You can't find a downtown like this in a lot of places. It has a rich history. Some of the downtown buildings are amazing," Coleman says.
Downtown Guthrie is in demand. Rents range from $400 for smaller spaces to $1,500 for much larger apartments. There are roughly 60 apartments and condos in the downtown area, and keeping them filled isn't hard.
"It can be challenging to find a place to live in downtown Guthrie," Coleman says. "People are looking to live here more and more. As time goes on, there's going to be more opportunities for that, so we should be able to grow. But right now space is maxed out."
"Apartments stay rented pretty well," realtor Sylvia Ochs says. "There's rarely a vacancy. If somebody moves out, it's rented pretty quickly to somebody else. There's a lot of people that want to be downtown where the action is."
"I think there's a certain culture that the downtown area has that's very encouraging," Guthrie Mayor Steve Gentling says. "It's a sub-community of a larger community. Everybody kind of knows everybody, you might say, but especially those people that live downtown."
Those stately Victorian buildings qualify Guthrie's downtown as a historical district, one of the largest in the United States.
"It's just a wonderful, small city," Gentling says. "It's got a lot of really good things going for it. The people who live downtown get excited when we have festivals or parades. They're right there and they get caught up in it."
The cost of living is certainly cheaper.
"Taxes are cheaper here than in a large urban area or even suburbia," Gentling says. "You've got convenience and don't have to get in your car for every single errand. There's economic value to living in downtown Guthrie versus some of the other suburban areas around."
There are lots of commuters, Coleman says. The thirty-minute drive to downtown Oklahoma City is an easy one.
The only con to living in downtown Guthrie, Gentling says, is a lack of green space, but he says the city is moving to address that. Currently, there's a community garden within walking distance from downtown.
Guthrie citizens want to see the renaissance keep rolling. They recently passed a sales tax to fund an even more Victorian look to the downtown. The tax will pay for projects like replacing light fixtures, creating more seating areas and laying down more cobblestone on the streets.
"But we also want to be moving forward," Gentling says. "We have to keep those two things in balance. I think we have a good vision to make it happen and create more enthusiasm and excitement about our downtown, as well as making it more livable. From my perspective, it's a wonderful feeling to drive downtown and see all the lights that are on on the second floors. It says, 'Here's a city that's not going to sleep.' It's alive. It's vibrant. There are things going on."
BROKEN ARROW
Broken Arrow is another unlikely place to find urban, but the city aggressively started to revitalize its downtown a few years ago. Residents were sick and tired of the unused Main Street that typifies so many small, American towns. Its Rose District is a prize-winning project that brings an urban feel to a small town.
"Over the past couple of years, the area's become quite vibrant from morning until nine or ten at night. Later on the weekends," says Wes Smithwick, President of the Broken Arrow Chamber of Commerce. "All the parking places on Main Street are full. It's a very different environment than what it was just a few years ago."
Resident Ted Cundiff and his wife fell in love with the Rose District's culture.
"It's a mix of new and old," resident Ted Cundiff says. "There are a lot of longtime Broken Arrow residents that remember the town as it was a long time ago. There's a lot of that same feel and culture of a vibrant downtown community again, but now you've got the interest of millennials and younger kids wanting to hang out at the restaurants and do some shopping. It's really a mix of the old and new and keeping some of the same historical culture from the past of a vibrant downtown."
Like Guthrie's downtown residents, Cundiff likes the walkability of the Rose District and the close proximity of home to everything he needs and wants.
"We wanted a residence close to where I work on Main Street," Cundiff says. "I'm one block away from work now. We can walk downtown, have a drink, have some dinner and do a little shopping. Everything's within walking distance."
"It's a new phenomenon for us because prior to the creation of the Rose District, we just had a dead Main Street," Smithwick says. "Broken Arrow's a community of 108,000 now. Our Main Street stopped growing 30 years ago when the town had 20,000 people in it. Main Street was dead."
"People are moving downtown because there's just so much going on there as far as all the entertainment and art things that are starting down there," Broken Arrow Mayor Craig Thurmond says. "It's really got an urban feel to it. People are looking for that, but it's actually part of a suburban, safe community."
Thurmond admits that the Rose District is still small, but has developed an urban, hip feel that he compares to Tulsa's Brady District and areas in other large cities.
"It's hard for me to describe the vibe but it does remind me of a lot of major cities that you go to, like a New York or Portland or Seattle. Cities that are vibrant and have a lot going on," he says.
Unlike those large cities, rents are still reasonable. And, like Guthrie, Broken Arrow will be adding more living space to the Rose District. Broken Arrow wants to see more people living where they shop.
"We have empty-nesters. We have younger millennials wanting to be downtown. We have families living in the areas surrounding downtown," Thurmond says. "I think downtown living is for everyone."
"What has happened is there's been this transformation back to people wanting that opportunity to shop, to eat, to have fun and to live, in the downtown area. We're actually, in many ways, going back to where were back in the 1950s, where people want to be downtown. They still want opportunities to shop at the bigger box stores, but they're looking for that downtown experience," says Michael Spurgeon, Broken Arrow's city manager.
Whether your taste runs "small town" or "big city", you can find urban living all over the state. Even in some unlikely spots.