[dropcap]Holding[/dropcap] two art shows at the same time might seem redundant, but for painter P.S. Gordon it was a necessity. While the two shows, which open April 1, both showcase Gordon's familiar style, they feature very different subjects.
Mrs. Lennox and the Gift of Falling Snow, held at Living Arts in Tulsa, features portraits of male performance artists dressed in women's clothing and a series of paintings Gordon painted shortly after being diagnosed as HIV positive. Recent Works, at the Hardesty Arts Center in Tulsa, will showcase paintings with Gordon's more traditional subjects.
Mrs. Lennox and the Falling Snow would not have been possible without Gordon's recent public disclosure of being HIV positive because of how closely the subjects are linked to his experience with the disease, he says. Gordon painted the first Mrs. Lennox painting 20 years ago, though some of the paintings are more recent..
"When I met Mrs. Lennox, we were at a fundraiser [for people with AIDS]," he says. We had friends who were dying. Bankers and realtors and artists, musicians … they were all dying. So we were doing all we could as a group to try to make as much money as we could for those who didn't have anything. We didn't know what was going on. We just had no idea, except that part of our friends were dying, and they were young."
The Gift of Falling Snow series was painted after he was diagnosed as HIV positive.
"I couldn't talk about these paintings without disclosing," he says. "I don't know how to talk about them without being able to discuss the force behind them, and that was a really strong, powerful voice in my head that kept screaming at me: 'You're going to die. How are you going to deal with this?'"
He ended up relating his diagnosis to the idea of falling snow, saying he knew the snow was coming, but not when it was coming, how bad it was going to be or what effect it would have on him.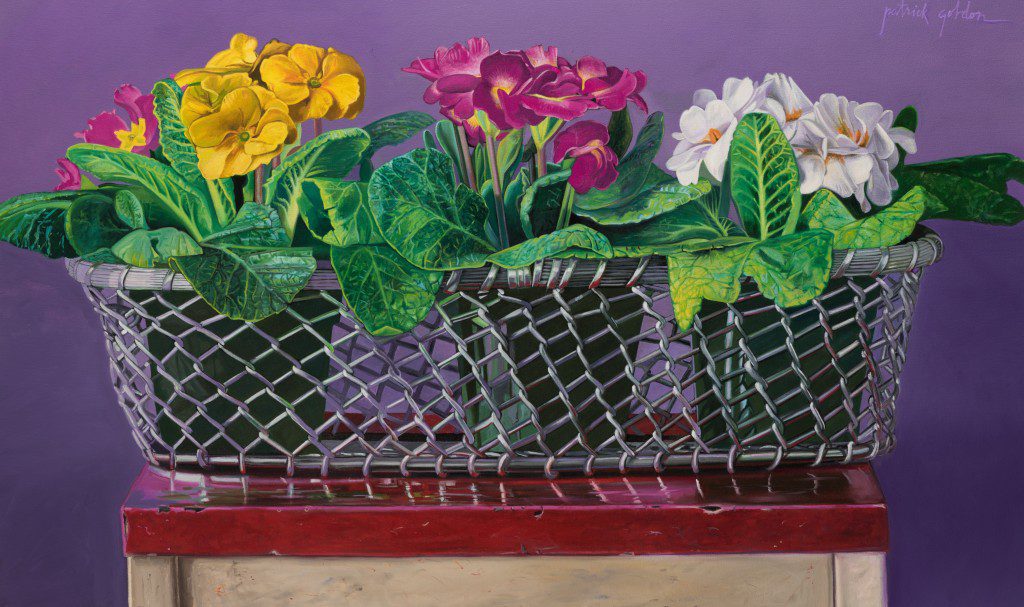 The idea of the snow being a gift is related to the clarity that can come with being diagnosed as HIV positive, he says.
"Never did anything in my life confuse me as greatly as did this and in the same time clarified that which was important," he says. "In the HIV community, it's often referred to as the gift, because all of us who have it are aware of the potential of good and bad. It has taught me to really be appreciative of what this very moment is bringing."
The show is an opportunity for Gordon to see not only some friends – three of the performance artists who served as models will be attending opening night – but also some of the paintings themselves.
The Gift of Falling Snow paintings have never been publicly displayed, and, except for one that he gave to a close friend, have been wrapped in plastic in Gordon's basement. The Mrs. Lennox  paintings are owned by various people, although Gordon does still have a few of them.
"It doesn't happen very often," he says. "I make a painting, and it leaves, and I sometimes see them and oftentimes never see them again, never know where they are, where they hang – let alone bring them back together. It's almost like I've never seen them, other than the ones I personally own."
With the display of Mrs. Lennox and the Gift of Falling Snow, though, Gordon thought it was important to hold a second show. While Recent Works only features paintings created in the past few years, Gordon, who paints 12 to 14 hours each day, will have 10 different works in the exhibit.
The paintings are more traditional subjects for people familiar with Gordon's art.
"I didn't want everybody to think I'd given up my love of painting flowers and still lives and interiors," he says.
The two shows also mark the 50th anniversary of Gordon's first art show, held in a 900-square-feet office building in Claremore when he was 12 years old.
"50 years ago, I sold my first painting," he says. "And from that point on, I knew exactly what I was supposed to do."