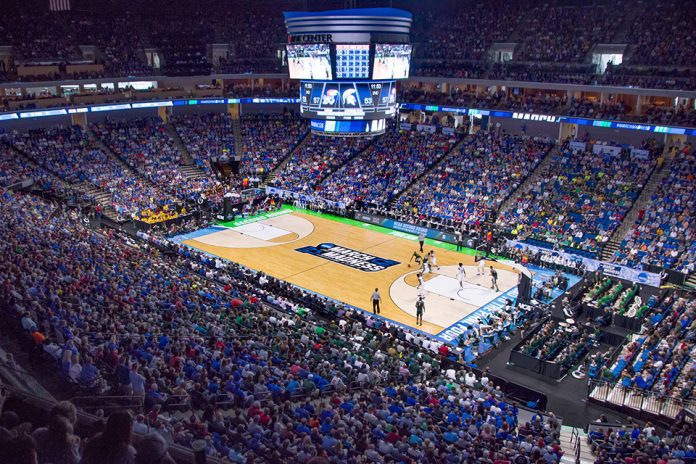 For college basketball aficionados, March Madness provides ecstasy and heartbreak. For employers, it often leads to lost productivity.
And for cities hosting games this month, such as Tulsa, hoops hoopla produces a sweet sound – not the thump thump of dribbles on hardwood, but the cha-ching cha-ching of cash registers … to the tune of millions of dollars.
Tulsa's BOK Center has pulled a rare feat of landing first- and second-round games in both 2017 and this year on March 22-24. The half-dozen games in 2017 supplied a $10.3 million boost to Tulsa County, says Vince Trinidad, executive director of the Tulsa Sports Commission.
Similarly, Wichita, Kansas, saw a $10 million economic boost while hosting first- and second-round games last year. Trinidad, low-balling his estimate, says another $10 million should come Tulsa County's way this month.
"The NCAA wouldn't be coming back to Tulsa so quickly without such strong community support," he says. "Having strong partnerships is critical, especially for us with the University of Tulsa as the host institution and SMG [the arena's venue manager]. Plus, the BOK Center is not a normal arena; it's an award-winning arena."
Oklahoma City hosted first- and second-round games of the NCAA men's tournament in 2016 at Chesapeake Energy Arena; those six contests generated a conservative estimate of about $3.3 million to the central OKC economy, says Sue Hollenbeck, director of sports business with the Oklahoma City Convention and Visitor Bureau.
"Any time an event is at a specific venue, money is spent mostly around that space," she says.
Most sites are on a three-year or longer rotation. For instance, Tulsa had games in 2011, but no others until 2017. The earliest that OKC and Tulsa will get another chance to host is in 2022. Trinidad notes that competition between cities across the country is fierce when it comes to participating in March Madness.
Hollenbeck anticipates that OKC will eventually get back into the March Madness mix because districts around the arena have continued to improve.
"In 2016, we noticed that people really liked the walkability of downtown," says Hollenbeck, adding that nearby Bricktown, Automobile Alley and Midtown also benefited from those contests. "Now we have more hotels and the streetcar for easier transport between districts."
Ease of getting around is also key to Tulsa's success in hosting March Madness. Trinidad says first-time visitors are surprised at how many notable destinations are 15-20 minutes from their hotels.
"They can quickly go to the Arts District or Gilcrease Museum or Philbrook Museum or the Golden Driller at Expo Square or Cherry Street or the Oklahoma Aquarium in Jenks," he says. "In really congested cities, you can't do that."
Trinidad expects visitors will have an even better experience this month than in 2017 because of the opening of the Gathering Place just south of downtown and the addition of bicycle and scooter rentals.
"Of course, it also depends upon the teams we get," he says of Selection Sunday on March 17. "In 2017, we were lucky to get Kansas, the No. 1 team then. But we also got some on-the-bubble teams. You want teams whose fans will travel anywhere. And we're always hopeful to get the best teams."