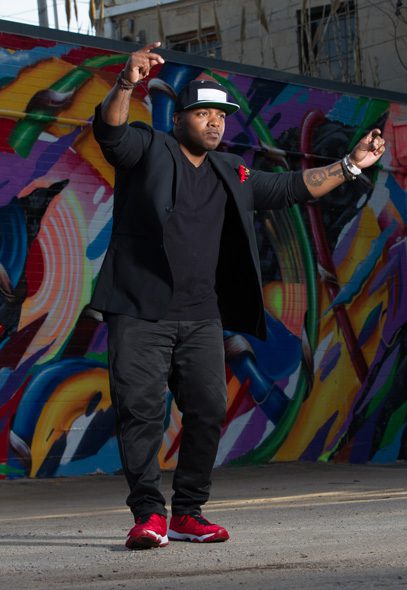 Encouraged by a friend while in high school, Gregory Jerome began to explore writing hip-hop songs, but always in private. It was not until college at Northeastern Oklahoma A&M that Jerome went public with his gift, making his debut at a talent show.
He has been performing ever since, finding success in the Nashville area before making his way back to Oklahoma. A leading voice in the Oklahoma hip-hop scene, Jerome has also set himself apart as an artist dedicated to education. Through his Elemental Hip Hop program, Jerome brings his message of self-empowerment to many school children in Oklahoma.
Jerome's distinctive sound pulls from many areas of influence; he mentions acts as diverse as The Beatles, Massive Attack, Outkast and Nina Simone as inspirations. This inventive sound is matched by his lyrics, which highlight persistence in the face of life's struggles.
"My creative process is writing from life experiences and emotions. … It's the journey of life, tragedies and triumphs," Jerome says of his work.
That awareness of life's hardships and the need for hope make him an ideal mentor for a young generation of Oklahoma children. As director of Elemental Hip Hop, Jerome runs an after-school programs that imparts to kids what he identifies as the five elements of hip-hop: graffiti, DJing, emceeing, breakdancing and knowledge. Though each of these elements touches on a slightly different part of the human persona, they ultimately work together to create unity and creativity.
Jerome created a curriculum for teaching hip-hop to kids in conjunction with the Oklahoma Arts Council. He has partnered with various organizations over the years to make his dream of impacting the community come true and has reached thousands of children in the Oklahoma City area with his after-school program.
Still, the process can be difficult. Even with dedicated staff members, the stress involved in running Elemental is high. Despite growing recognition for his work, including a recent John McNeese grant – which allowed him to travel to Washington, D.C., for training – money is limited as schools continue to grapple with budget issues.
Nevertheless, Jerome toils on. His ultimate goal, in addition to building his reputation as a hip-hop artist on an international scale, is to open more branches of Elemental in order to reach even more kids with his positive message.
He finds plenty to savor amidst the hard work.
"The greatest success is seeing the gratification [among students]," he says. "Sometimes the parents express gratitude for the impact of the program. For me that's confirmation that we are doing our job and walking in our purpose in life."
For now, Jerome will keep walking in that purpose, bringing encouragement to others along the way.