With the release of his new album, Get Ya' Head Right, singer, harmonica player and Tulsa Sound architect Jimmy "Junior" Markham breaks a recording drought of nearly two decades.
While he has occasionally played on other people's discs over that time – notably The Breeze, Eric Clapton's 2014 tribute to Markham's friend J.J. Cale  – Markham hasn't had his own album out since Wound Up Tight, released by King Snake Records in 1999.
In a way, you can't blame Markham for the relative paucity of his recorded work. While he has been a busy and compelling live performer for an incredible six-plus decades, his career as a recording artist has taxied along over the years without ever really taking off. As he laughingly puts it, "It just seems to be that every time I get something going on, something occurs."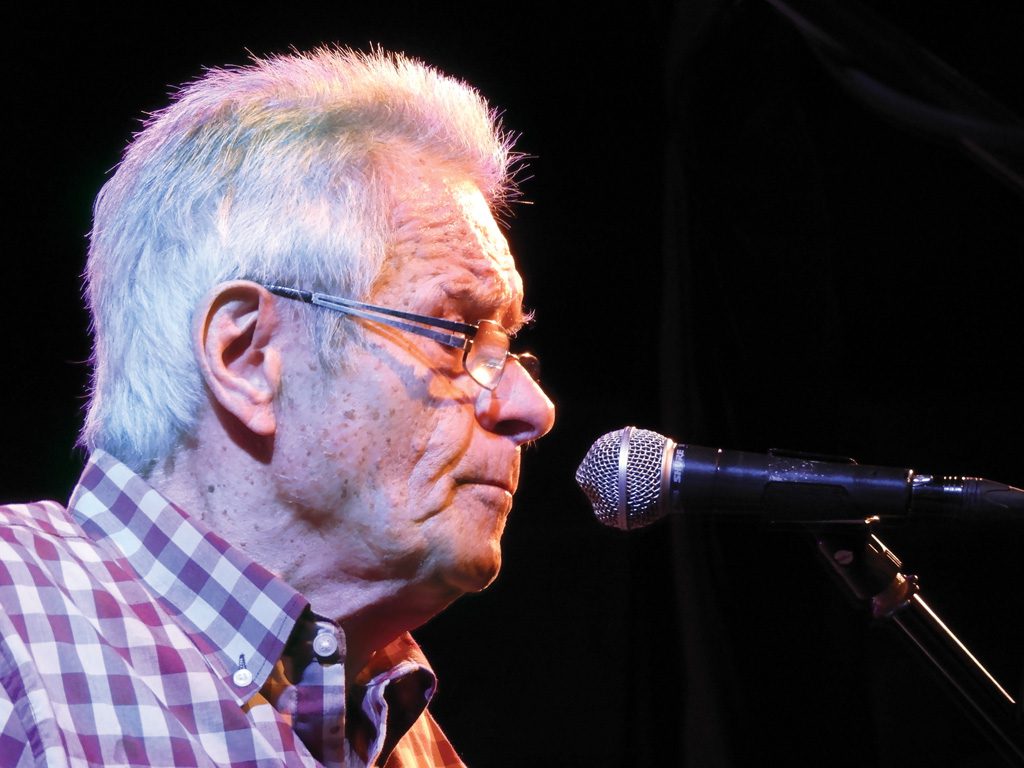 He's not exaggerating. Anyone who makes a living in the music business is going to miss a few opportunities, experience plenty of rejection, and be victimized by forces out of his or her control. When it comes to making records, however, not many are going to be as consistently snakebit as Markham has been.
His first recording session came 60 years ago at the fabled Oklahoma City studio owned by musician Gene Sullivan. Although they were all kids then, a who's-who of original Tulsa Sound musicians played behind him: drummer Chuck Blackwell, bassist Carl Radle, guitarist Tommy Crook and pianist Leon Russell (still going by his given name of Russell Bridges).
Markham and the group cut three numbers that day: "Fools Fall in Love," a Lieber-Stoller composition that Markham had found on a Sammy Turner 45-rpm record; "Honey Hush," by noted bluesman Big Joe Turner; and "This Paradise," what Markham calls "a real obscure song," a doo-wop tune originally recorded by Donald Woods and the Bel-Aires.
"It just seems to be that every time I get something going on, something occurs."
"Those were in our repertoire," Markham says, "and that's why we picked 'em. Gene [Sullivan] was real positive about the project. He thought it was good, and it was good. How could it not be, with Leon and Tommy Crook and Chuck and Carl Radle?"
Still, Markham was unable to leverage the three sides into a record-label deal. To this day, they remain unissued.
Only a year or two later, Markham – along with most of the musicians at that session – found himself hitting the shores of Southern California with that fabled first wave of Tulsa rock 'n' rollers. He'd been settled there for a while when he was approached by rockabilly artist and producer Billy Lee Riley, who traveled in some of the same circles as the Tulsa guys.
"He called me up and said: 'I've got this project called Chuck Meets Bo, for Capitol Records. The tracks are already cut. Would you want to sing it?'
"It was six sides of Chuck Berry tunes and six sides of Bo Diddley songs, with great players like James Burton on the tracks. Billy Lee produced it and played harmonica. I went in and sang, and we turned it in – and Capitol said it was too raw."
He laughs.
"They said my voice wasn't clean enough," he says. "I said, 'Well, that's kind of what we were trying to accomplish.' But it never came out. We later on tried to run it down in the archives at Capitol, just for kicks, but we were never successful."
Despite that rejection, Capitol wasn't through with Markham. In 1968, he recorded two singles with a group called the Tulsa Rhythm Review for Uptown Records, a Capitol subsidiary. Markham recalls that the players on the 45s, both transplanted Tulsans and musical friends and acquaintances, included Cale (who also engineered the recordings), saxophonist Bobby Keys, guitarist Jesse Ed Davis, drummer Bill Boatman, organist Larry Moss (later to hit the charts as a member of the group Smith) and guitarist Marc Benno, who was then in the Asylum Choir with Russell. The tracks were recorded at Russell's Hollywood Hills studio.
"I got that deal through another producer out there by the name of Greg Dempsey," Markham says. "He sent me up to Capitol Records, and the guy who was over our project was a black producer named Eddie Ray. He was quite a noted producer who'd done a number of things.
"He said, 'Would you mind if I changed your name?'
"I said, 'No, no, I guess not.'
"He said, 'I'd like something a little more ethnic sounding. How about "Junior," spelled out?'
"I said, 'That's fine with me.' So we went with it."
But while Ray and Capitol gave Markham the nickname that he still uses today, they weren't able to get the Tulsa Rhythm Review onto the charts.
"Eddie Ray was all hot and heavy on us for a while there, but we just never could shake it off the ground for some reason," Markham says.
Except for singing on another Cale project, the psychedelic album A Trip Down the Sunset Strip (1967), Markham didn't do a lot of other recording during his Los Angeles years. It wasn't until the early '80s, when he was living back in Tulsa, that he went into the studio again, this time to do a project for Pilgrim, a local label making some international noise.
"I cut an album, but only one 45 was released – and then they went out of business," he says with another laugh.
Maybe the hard-luck story that tops them all involves the next album he recorded. It was the aforementioned Wound Up Tight, for the Florida-based King Snake label.
"Ace Moreland, who was from Oklahoma, produced that," Markham says. "He was a studio guitar player and producer there at King Snake. He got me the deal, and it was on short notice, so I called up Leon [Russell] and said: 'I need some songs. Do you have any?' He sent me about 15, and I had a very short time to learn 'em before I went down and did the recording.
"King Snake had just signed a new distribution deal with a company out of Florida, and after my record got done and pressed and was going to be released, I was sitting in front of the TV watching network news, and they were putting the guys from this same distribution company in handcuffs. It turns out they were shipping the date-rape drug [GHB] around the world in CD cases.
"They froze all the product that King Snake had. Advance promo copies had been sent to the radio stations and what have you, but you could not buy a copy of the record in a store. We'd gotten terrific reviews on it, and it looked pretty promising. But it just went down the drain. You could not obtain the record."
That's not the case with his new one. Get Ya' Head Right is available in Tulsa at Starship Records & Tapes and online from Amazon, CD Baby, Spotify, CD Universe and the Tulsa Blues Project website (tulsabluesproject.org). It is the first release on the Tulsa Blues Project label; Markham says there will be more to come.
Get Ya' Head Right came about through his collaboration with a couple of other well-known Tulsa musicians, Walt Richmond and Charles Tuberville.
"We just started writing one day a week, for kicks, and to see what kind of songs we could write," he says, "and we got on a bit of a roll."
They certainly did. The disc's dozen tracks range from hardcore 12-bar blues to Cajun-flavored rock 'n' roll, all sure-handed and engaging stuff, with guest turns by several noted musicians and vocalists.
And who knows? It just may be the one that, finally and for good, breaks Jimmy Markham's six decades of really bad luck as a recording artist.